Book of Hours of Cardinal Carafa
Description
Book of Hours of Cardinal Carafa
Book of Hours of Cardinal Carafa
The Vatican Library houses a true gem of Italian Renaissance book art: the so-called Book of Hours of Cardinal Carafa. Measuring merely 14.0 × 9.0 cm, the book of hours was lavishly decorated by Bartolomeo Sanvito for his high-ranking patron, Cardinal Oliviero Carafa. The talented artist from Padua used the finest materials to create a sublime work of art that is emblematic of the achievements in book art of the Renaissance in Italy. Beautifully detailed and naturalistic miniatures and calligraphy shine in gold, silver and pastel tones on purple dyed parchment. With this splendour, the personal book of hours also represents the power and influence held by the wealthy patron of the arts, prince of the church and mentor of the later Pope Paul IV.
Book of Hours of Cardinal Carafa
Oliviero Carafa (1430–1511) was a cardinal, archbishop, condottiere, and jurist, as well as a leading patron of the arts in his day. He was a member of the powerful Carafa family, one of the leading dynasties of Renaissance Naples, and had extensive connections with royalty throughout Europe. His ambitions did not stop at the Holy See either, although this was not to be crowned with success – unlike in the case of his nephew Giovanni Pietro Carafa (1476–1559), whose mentor he was and who eventually ascended the Chair of Peter as Pope Paul IV in 1555. As a clerical patron of the arts, the cardinal donated numerous works of art, including one of the most important chapels of the early Renaissance: the Cappella Carafa in the basilica Santa Maria sopra Minerva in Rome, named after him and decorated by Filippino Lippi.
The work of a gifted Early Renaissance scribe
Probably the most beautiful and magnificent work of book art commissioned by Cardinal Carafa is this purple Book of Hours, created by the talented Paduan scribe Bartolomeo Sanvito (1433–1511) in Rome around the year 1480. By this time, Sanvito had long since risen to become the leading scribe for humanistic texts and had already worked for many prestigious patrons. His artistry can still be admired today in far more than 100 surviving manuscripts.
Innovative luxury
The Book of Hours of Cardinal Carafa is part of a whole series of books of hours that Sanvito made in the 1480s, when he was already suffering from arthritis. Inspired by ancient art, he chose elegant and precious purple dyed parchment for it, which he inscribed entirely with gold and silver inks - thereby introducing a new luxurious style to Italian Renaissance book art. The dark and rich background makes Sanvito's masterly humanistic cursive all the more radiant. His lettering looks so effortlessly elegant and meticulous that one might assume it was printed, even though each of the gold and silver letters was placed on the parchment by hand.
Masterly Renaissance book art in gold, silver and pastel tones
In addition to Sanvito's luminous calligraphy, the luxurious book of hours features breathtaking illuminations of the highest quality: It begins with a frontispiece displaying the Cardinal's coat of arms, which appears in a garlanded illusory architecture. This is followed by a wonderful full-page miniature of the Holy Family in pastel tones and with golden details, characterised by impressive figures with great physicalness and spatial depth. Another full-page miniature shows King David in an extraordinarily magnificent frame. Likewise artistic are the four exuberantly designed incipit pages, which introduce the Penitential Psalms as well as the Offices of the Virgin Mary, the Dead and the Holy Cross with figure medallions and rich framings, and which particularly emphasise them within the manuscript. The other Hours are introduced by eight masterfully executed, large historiated initials with naturalistic bust portraits of saints, which are connected with beautiful floral and ornamental borders. At the same time, smaller ornamental initials in gold and silver decorate and structure the texts. This in every respect precious manuscript is today one of the special jewels of the world-famous Vatican Apostolic Library in the Vatican City in Rome and is kept there under the signature Vat. lat. 9490.
Codicology
Alternative Titles

Libro d'Ore del Cardinale Carafa




Stundenbuch von Kardinal Carafa

Size / Format

398 pages / 14.0 × 9.0 cm

Origin

Date

15th century

Epochs

Style

Genre

Language

Script

Humanistic cursive

Illustrations

1 ornate frontispiece with the cardinal's coat of arms, 2 full-page miniatures and 4 splendid inicipit pages in gold, silver and pastel tones as well as 8 historiated initials on purple vellum

Content

Calendar, Office of the Virgin Mary, Canonical hours, Penitential Psalms, Office of the Dead, Office of the Holy Cross

Patron

Cardinal Oliviero Carafa

Artist / School

Bartolomeo Sanvito
---
Available facsimile editions: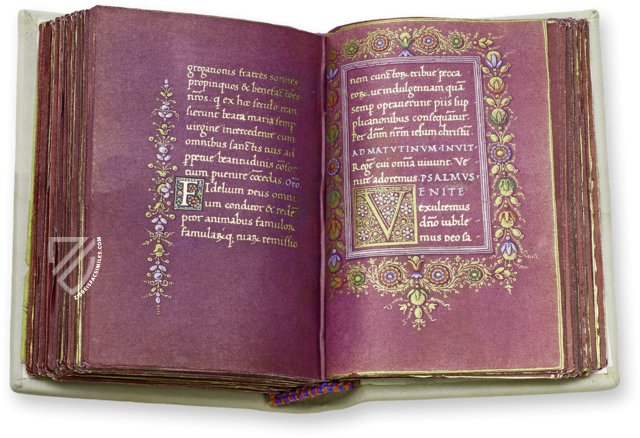 ArtCodex
– Castelvetro di Modena, 2016
Limited Edition:
1059 copies (999 Arabic copies, 60 Roman publisher's copies)
Detail Picture
Book of Hours of Cardinal Carafa
King David
King David is shown kneeling, hands folded in prayer with his lyre laid down alongside him in this wonderful pastel colored miniature, which is further embellished with the skillful use of gold ink. Two angels put their hands on the shoulders of the King of Israel, who has a surprised look on his face as he lays eyes upon the two heavenly messengers. The image is likely to be symbolic of the divine inspiration that allowed David to compose the Psalms according to biblical tradition.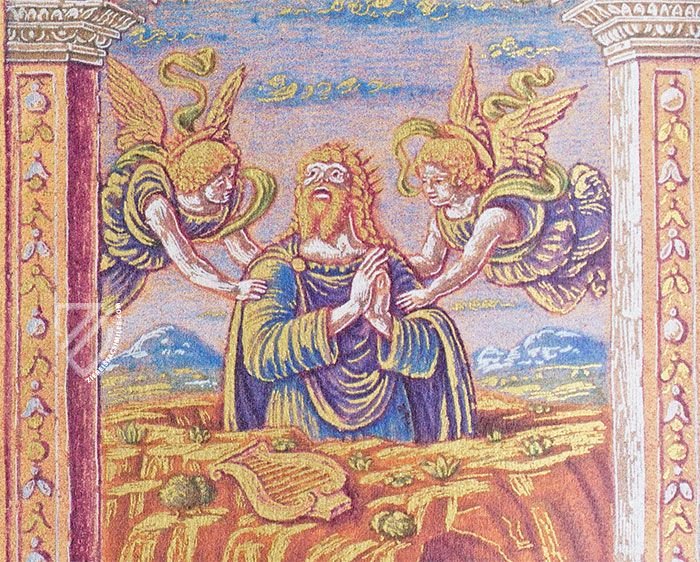 Single Page
Book of Hours of Cardinal Carafa
Little Office of the Blessed Virgin Mary
Despite having a corner torn away, this is a splendidly embellished page introducing the Little Office, which is recited at Matins with seasonal variations at Advent and Christmastide. The artist has made full use of the rare and expensive purple-dyed parchment by using delicate pastel colors and gold ink in particular to create one of the most unique and beautiful Renaissance manuscripts.
Masterfully shaded cherubs with golden wings and hair surround the text field: two stand in classically-styled vases, each holding up a cornucopia, while two more sit aloft facing one another. Cardinal Carafa's coat of arms is displayed at the bottom of the page, where we see other details like table legs in the shape of lions' feet and winged human hybrids.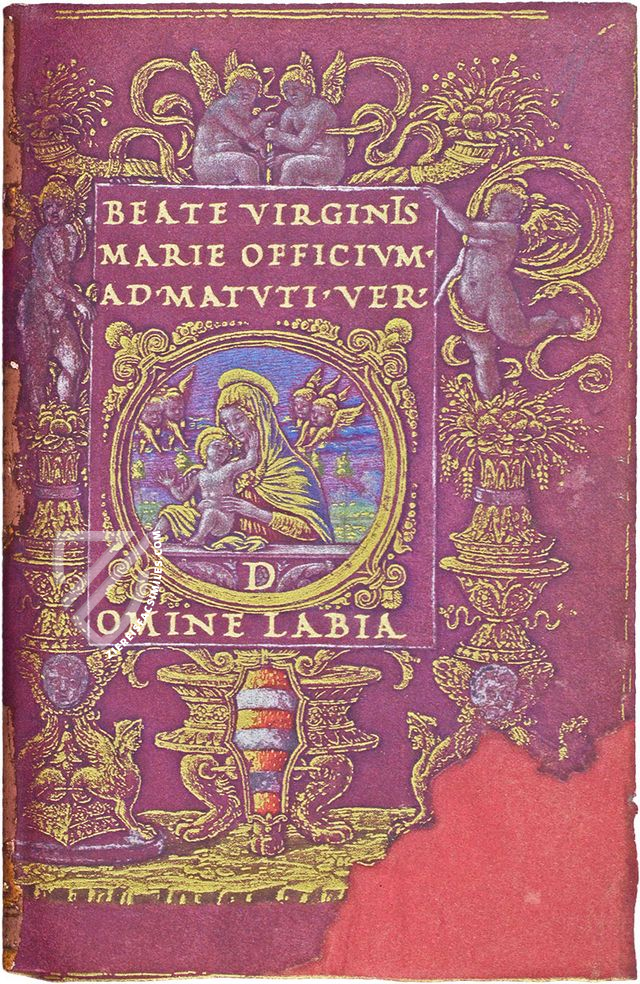 Facsimile Editions
#1

Libro d'Ore del Cardinale Carafa

Publisher:

ArtCodex

– Castelvetro di Modena, 2016

Limited Edition:

1059 copies (999 Arabic copies, 60 Roman publisher's copies)

Binding:

White leather with gold embossing

Commentary:

1 volume
Language: Italian

1 volume: Exact reproduction of the original document (extent, color and size)

Reproduction of the entire original document as detailed as possible (scope, format, colors). The binding may not correspond to the original or current document binding.