Book of Hours of Cardinal Carafa
Description
Book of Hours of Cardinal Carafa
Gold, silver, and delicate pastel colors play against the deep purple parchment pages of this sublime manuscript. It was the personal book of hours of Cardinal Oliviero Carafa, a prince of the Church and mentor to the future Pope Paul IV, who was a relative of his. It originated from the hand of Bartolomeo Sanvito, a talented humanist artist from Padua
Book of Hours of Cardinal Carafa
Oliviero Carafa (1430–1511) was a cardinal, archbishop, condottiero, and jurist as well as being a leading patron of the arts in his day. He was a member of the powerful Carafa family, one of the leading dynasties of Renaissance Naples, and mentored his relative Giovanni Pietro Carafa (1476–1559), who eventually became Pope Paul IV (1476–1559). Elegant and costly purple parchment was chosen for the manuscript at hand, created at the Cardinal's behest by Bartolomeo Sanvito (1433–1511). Originally from Padua, Sanvito was trained in Rome. The artist capitalized on the rich, dark backgrounds by using gold, silver, and delicate pastel colors. Sanvito was a master of Humanist italic script, and one could be forgiven for thinking that the text was printed, when it was actually recorded by a skilled hand in gold and silver ink. The cardinal's coat-of-arms serve as a frontispiece for the work, which is additionally adorned with 8 full-page miniatures of the highest quality. Decorative initials throughout the text are masterfully adorned with floral and other natural motifs. Today, the work is counted among the gems of the famous Biblioteca Apostolica Vaticana.
Codicology
Alternative Titles

Libro d'Ore del Cardinale Carafa




Stundenbuch von Kardinal Carafa

Size / Format

398 pages / 14.0 × 9.0 cm

Origin

Date

15th century

Epochs

Style

Genre

Language

Artist / School

Bartolomeo San Vito
---
Available facsimile editions: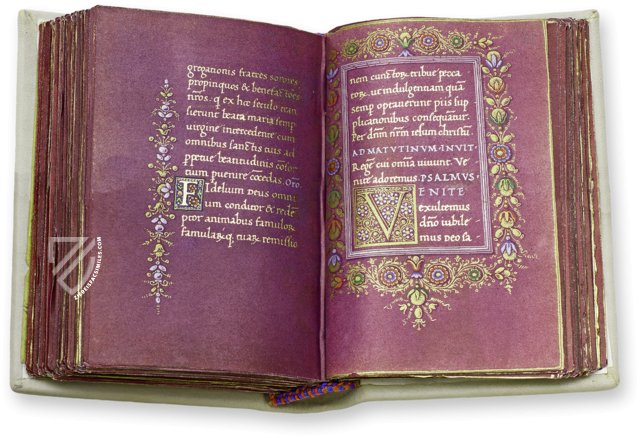 ArtCodex
– Castelvetro di Modena, 2016
Limited Edition:
1059 copies
Detail Picture
Book of Hours of Cardinal Carafa
King David
King David is shown kneeling, hands folded in prayer with his lyre laid down alongside him in this wonderful pastel colored miniature, which is further embellished with the skillful use of gold ink. Two angels put their hands on the shoulders of the King of Israel, who has a surprised look on his face as he lays eyes upon the two heavenly messengers. The image is likely to be symbolic of the divine inspiration that allowed David to compose the Psalms according to biblical tradition.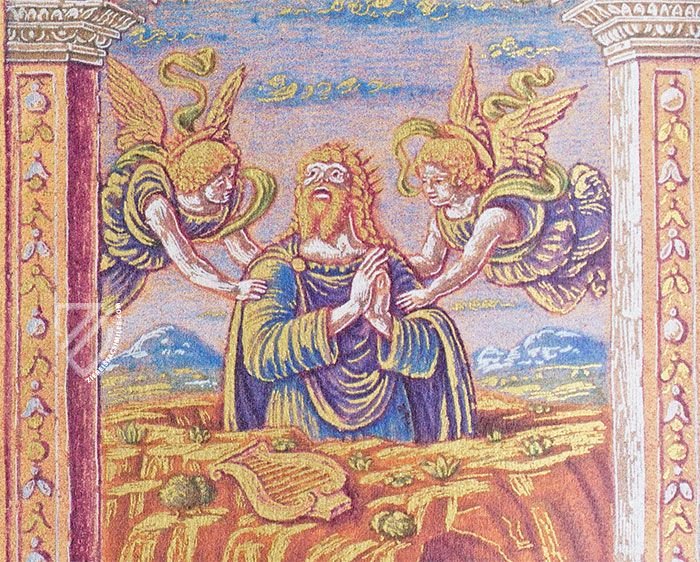 Single Page
Book of Hours of Cardinal Carafa
Little Office of the Blessed Virgin Mary
Despite having a corner torn away, this is a splendidly embellished page introducing the Little Office, which is recited at Matins with seasonal variations at Advent and Christmastide. The artist has made full use of the rare and expensive purple-dyed parchment by using delicate pastel colors and gold ink in particular to create one of the most unique and beautiful Renaissance manuscripts.
Masterfully shaded cherubs with golden wings and hair surround the text field: two stand in classically-styled vases, each holding up a cornucopia, while two more sit aloft facing one another. Cardinal Carafa's coat of arms is displayed at the bottom of the page, where we see other details like table legs in the shape of lions' feet and winged human hybrids.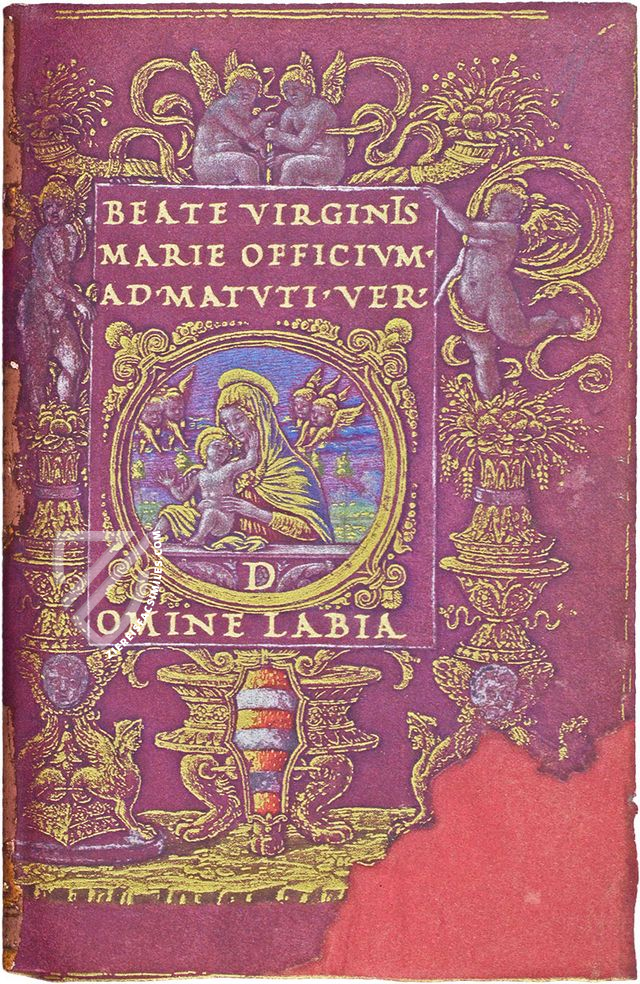 Facsimile Editions
#1

Libro d'Ore del Cardinale Carafa

Publisher:

ArtCodex

– Castelvetro di Modena, 2016

Limited Edition:

1059 copies

1 volume: Exact reproduction of the original document (extent, color and size)

Reproduction of the entire original document as detailed as possible (scope, format, colors). The binding may not correspond to the original or current document binding.
You might also be interested in: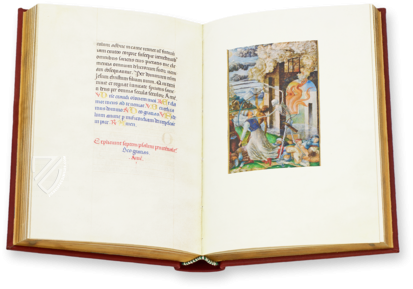 Offiziolo Alfonsino
Ferrara (Italy) – 1505–1510
Perhaps the last magnificent work from the famous city of Ferrara: Matteo da Milano's fantastically illuminated masterpiece for Alfonso d'Este, one of the great patrons of the Renaissance
Experience More
Blog articles worth reading