Durazzo Book of Hours
Parma (Italy) — Beginning of the 16th century
The painter and goldsmith Francesco Marmitta (ca. 1460–1505) designed this incredible interplay of purple and gold

The book of hours named after its last owner is dressed with a noble garment of gold, silver, and precious stones

Beautiful calligraphy, sensitive lines, and soulful landscapes: a masterpiece of the Renaissance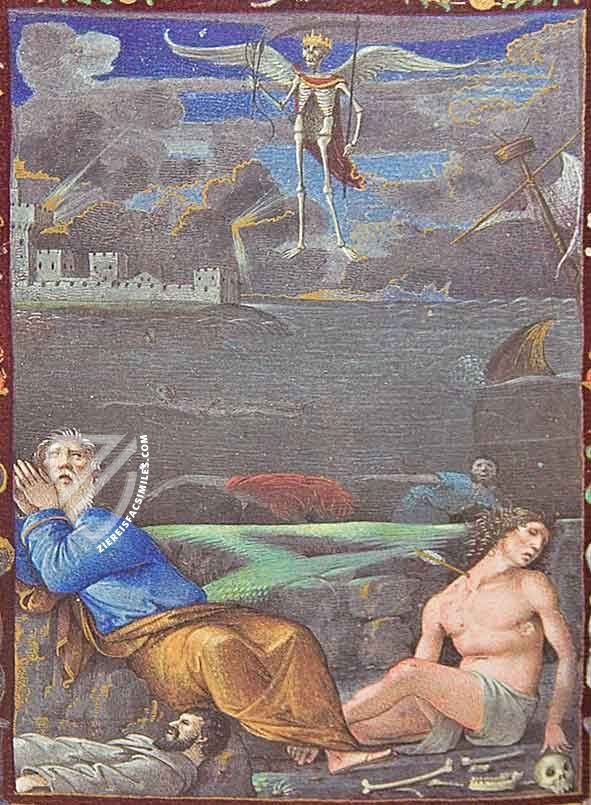 Durazzo Book of Hours
Alternative Titles:
Libro d'Ore Durazzo
Durazzo-Stundenbuch
Short Description
The Durazzo Book of Hours arose in Italy at the beginning of the 16th century. It was designed by the popular painter and goldsmith Francesco Marmitta. The manuscript is recorded in golden script on purple vellum. The splendid manuscript is furnished with refined miniatures and initials, as well as an astoundingly valuable binding embellished with noble stones, gold, and silver.
Durazzo Book of Hours
Books of hours were handwritten and illuminated codices that were used for prayer and private devotion. The valuable, well-appointed manuscripts were mostly commissioned by members of the nobility. Books of hours rose to become the overall most-beloved book genre of the Middle Ages. The Durazzo Book of Hours, which was named after its last owner, is one of the most unusual masterpieces of this genre. The valuable codex was composed in golden script on purple vellum. No other book of hours boasts these characteristics. Six astonishing, full-page miniatures and over 200 decorative initials additionally adorn the special manuscript.
A Universal Talent
The artist Francesco Marmitta was responsible for the thrilling design of the splendid codex. Marmitta was an unusually talented Italian illuminator and calligrapher. The versatile artist from Parma was famous for his work as a painter, sculptor, and goldsmith. He displayed his prowess in world-renowned luxury manuscripts such as the Missale Domenico della Rovere, for example. The painter's refined pictures distinguish themselves through a sensible layout of the line and through the pronounced talent of the master in the field of landscape painting. His special preference for realistic depictions of jewels, precious stones, and medallions lends the miniatures an incomparably sumptuous flavor.
A Unique Book Treasure
The precious manuscript's purple pages with gold script are reminiscent in their style of royal robes and garments. The truly kingly impression that the work leaves behind in its beholders, is further strengthened by the many refined depictions of valuable gems and noble stones. The elegant, unusually-designed binding of the book is no less splendid. It consists of a bed of purple velvet and is decorated with chiseled elements of silver and gold. Two silver clasps embellished with small rubies round out the binding of the truly majestic work.
Codicology
Alternative Titles

Libro d'Ore Durazzo




Durazzo-Stundenbuch

Size / Format

432 pages / 14.3 × 9.7 cm

Origin

Date

Beginning of the 16th century

Epochs

Style

Genre

Language

Illustrations

6 full-page illuminations and 201 illumiated initials

Artist / School

Artist: Francesco Marmitta
Scribe: Pietro Antonio Sallando

Previous Owners

Antonio Bacigalupo
Marquis Marcello Luigi Durazzo
1 available facsimile edition(s) of "Durazzo Book of Hours"
Libro d'Ore Durazzo
Libro d'Ore Durazzo
1 volume: Exact reproduction of the original document (extent, color and size)
Publisher

Franco Cosimo Panini Editore – Modena, 2008

Limited Edition

980 copies

Binding

Velvet with gilded silver and two rubies.

Commentary

1 volume by Andrea De Marchi, Davide Gasparotto, Beatrice Bentivoglio-Ravasio, Laura Malfatto and Laura Nuvoloni


More Information

Reproduction of the entire original document as detailed as possible (scope, format, colors). The binding may not correspond to the original or current document binding.
Matching Works
Brussels Hours
With the famous portrait of Jean Duc de Berry as patron: masterly miniatures in demi-grisaille technique in an outstandingly beautiful book of hours
Experience More
Matching Background Articles