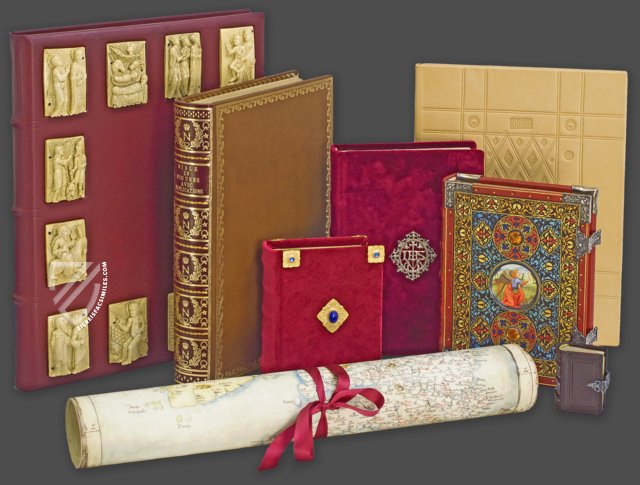 Breviari d'Amor
Valencia (Spain) — 15th century
The incomparable masterpiece by Matfre Ermengaud (d. 1322) is the highpoint of 12th and 13th century Occitan literature

34,500 verses in octosyllabic rhyming couplets formulate the Christian love of God as love poetry

The work is presented in a 15th century translation with illumination worthy of the literary monument
Breviari d'Amor
Alternative Titles:
Love Breviary
Liebes-Brevier
Short Description
Matfre Ermengaud, about whose life historians possess little information, lived in the 13th century as a Franciscan monk. The exceptionally gifted and educated monk likely composed a unique manuscript in the time period from 1288 to 1320, which united Christian theology and historic jurisprudence with the poetry of medieval Troubadours. The scholar's incomparable masterpiece bore the title Breviari d'Amor and is considered today to be the highpoint of 12th and 13th century Occitan literature. Here we have a Spanish translation of the great literary classic.
Breviari d'Amor
By the term troubadour, one means a bard, composer, and singer of courtly medieval poetry and song. Troubadour poetry enjoyed great popularity particularly in southern France in the 12th and 13th centuries. An exceptionally gifted representative of this art form was the Franciscan monk of Matfre Ermengaud. He composed an influential text around the time period between 1288 and 1320, which in the literary genre of troubadour poetry has been cited and newly interpreted in an incomparable manner. His so-called Breviari d'Amor, which can be translated as the Book of Hours of Love, considered to be one of the most important works of Occitan poetry. The masterpiece lying before us is a 15th century Spanish translation. It is illustrated with breathtaking miniatures, which are embellished with coloring and precious gold leaf elements.
The Scholar Matfre Ermengaud
To this day, researchers know only very little information about the life of Matfre Ermengaud. He came into the world in the southern French town of Béziers in the mid–13th century. He dedicated his life to jurisprudence and poetry. He placed particularly high worth on a comprehensive education and was a true legal expert of the Middle Ages. He even earned a degree in legal studies, which could be compared with a modern master's degree in law. Precisely when he entered the Franciscan Order is not known. He had probably already begun work on his Breviari d'Amor, before he chose the life of a monk. What lends Ermengaud's manuscript its unique status in the history of literature is the fact that his text combines the theological tradition with legal teachings. There is no other medieval manuscript that can be compared with the work of Matfre Ermengaud.
A Literary Cultural Property
The Breviari d'Amor contains around 34,500 verses and is composed in octosyllabic rhyming couplets. It is a comprehensive, varied, and didactic text, which is comparable to an encyclopedia. The Christian love of God was formulated in the manner of love poetry, which was recited by troubadours. In doing so, Ermengaud cited literary models from various historic epochs. Citations from classic troubadours like Aimeric de Peguilhan, Bernart de Ventadorn, and Peire Vidal are particularly common in his manuscript. Equally so, quotations from a few of Ermengaud's early writings as well as texts from his brother Piere are represented here. It is thus clear how exceptionally well-read and educated the Franciscan monk was. The Spanish edition of the literary masterpiece was made by Guillem de Copons, who strongly adhered to the original in his translation.
A Unique Work of Illumination
The work was structured into several parts. It begins with a theological section whose title can be translated as "Studies on God and the Creation of the World". This section deals with the Holy Trinity, angels, demons, the signs of the zodiac, and the stars and planets that were known at the time. Thereupon follows a section with the title "Studies of Nature and Natural Law", in which the correct modes for divine worship are discussed, the temptations of the world reviewed, and the sins that every good Christian should avoid at all costs are named. In the last section, "The Love of God", the profession of faith is summarized and a few saint's legends were outlined. Fabulous miniatures of various sizes, most of which exist as sketches, are sometimes furnished with bright colors and shimmering gold elements, illustrating the work and clarifying Ermengaud's description.
Codicology
Alternative Titles

Love Breviary




Liebes-Brevier

Size / Format

330 pages / 42.0 × 31.0 cm

Origin

Date

15th century

Epochs

Style

Genre

Artist / School

Author: Matfre Ermengaud
Translator: Guillem de Copons

Previous Owners

Library of the count-duke of Olivares
Biblioteca Rea
1 available facsimile edition(s) of "Breviari d'Amor"
Breviari d'Amor Facsimile
Breviari d'Amor Facsimile
3 volumes: Exact reproduction of the original document (extent, color and size)
Publisher

Vicent Garcia Editores – Valencia, 1980

Limited Edition

3000 copies

Binding

Engraved leather on wooden board. Facsimile copy, commentary volume and dust jacket.

Commentary

1 volume (490 pages) by Antoni Ferrando Francés
Languages: Spanish, Valencian

More Information

Reproduction of the entire original document as detailed as possible (scope, format, colors). The binding may not correspond to the original or current document binding.
Matching Works
Don Quixote de la Mancha
The first edition of Miguel de Cervante's worldwide success: one of the most important works in world literature and a milestone in Spanish literary history
Experience More
Matching Background Articles
Literature

Much like today, medieval readers were looking for stories full of excitement and adventure that would take them out of...

Experience more

Gothic

Gothic illumination is some of the most spectacular and iconic imagery of medieval art and first emerged in Northern...

Experience more

15th Century

Come and explore an age of stark contrasts as Europe comes back from the brink: calamities like the Fall of...

Experience more