Capitulare de Villis
Description
The Capitulare de Villis originates from the later years of the reign of the Emperor Charlemagne and lists a series of regulations for the overall management of royal property. It is one of several capitularies issued by Carolingian royalty concerning the organization and administration of their estates and reflects Charlemagne's reforms to the government of the Franks. Details surrounding the origins of the manuscript are disputed, but it is generally believed that it was created at a time when the Carolingian court became settled in Aachen. It was likely intended to manage the logistical difficulties of supplying and maintaining food and equipment for administrators and soldiers at a fixed capital far from most of the estates, or in preparation for a military campaign. Although divided into seven chapters including justice, agricultural land use, taxes, and regulating trade, the majority of the text is devoted to describing the duties of the iudex, a royal official charged with managing royal properties, prosecuting criminals, and collecting taxes – both in cash and in kind – to be brought to the Carolingian court. The document is thus of great importance for understanding Carolingian material culture and political administration.
Codicology
Alternative Titles

Caroli Magni imp. Cap. de villis, Leo III papa

Size / Format

16 folios / 30.8 × 12.5 cm

Origin

Date

Between 825 and 850

Epochs

Style

Genre

Script

Carolingian Minuscule Uncial

Content

Leo III papa, epistolae ad imperatorem Carolum Magnum (ff. 1r-8r)
Brevium exempla, ad describendas res ecclesiastiacas et fiscales (ff. 9r-12r)
Carolus Magnus imperator: Capitulare de villis vel curtis imperii (ff. 12r-16r)

Previous Owners

Matthias Flacius Illyricus
Herzog Heinrich Julius
University library Helmstedt
Facsimile Editions
#1

Capitulare de Villis
Commentary:
1 volume by Carlrichard Brühl
Language: German
1 volume: Exact reproduction of the original document (extent, color and size)
Reproduction of the entire original document as detailed as possible (scope, format, colors). The binding may not correspond to the original or current document binding.
You might also be interested in: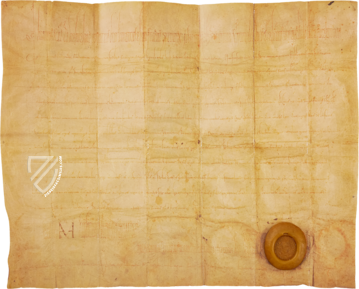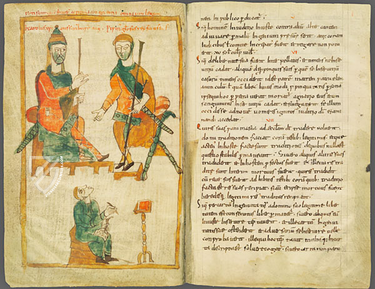 Leges Salicae
Germany – 10th century
The foundation of modern European law: a collection of the oldest Germanic legal texts with Carolingian miniatures
Experience More
Blog articles worth reading