Cerimonies et ordonnances
Description
Cerimonies et ordonnances
This wonderfully illuminated manuscript from ca. 1460-65 contains a text from the late 12th or early 13th centuries concerning the laws of combat, dueling in particular, attributable to King Philip IV of France (1268-1314). A series of tournament scenes are presented in gorgeous frames of floral tendrils populated with birds, animals, people, and grotesques. The splendid manuscript was commissioned by Francis II (1433-88), the rich and powerful Duke of Brittany who was a major player in the politics of the mid- to late-15th century.
Cerimonies et ordonnances
Few images of the Middle Ages are as iconic as two noble knights settling a quarrel with the strength of their arms. However, strict rules applied to dueling and were even specified by law. This splendid manuscript, commissioned by Duke Francis II of Brittany (1433-88) contains the "Ceremonies and Ordinances" regarding the resolution of quarrels by battle as specified in the constitutions of the King of France, Philip IV (1268-1314). Twelve gorgeous miniatures illustrate the manuscript from ca. 1460-65, many resembling tournament scenes.
The Powerful Duke of Brittany
Ruling as Duke of Brittany, Francis II was one of the most influential political figures of the mid-15th century. Aside from his own conflicts with the King of France in his struggle to maintain Breton autonomy from the rest of the Kingdom of France, he also played a critical role in the Wars of the Roses by harboring Henry Tudor and other supporters of the Lancastrian cause. It was at Rennes Cathedral on Christmas Day in 1483 that that Henry swore he would heal the Kingdom of England and unite the warring houses of York and Lancaster by marrying the daughter of King Edward IV, Elizabeth of York (1466-1503), which he did after his victory at the Battle of Bosworth Field in 1485.
Dueling with Rules
The "Ceremonies and Ordinances" regard the laws of combat and the settling of quarrels by duel according to the constitutions created by King Philip IV of France. Following a splendid depiction of the royal coat of arms and dedication miniature of King Philip, another ten miniatures, all surrounded the dense floral borders with birds and drolleries, show the settlement of a quarrel. Scenes include the knights presenting their arguments and engaging in prayer before finally settling things on the "field of honor". The lovely late-Gothic imagery presents these scenes as though they were in a tournament and present wonderful details concerning clothing, arms, and armor during the period.
Codicology
Alternative Titles

Libro de los torneos – Ceremonias y ordenanzas




Les Cerimonies et ordonnances qui se appartiennent à gaige de bataille fait par querelle, selon les constitutions faictes par le bon roy Phelippe de France

Size / Format

96 pages / 23.5 × 16.0 cm

Origin

Date

1460–1465

Epochs

Style

Language

Patron

Francis II, Duke of Brittany

Artist / School

Master of Jean Rolin or François Master

Previous Owners

Philippe de Béthune
Royal Library
---
Available facsimile editions: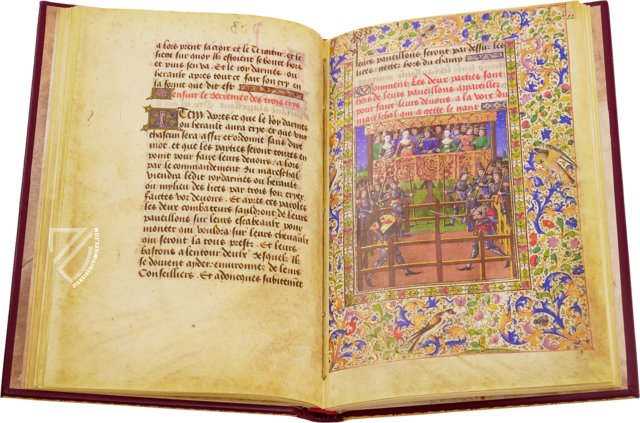 Club Bibliófilo Versol
– Madrid, 2019
Limited Edition:
350 copies
Detail Picture
Cerimonies et ordonnances
The Appeal
Two knights involved in a dispute that cannot otherwise be resolved are presented before King Philip and the rest of the royal court including two cardinals or bishops and numerous courtiers. The appellant, kneeling on the left, raises his sword to indicate his willingness to fight and die to prove he is in the right. It is a wonderfully designed scene with a masterful use of depth and space, which is presented in an architectural frame that makes it seem as though the beholder was standing there.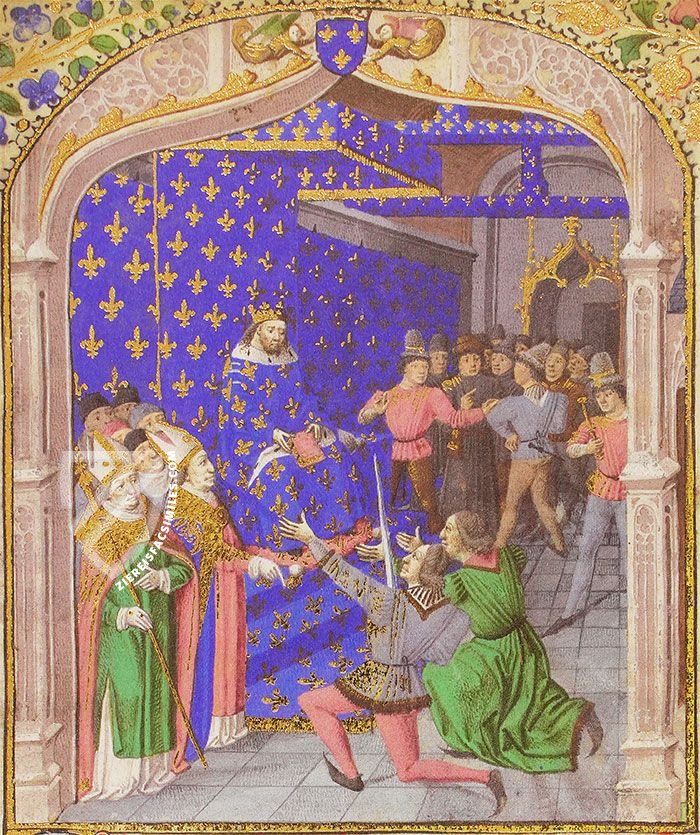 Single Page
Cerimonies et ordonnances
The Duel is Resolved
Spectators watch from an elegantly decorated grandstand and gather around the lists as the duel comes to a bloody conclusion. The victor stands confidently clutching his sword with both hands and looks down as his fallen foe, whose gauntlets and helmet have been stripped from him to reveal his face. He is unconscious and blood seeps from under his armor.
The artist has once again used diagonal lines to create a quasi-three-dimensional scene, especially with regard to the lists and grandstand. The scene is surrounded by a gorgeous frame full of flowering tendrils, strawberries, raspberries, a songbird, and a hybrid creature resembling a centaur with a human torso and head protruding from the body of a lion and holding his own tail in his hands.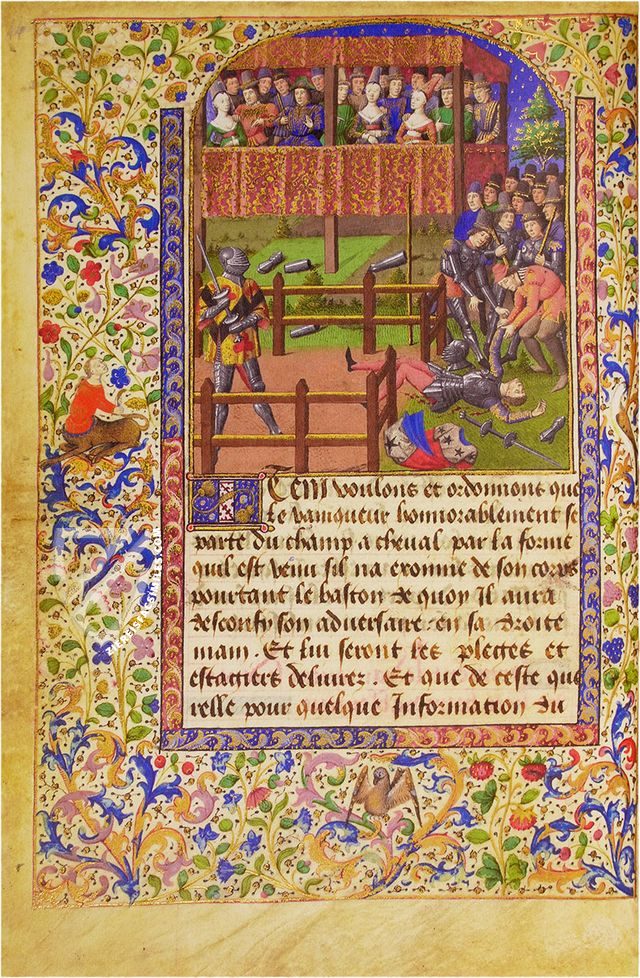 Facsimile Editions
#1

Libro de los torneos. Ceremonias y ordenanzas

Limited Edition:

350 copies

Commentary:

1 volume
Language: Spanish

1 volume: Exact reproduction of the original document (extent, color and size)

Reproduction of the entire original document as detailed as possible (scope, format, colors). The binding may not correspond to the original or current document binding.
You might also be interested in: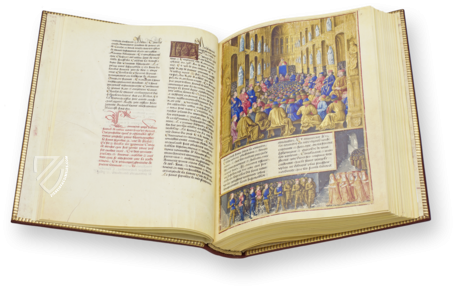 The Crusades: Les Passages d'Outremer
Bourges (France) – 1474
Commissioned by Louis de Laval, illuminated by none other than Jean Colombe: the greatest medieval source on the history of the Crusades, adorned with magnificent large-format miniatures
Experience More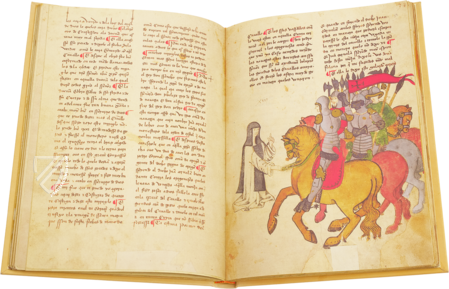 Blog articles worth reading