Codex Zouche-Nuttall
Description
Pre-Columbian manuscripts are among the rarest hand-written documents to exist today, and some of the most coveted for their historic as well as artistic value. They offer a glimpse into a world now forever lost, whose civilizations were devastated by disease and who culture was lost in the frenzy of conquest and Christianization. The Codex Zouche-Nutall from the British Museum in London represents a vast and all-encompassing source of history, art and religion from the cultural world of ancient America.
Codex Zouche-Nutall
The Codex Zouche-Nutall from the British Museum in London forms, together with the Codex Vindobonensis (Cod. Vindobon. Mexico. 1, Oesterreichische Nationalbibliothek, Wien) and the Codex Borgia (Cod.Vat.mes.1), a trio of one of the most beautiful old Mexican manuscripts which belongs to the Mayan domain. The Codex Dresdensis (Saechsische Landesbibliothek Dresden, Mscr. Dresd. R 310) is still is not included in this grouping. The opportunity to produce the main Codex for the first time in the form of a true-to-original color reproduction using a photo-mechanical process represents a milestone in the pursuit of a project dating back to 1960 and which represents a door into a vast and all-encompassing source of history, art, and religion from the cultural world of Pre-Columbian America.
Codicology
Size / Format

192 pages / 24.5 × 19.1 cm (total length: 11.2 metres)

Origin

Epochs

Style
---
Available facsimile editions:
Detail Picture
Codex Zouche-Nuttall
Mesoamerican Ballgame
This sport with ritual associations has been played since at least 1650 BC and stone ballcourts, of which more than 1,300 have been discovered, began to appear a few centuries later. Although the rules of the ballgame have not been passed down, it is believed that the players struck the solid rubber ball with their hips, although some versions allowed the use of forearms, rackets, bats, etc. The incorporation of human sacrifice was a late addition that first appeared in the Classic period.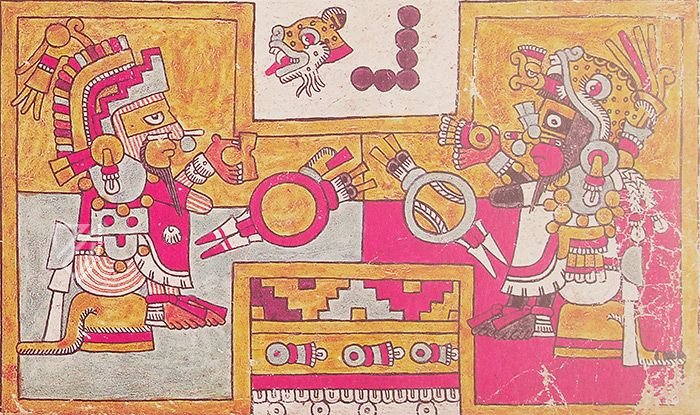 Single Page
Codex Zouche-Nuttall
Amphibious Attack
Tenochtitlan, capital of the Aztec Empire, was famously an island city interlaced with a series of canals not unlike Venice. However, this was far from unique, and the conquistador Bernal Díaz del Castillo wrote in his memoirs that he and his men were amazed at how many settlements were built in bodies of water. The most obvious reason for doing so would be for the sake of defense.
Here we see three Mixtec lords in their canoes as they set off to conquer a city on an island. All are armed and extravagantly dressed for war with feathers and animal skins. Several creatures are depicted in the waters below including a curled-up snake and an alligator with prickly spines running from its head down its back and tail.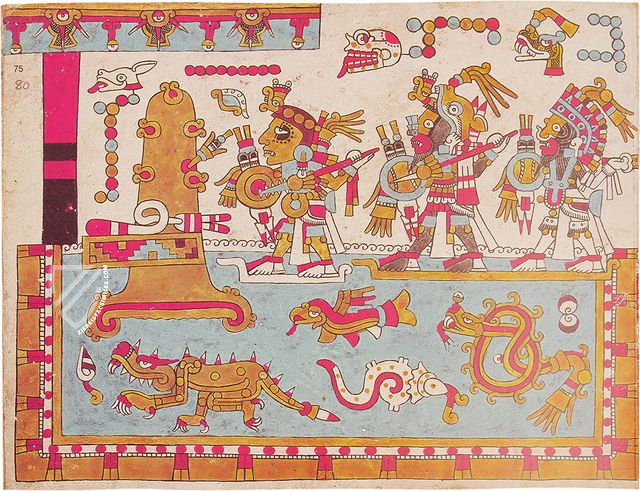 Facsimile Editions
#1

Der Codex Zouche-Nuttall

Binding:

Leporello folding. Together with commentary in half leather case.

Commentary:

1 volume (60 pages) by N. P. Troike and F. Anders
Languages: English, German

Preface in German by F. Anders, Vienna. "Notes on the Codex Zouche-Nuttall" in English by N. P. Troike, Austin. Altogether 60 pp.

1 volume: Exact reproduction of the original document (extent, color and size)

Reproduction of the entire original document as detailed as possible (scope, format, colors). The binding may not correspond to the original or current document binding.
You might also be interested in: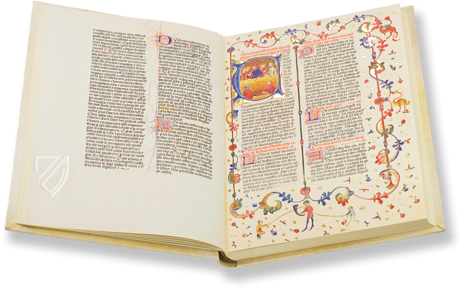 Consolat de Mar
Valencia (Spain) – 1407
The origins of the international law of the sea: the first universally applicable treatise on the legal norms and customs of seafaring
Experience More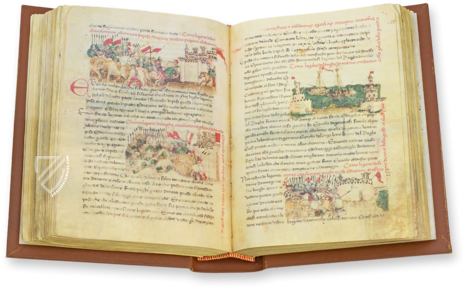 Blog articles worth reading