Dead Sea Copper Scroll
Description
The Dead Sea Scrolls are considered to be one of the greatest architectural sensations in history. The approximately 2,000-year-old testimonials to ancient Judaism were discovered in the mid–20th century in Qumran on the Dead Sea. Scroll 3Q15 occupies a special place within the bundle of works, famous as the so-called Copper Scroll. The mystery hiding behind this ancient treasure map continues to fascinate researchers and the historically interested to today!
Dead Sea Copper Scroll
In the year 1952, during the course of the spectacular find of the Dead Sea Scrolls in a cave near Khirbet Qumran, this exceptional specimen was found: a copper scroll with a register of locations where treasures of gold and silver should be buried and hidden. Nevertheless, solving the riddle and the search for the locations listed proved more complicated than was first thought. Reading the scroll was already a challenge, the porous metal could not simply be unrolled like the other scrolls made of parchment and papyrus. Therefore, copper scroll had to first be cut into individual pieces before it divulged its precious secrets.
A Spectacular Discovery
The famous Dead Sea Scrolls are considered to be "one of the most important archeological finds of the 20th century". It was Bedouins who first discovered the treasure in a cave near Qumran on the Dead See: mysterious scrolls in clay pots and other hiding places. The countless scrolls and fragments originate from the time of the 3rd century before- to the 1st century after-Christ and contained inter alia biblical texts and additional unique written texts. They are inestimable testimonials to ancient Judaism and are of exceptional significance for the Christian Bible as well.
The Famous Copper Scrolls
Unlike the rest of the Dead Sea Scrolls, the so-called Fragment 3Q15 is not comprised of parchment or papyrus, but rather of metal – copper to be precise. This fact lead to its designation as the Copper Scroll. Information about 64 locations is recorded in the scroll, where precious artifacts of gold and silver as well as other historical treasures were hidden. Therefore, the Copper Scroll is actually an ancient treasure map. Something else differentiates the Copper Scroll from the rest of the Dead Sea Scrolls: it is not stored as a single fragment of the bundle in Jerusalem, but rather in Jordan: it has been stored in the newly-opened Jordan Museum in Amman since 2013.
Codicology
Alternative Titles

Schriftrolle vom Toten Meer




The Copper Scroll

Size / Format

1 scroll / 30.0 × 230.0 cm

Origin

Date

30-90

Epochs

Style

Genre

Language
---
Available facsimile editions:
Facsimile Editions
#1

The Copper Scroll

Limited Edition:

20 copies

1 volume: Exact reproduction of the original document (extent, color and size)

Reproduction of the entire original document as detailed as possible (scope, format, colors). The binding may not correspond to the original or current document binding.
You might also be interested in: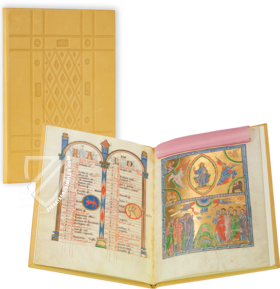 Hildesheim Golden Calendar
Benedictine Abbey, Hildesheim (Germany) – Ca. 1250
A masterpiece of the so-called "jagged style": golden miniatures and beautiful calendar medallions from the Benedictine monastery of St. Michael in Hildesheim
Experience More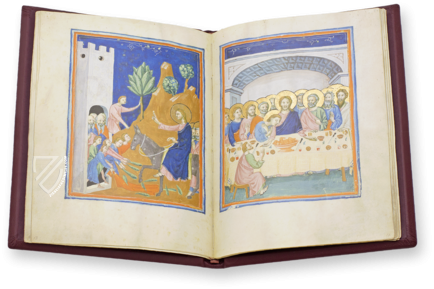 Pacino di Bonaguida's Picture Book
Florence (Italy) – 1320–1330
A pure picture book completely without text and one of the most beautiful works of the Italian Trecento: the life of Christ in 38 wonderfully luminous miniatures by Pacino de Bonaguida
Experience More
Blog articles worth reading