Drawings of Leonardo da Vinci and His circle - British Collections
Description
Drawings of Leonardo da Vinci and His circle - British Collections
The impressive graphic work of Leonardo da Vinci in British collections: a grandiose overview of this bundle of 139 drawings, ca. 70 thereof by Leonardo himself and the rest by his students and successors. A diverse range of themes – from portraits to religious motifs to scientific studies – and a multitude of graphic techniques cover the artistic work of the Italian universal genius. Discover the unbelievable world of Leonardo da Vinci!
Drawings of Leonardo da Vinci and His Circle - British Collections
The volume at hand of the great National Edition of the manuscripts and drawings by Leonardo da Vinci, the so-called Leonardo Codices, consist of Leonardo da Vinci's drawings that are stored today in British collections. Important museums such as the British Museum, the National Gallery of Scotland, or the Fitzwilliam Museum in Cambridge contain true treasures with regard to the graphic work of Leonardo da Vinci. Therefore, this volume from the unique series of complete reproductions of the manuscripts and drawings of Leonardo da Vinci offers the unique opportunity to study and get up close and personal with these precious drawings.
The Great Leonardo
Leonardo da Vinci (1452–1519) is considered to be the most significant universal genius of the Italian Renaissance. His artistic works – the great paintings above all – are world famous to this day. From a modern perspective, his scientific activity as a gifted researcher and inventor brought about groundbreaking technology. The basis of these unbelievable complete works are nonetheless based in the graphic arts, where Leonardo distinguished himself as a true master, because the drawing is considered to be the most direct and unmitigated expression of artistic genius!
An Unbelievable Compendium
139 drawings on 120 boards present Leonardo's graphic works in British collections. Around 70 drawings thereof originate from Leonardo himself and were wonderfully appended by sheets from his students and successors. In this way, the formative influence of the master can be directly comprehended. The drawings originate from the collections of the Barber Institute of Fine Arts in Birmingham, the Fitzwilliam Museum in Oxford, National Gallery of Scotland in Edinburgh, the British Museum, the Courtauld Institute of Art, the National Gallery, and the Victoria and Albert Museum.
Sketches, Studies, and Autonomous Works of Art
Motifs both profane and religious, natural-scientific and fantastic alternate in the compendium in a wonderful way. Alongside quick sketches and detailed preliminary drawings, one finds wonderfully executed boards, which could be considered stand-alone works of art. Studies of heads and portraits of old men and young, famous women, the splendid helmet of a man in armor, anatomical studies of the human body, and studies of garments and horses in motion are only a part of the range of motifs presented here!
Codicology
Alternative Titles

I disegni di Leonardo da Vinci e della sua cerchia - Collezioni in Gran Bretagna




Zeichnungen von Leonardo da Vinci und seinem Umkreis - Britische Sammlung

Type

Origin

Date

Last quarter of the 15th century – 16th century

Epochs

Style

Genre

Language

Illustrations

139 drawings

Artist / School

Leonardo da Vinci (1452–1519) and his circle
---
Available facsimile editions: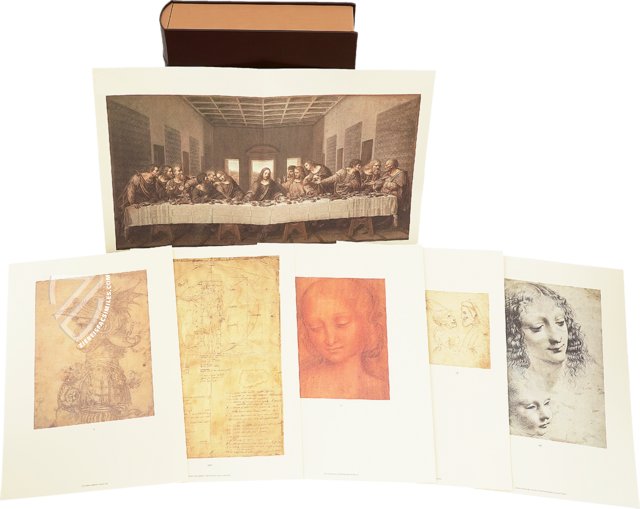 Giunti Editore
– Florence, 2010
Limited Edition:
998 copies
Detail Picture
Drawings of Leonardo da Vinci and His circle - British Collections
Leonardo's Fighting Vehicle
This is a prototype for a modern tank that was commissioned by Ludovico Sforza in 1487. With a design inspired by a turtle's shell, the construction consisted of wood reinforced with metal plates that would be angled to deflect enemy fire. It was to be armed with light cannons and powered by two large cranks operated internally by four strong men. Although this would have been insufficient to move the heavy vehicle on rugged terrain, its primary purpose was simply to intimidate the enemy.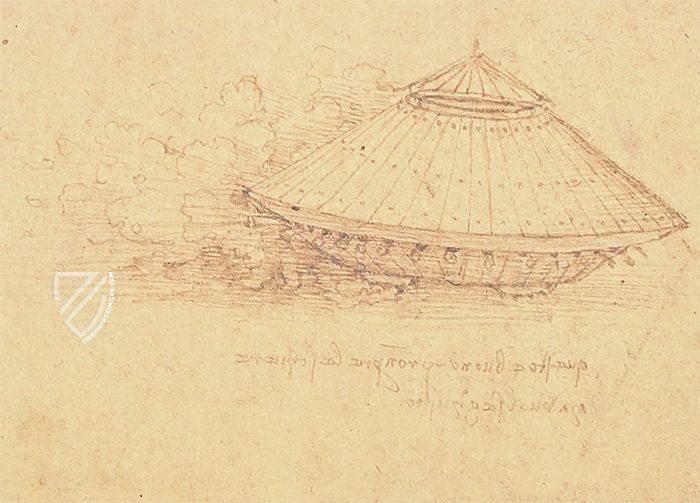 Single Page
Drawings of Leonardo da Vinci and His circle - British Collections
Antique Warrior in Profile
The "Head of a Warrior" is a recurring artistic theme that goes back to classical antiquity. Created ca. 1475, this bust of a warrior in profile is a silver drypoint print, an alternative method to engraving that is favored by many artists because the technique of using a needle is more similar to using a pencil than scraping or filing away the material as is done with engraving.
The stern-looking ancient warrior stands upright with his chest out and his shoulders back. He has pulled up the visor of his highly artful helmet, complete with dragon's wings, revealing the face of a veteran. His cuirass, which would have been made of bronze in ancient Greece, is adorned with floral tendrils and the roaring head of a lion.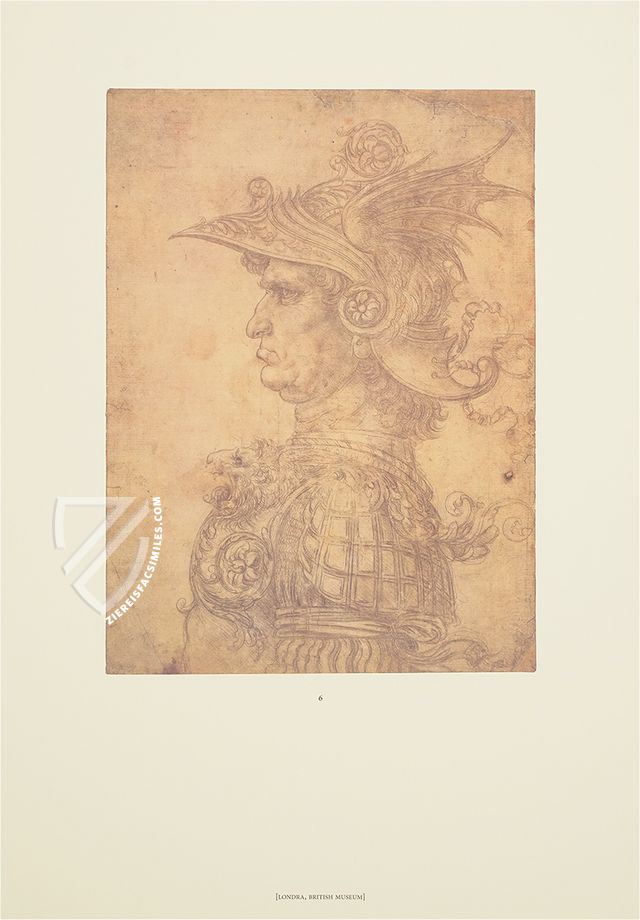 Facsimile Editions
#1

I disegni di Leonardo da Vinci e della sua cerchia - Collezioni in Gran Bretagna

Limited Edition:

998 copies

Binding:

Printed on handmade paper and bound in Fabriano paper With commentary volume in a gold-embossed leather covered clamshell case

Commentary:

1 volume (240 pages) by Martin Kemp, Juliana Barone, Catherine Whistler, Antony Griffiths, and Uta Kornmeier
Language: Italian

1 volume: Exact reproduction of the original document (extent, color and size)

Reproduction of the entire original document as detailed as possible (scope, format, colors). The binding may not correspond to the original or current document binding.

Facsimile Copy Available!

Price Category: €€€
(3,000€ - 7,000€)