Duchess Dorothea's Prayer Book
Description
Duchess Dorothea's Prayer Book
The princely Prussian couple Dorothea and Albrecht were completely devoted to Protestant beliefs and shaped their rule in accordance with the teachings of the Protestant faith. Duke Albrecht commissioned numerous prayer and devotional books for the religious education of his young wife Dorothea, all of them of high worth and made with exceptional diligence. Duchess Dorothea's Prayer Book, which was made in 1536 in the Nuremberg workshop of the artist Nikolaus Glockendon, represents her most splendid codex. The printed book was elaborately decorated by hand with high-quality colors and precious gold leaf in style of the great handwritten and hand-illuminated books of hours by Flemish and Dutch illuminators. Furthermore, it is furnished with a precious binding of black velvet studded with precious gemstones as well as silver fittings and claps. It is the most beautiful and personal book from the princely library to survive to the present.
Duchess Dorothea's Prayer Book
As a princely couple, Dorothea and Albrecht von Preußen were famous for their ardent Protestant faith. A large number of devotional books and texts originated in Albrecht's name, the most powerful proponent of the Reformation in the Prussian state. The small prayer book belonging to Duchess Dorothea is one of the few pieces from that princely library to have survived to the present. It possesses a special value and status among all of the noble pair's splendid works. The text of the incredibly richly decorated prayer book is printed, having said that, all of the miniatures and marginal decorations were handmade. Girded with a preciously adorned, valuable binding, the small book is a unique witness to the great cultural wealth of the bygone state of Prussia.
Prussian Protestantism
Dorothea of Prussia way a Danish princess and the first Duchess of Prussia. When she was married to Margrave Albrecht von Ansbach-Brandenburg, Duke of Prussia on July 1st, 1526, the ideas of the Reformation were already widespread in her new abode. Albrecht was an enthusiastic supporter of Martin Luther, was in good standing with the Reformer from Wittenberg, and undertook to reign over Prussia as a humble and responsible protestant sovereign. His wife Dorothea went to great lengths to emulate the Duke in his faith and found him to be a patient teacher. Numerous sources tell of how the prince commissioned theological texts, bibles, and devotional books for his wife in order to give her an understanding of the teachings of the protestant faith.
The Genesis of a Masterpiece
A few written sources contain information about the genesis of Duchess Dorothea's Prayer Book. A letter by Albrecht concerning the prayer book was addressed to the Nuremberg artists Arnold Wenck and Nikolaus Glockendon. The letter relates the personal wishes of the Duke, according to which his wife's gift was to be manufactured. It was intended to correspond to the style of the great handwritten and hand-illuminated books of hours by Flemish and Dutch illuminators. His prayer texts were printed, but all of the decoration and illumination of the book was finished with the use of high-quality colors and precious gold leaf applied by hand. Elaborate floral patterns and depictions of animals in an inconceivable variety adorn the margins of the pages. The illumination is reminiscent of the famous fables of the ancient Greek poet Aesop. The exceptional binding of the prayer book consists of black velvet studded with precious gemstones as well as silver fittings and claps. All of these precious and unbelievably expensive elements of décor speak to the very personal character of the masterful prayer book.
Codicology
Alternative Titles

Modlitewnik Księżnej Doroty




Jobst Gutknecht, Feuerzeug Christlicher Andacht




Gebetbuch der Herzogin Dorothea von Preussen

Size / Format

148 pages / 17.5 × 12.0 cm

Origin

Date

1536

Epochs

Style

Genre

Language

Patron

Duke Albert of Prussia, Grand Master of the Teutonic Order (1490–1568)

Artist / School

Nikolaus Glockendon (ca. 1490/95–1533/34)

Previous Owners

Duchess Dorothea of Prussia (1504–1547)
---
Available facsimile editions:
Detail Picture
Duchess Dorothea's Prayer Book
Angel Training a Dog
Gorgeous hand drawn frames surround the printed text throughout most of this wonderful hybrid work. Here we see a wonderful golden frame filled with various brightly colored flowers, as one would expect, but there are also some curious figures at the bottom of the page. A white dog is being trained to jump through a loop by an angel wearing a red tunic. The dog is depicted as it is about to leap through the hoop with its front legs up in the air as it pushes off with its hind legs.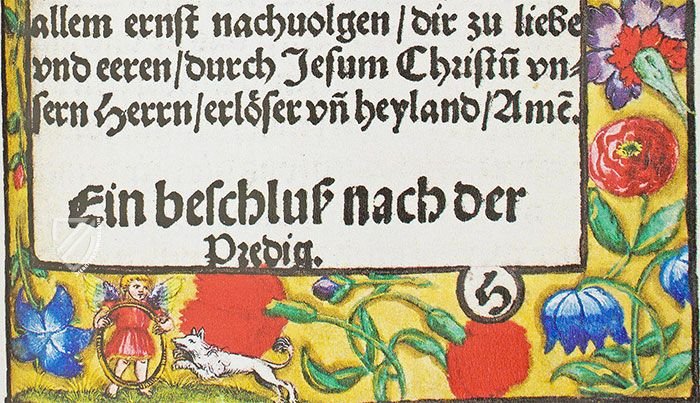 Single Page
Duchess Dorothea's Prayer Book
Frontispiece
Lions, hearts, a dragon, and even a goose adorn the coat of arms being held up by two onocentaurs instead of the Duke and Duchess of Prussia. An onocentaur is a medieval variation of the centaur from classical mythology, but part human and part donkey with only two legs instead of four. In medieval bestiaries, the onocentaur represents the conflict between one's humanity and one's more animalistic character.
The choice of these hybrid beings for the frontispiece instead of its patron and recipient may be a reflection of the Reformation, when many were examining their faith across Europe. Nevertheless, this hand drawn miniature is very fine and depicts the creatures with green fur, red horns and hooves, but otherwise natural and human looking faces and hands.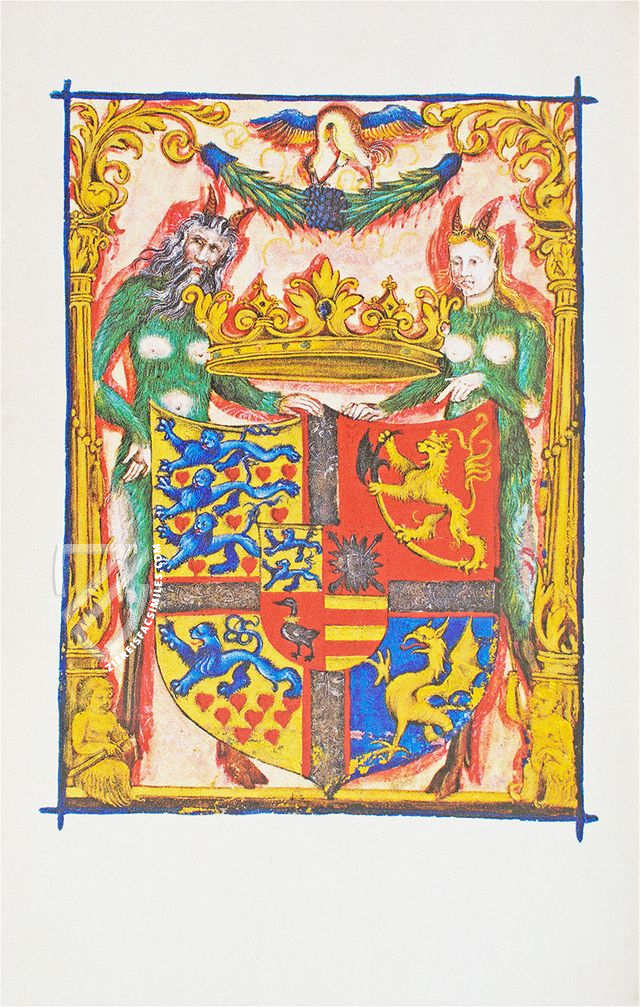 Facsimile Editions
#1

Modlitewnik Księżnej Doroty

Limited Edition:

299 copies

Binding:

Jewellery binding made of two boards covered in black velvet, fitted with original intricately cast and forged silver edge protectors, studs and clasps. The work is packaged in a wooden case padded with linen fabric and accompanied with the appropriate colophon.

Commentary:

1 volume
Languages: English, Polish


1 volume: Exact reproduction of the original document (extent, color and size)

Reproduction of the entire original document as detailed as possible (scope, format, colors). The binding may not correspond to the original or current document binding.