Exercicios de la Gineta
Description
This work is a testament to the elegance of the Castilian language, the famous skill of Spanish horsemen, and the fine art of copperplate engraving. Printed in an unusual landscape format, even censors could not help but praise the mid-17th century equestrian treatise by Gregorio de Tapia y Salcedo, a splendid glimpse into the world of Baroque Spain. The beauty of its copperplate engravings by María Eugenia de Beer is matched by the practicality of the text, which covers all aspects of horsemanship from breaking a wild horse to the details of various races, games, and even fighting on horseback. Salcedo, a sophisticated bibliophile, art collector, and author of numerous texts, considered this work to be his greatest and felt that it should be regarded as the fundamental text on horsemanship. It is a gorgeous and informative glimpse into the splendor of Baroque Spain.
Exercicios de la Gineta
This codex illustrating various exercises for horsemen was written by Gregorio de Tapia y Salcedo (1617–71), a knight and author who received a Jesuit education at the Colegio Imperial and possessed an extensive library and collection of paintings. As a member of the Order of Santiago, he dedicated three of his works to the Order's history and rules. His magnum opus on equestrianism was published in 1643 by Diego Díaz with numerous copperplates by María Eugenia de Beer (d. 1652), the daughter of the Dutch painter Cornelius de Beer (1591–1651), who moved to Spain in 1618 and signed her works with the name "Doña*.
It is an unusual codex because it is in landscape format, allowing even more room for de Beer's fine engravings, many of which are signed with a simple "Doña". The neatly printed text is presented in simple double frames and is further adorned with engraved initials and small ornaments. The portrait of a 14-year-old Prince Balthasar Charles of Asturias (1629–46), to whom the work is dedicated, precedes the inscription.
A Charming and Practical Guide to Equestrianism
Salcedo was proud of his work and defended it as the most outstanding text on the subject of riding. José Pellicer de Ossau Salas y Tovar (1602–79), a royal Spanish chronicler, was given the task of censoring the work, he said that it "was more worthy of esteem and appreciation than of censorship" because it was written with such elegance, both with respect to the grandness of the Castilian in which it was written, and with respect to how deftly it deals with such a complex subject. As he said, "Novelty and success run side by side…"
However, the work was novel in the sense that it was new and innovative – it was by no means trifling. After beginning with a general summary of the knowledge of horses, Salcedo's treatise proceeds in a practical manner beginning with the taming of wild horses and the training of young colts before moving onto the use of tack and other equipment. Once the fundamentals of horsemanship have been established, Salcedo goes into the specifics of different types of races, games, and even instructions for engaging in combat on horseback. The treatise was thus intended to be a comprehensive handbook for the young gentleman horseman.
Codicology
Alternative Titles

Exerzitien von Gineta

Size / Format

216 pages / 20.5 × 15.5 cm

Origin

Date

1643

Epochs

Style

Language

Illustrations

Copper engravings with riding and hunting scenes on horseback, engraved initials

Content

Treatise on riding

Artist / School

Gregorio de Tapia y Salcedo (author)
María Eugenia de Beer (engraver)
Diego Díaz (printer)
---
Available facsimile editions:
Facsimile Editions
#1

Exercicios de la Gineta

Limited Edition:

3160 copies

Binding:

Binding of parchment on wooden cover Cloth-lined presentation case with gold engraved leather spine

1 volume: Exact reproduction of the original document (extent, color and size)

Reproduction of the entire original document as detailed as possible (scope, format, colors). The binding may not correspond to the original or current document binding.
You might also be interested in: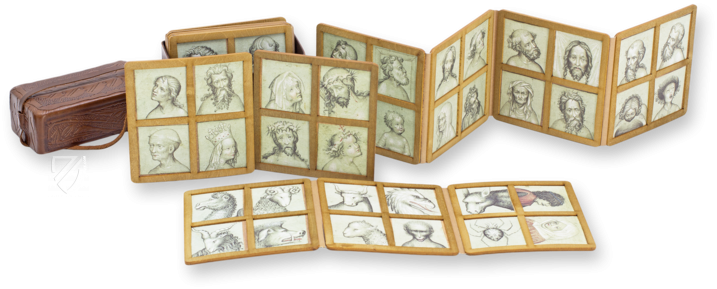 Vienna Model Book
Czech Republic; Austria – 1410–1420
A unicum of art history: 56 silverpoint drawings in the International Gothic style on small, hinged wooden panels
Experience More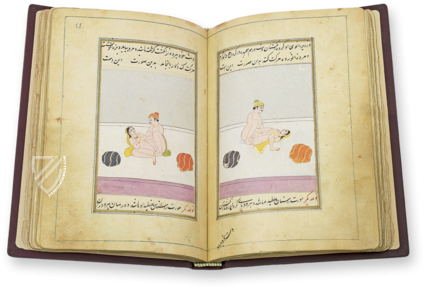 Ladhdhat al-nisâ - Pleasure of Women
Near East – 18th century
Inspired by ancient Indian texts and beautifully illuminated with 51 miniatures: a Persian treatise on the (sensual) nature of women, the art of love, and advice on how to enhance pleasure
Experience More
Blog articles worth reading