Life and works of El Greco
Description
Life and works of El Greco
This precious compendium of twelve historical documents carries the reader off to 16th century Toledo, where he was active as one of the greatest masters of Spanish art history: Domínikos Theotokópoulos, better known as El Greco. Letters with commissions and official documents and contracts, and inventory, and his personal will and testament give an inside look into the life and works of El Greco. These documents are bound up with the city history of Toledo and are an inestimable treasure trove for the study of this genius artist!
Life and Works of El Greco
The painter Domínikos Theotokópoulos (1541–1614), born on the Greek island of Crete, left his homeland in order to develop his skills as an artist. Thus, he came via Venice and Rome to Spain, where he took up residence in Seville and there became known as El Greco and rose to become one of the greatest artists in Spain during his time. Today, El Greco is considered to be the primary master of Spanish Mannerism. He received numerous commissions in Toledo from the most distinguished of patrons. His impressive work – mostly with religious content – appears incredibly modern for its time. Nonetheless, the extravagant compositions of luminous and expressive colors and forms already delighted El Greco's contemporaries!
The Artist and the Person
This exciting life and work of this exceptional artists is made impressively perceptible in the twelve historical documents from the Archivo Histórico Provincial in Toledo. The documents – most of which are even signed by himself or by his son Jorge Manuel – El Greco's files contain inter alia his first orders and contracts up to his famous masterpieces. What's more, there are documents concerning his familiar and professional connections. An inventory and his will complete this priceless bundle for the study of El Greco's life and field of work.
Probably the Most Famous Artist of Toledo
Since El Greco's work is directly associated with the important city of Toledo, the city's history is also involved in El Greco's personal history. Therefore, Toledo in the lifetime of the artist is brought back to life, e.g. in a drawn cityscape of Toledo from 1563. The documents of the compendium are chronologically ordered and thus also allow the historical events to be comprehended in progression. The historical documents additionally allow for the person behind the genius artist to appear. A unique opportunity to meet El Greco and study his art, which was incredibly modern and forward-looking and remains impressive and fascinating to the present – four hundred years after its genesis!
Codicology
Alternative Titles

El Greco. Su vida, su obra




Leben und Werke von El Greco

Type

Origin

Date

Second half of the 16th century – 1614

Epochs

Style

Language
---
Available facsimile editions:
Facsimile Editions
#1

El Greco. Su vida, su obra

Limited Edition:

995 copies

Binding:

Made of special laid and aged paper the facsimile comes in an elegant case.

Commentary:

1 volume
Language: Spanish

1 volume: Exact reproduction of the original document (extent, color and size)

Reproduction of the entire original document as detailed as possible (scope, format, colors). The binding may not correspond to the original or current document binding.
You might also be interested in: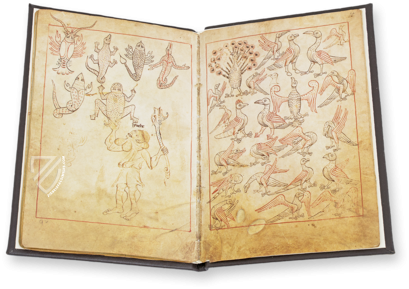 Model Book of Rein
Monastery of Rein (Austria) – 1st half of the 13th century
It inspired, influenced, and taught generations of artists: the oldest surviving medieval sketchbook with scenes of everyday life, depictions of animals, and magnificent initials created in the Cistercian Abbey of Rein
Experience More

Blog articles worth reading