Book of Heroes
Description
At the same time as the importance of mounted knights was waning on the battlefields of Europe in the Late Middle Ages, the code of chivalry that defined their identity was in many ways stronger than ever, evolving from a battlefield code of conduct to a model for courtly etiquette. By the 16th century, professional infantry dominated the battlefield and many among the nobility longed for a nobler past – real or imagined – wherein honor, loyalty, and Christian charity were prized above all else. Archduke Ferdinand II's splendid collection of arms and armor, recorded here in the world's first museum catalog, is a monument to the idea of chivalry that was supposed to elevate and ennoble the warrior.
Book of Heroes
This work catalogs the famous Heldenrüstkammer or "Heroes' Armory" of the Austrian Archduke Ferdinand II (1529–95), a collection of arms, armor, portraits, and other objects in Ambras Castle associated with the most famous men of the 15th and 16th centuries, who all happened to be great warriors and military commanders. The collection is still preserved today. Among the most fascinating of the objects is Bartlmä Bon's suit of armor, which towers over the rest of the collection because the knight in the Archduke's service was supposedly more than 8 feet tall. Ferdinand II commissioned a book inventorying this collection, considered to be the very first systematic presentation of objects in the history of museums, and tasked his valet, counsellor, and confidential secretary Jakob Schrenck von Notzing (1539–1612) with its creation.
A Splendid Catalog of Warriors
In addition to a frontispiece, 125 woodcuts illustrating the text and were made by the Flemish engraver Dominicus Custos (1560–1612) according to designs by the Italian painter Giovanni Battista Fontana (1524–1587). Various European princes and warriors are depicted in portrait wearing their armor in decorative surroundings, a short biography accompanies each image. Unfortunately, Ferdinand II died before the initial publication of the Latin Armamentarium Heroicum in 1601, this German edition of the monumental work was published in 1603. Von Notzing's work is considered to be the first printed and illustrated museum catalog in the world.
Codicology
Alternative Titles

Heldenbuch

Origin

Date

1603

Epochs

Style

Language

Illustrations

125 woodcuts showing the rulers of Europe

Artist / School

Jakob Schrenck di Notzing (author)
Giovanni Battista Fontana (engraver)
---
Available facsimile editions:
Facsimile Editions
#1

Book of Heroes

Limited Edition:

200 copies

1 volume: Exact reproduction of the original document (extent, color and size)

Reproduction of the entire original document as detailed as possible (scope, format, colors). The binding may not correspond to the original or current document binding.
You might also be interested in: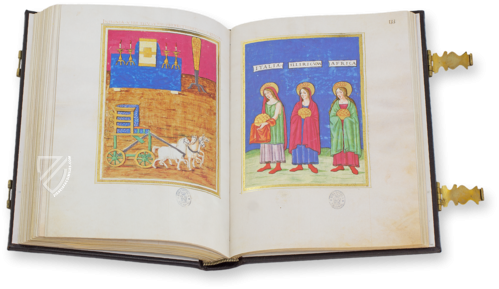 Notitia Dignitatum
Italy – 15th century
The administration of the Roman Empire during Late Antiquity in over 100 Italian miniatures: the famous state book with eleven additional treatises, e.g. on politics, geography, and topography in a magnificent compendium
Experience More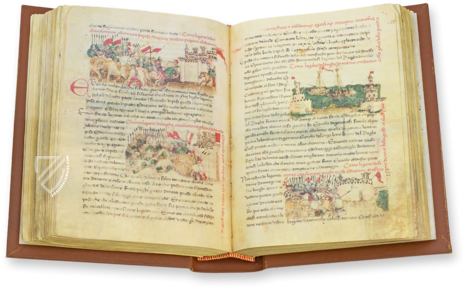 Blog articles worth reading