Portuguese Genealogy
Description
This beautiful genealogy originated from a collaboration between two of Europe's best illuminators. The Portuguese diplomat Damião de Góis (1502–1574) reports that Ferdinand of Portugal (1507–1534) commissioned the genealogical tree of the lines of Noah up to his famous father King Manuel I. Between the years **1530 and 1534, the Belgian Simon Bening (1483–1561) and the Portuguese Antonio de Hollanda (1490–1571) worked together on the 26-page parchment manuscript. Those who behold it are fascinated by its 13 full-page miniatures and 29 marginal depictions, especially the grandiose marginal depictions of mythological figures and battle scenes. The princely figures are represented with an unbelievable attention to detail and are surrounded by inventive scenes with picturesque landscapes and splendid architectures.
Portuguese Genealogy
Two of the most important illuminators of the 16th century collaborated on the Genealogy of the Royal Houses of Europe. Simon Bening (1483–1561) and Antonio de Hollanda (1490–1571) worked on the splendid genealogy between 1530 and 1534. It presents 13 full-page miniatures with partially historiated bordures and 29 marginal depictions on 26 parchment pages. According to the diplomat Damião de Góis (1502–1574), this collaboration between Lisbon and Bruges was probably commission by Ferdinand of Portugal (1507–1534) and was conceived of as a genealogy stretching from Noah to his father King Manuel I.
The Best Illuminators in Europe
Ferdinand of Portugal employed Europe's two best illuminators: Simon Bening and Antonio de Hollanda. Bening was a Flemish painter from Bruges who in his youth had already been an assistant in the workshop of his father Alexander Bening and founded his own ca. 1500. He completed five sheets for the family tree. According to the records of his son Francesco in his copy of Vasari, the Portugal-based Antonio de Hollanda was responsible for the design and painting of seven pages. An unpainted page shows Hollanda's masterful drawing with fine details.
A Family Tree of a Specific Nature
The genealogy by Bening and Hollanda is something very special. The multifaceted portraits find themselves amidst lovely boughs and range from busts to full body pictures and the names of the depicted are indicated by artfully curved banderoles. In doing so, they find themselves in a wide range of positions and are never rigid. Furthermore, their clothing exhibits gorgeous details: the elaborate headdresses of the women shine in luminous colors and their costly garment are endowed with charming trim. With the men, it is the shimmering suits of armor that catch of the eye of the beholder with their opulence. These princely figures are attended by numerous small birds flying between and around the branches. There are also large animals like lions, dogs, and deer to be found in the fanciful miniatures.
Artistic Marginal Décor
The marginal decorations of the miniatures are second to none with their interesting interior spaces and artful landscapes. From dynamic battle scenes with vivid representations of horses, to brilliant church interiors, to broad landscapes with heavenly coursing rivers, it can all be found here. Maritime scenes with enormous ships ** in the foreground and **glorious cityscapes with many small towers in the background are particularly expressive.
Codicology
Alternative Titles

Genealogía de las Reales Casas de Europa




Genealogie der Europäischen Königshäuser und Kaiser des Heiligen Römischen Reiches Deutscher Nation




Genealogy of the Royal Houses of Spain and Portugal




Genealogy of the Royal Houses of Europe

Size / Format

26 pages / 58.0 × 43.0 cm

Origin

Date

1530–1534

Epochs

Style

Language

Illustrations

13 full-page miniatures and 29 mariginal miniatures

Patron

Damião de Góis

Artist / School

Simon Bening
Antonio de Hollanda
---
Available facsimile editions: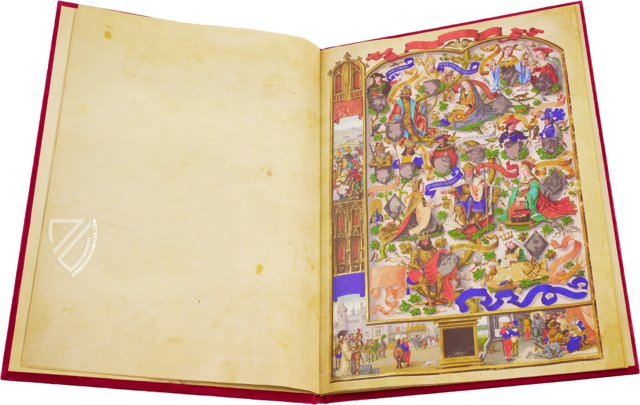 Patrimonio Ediciones
– Valencia, 2018
Limited Edition:
499 copies
Detail Picture
Portuguese Genealogy
Pelagius of Asturias
Pelagius was a Visigoth nobleman who established the Kingdom of Asturias in 718, making him the forefather of all future Iberian monarchies. He is also credited with starting the Reconquista, the Christian reconquest of the Iberian Peninsula from the Moors. The children of he and his wife, Gaudiosa, are pictured above: Favila, the successor to the throne who was killed in a hunting accident, and his sister Ermesinda, who then became queen consort to King Alfonso I, pictured in profile.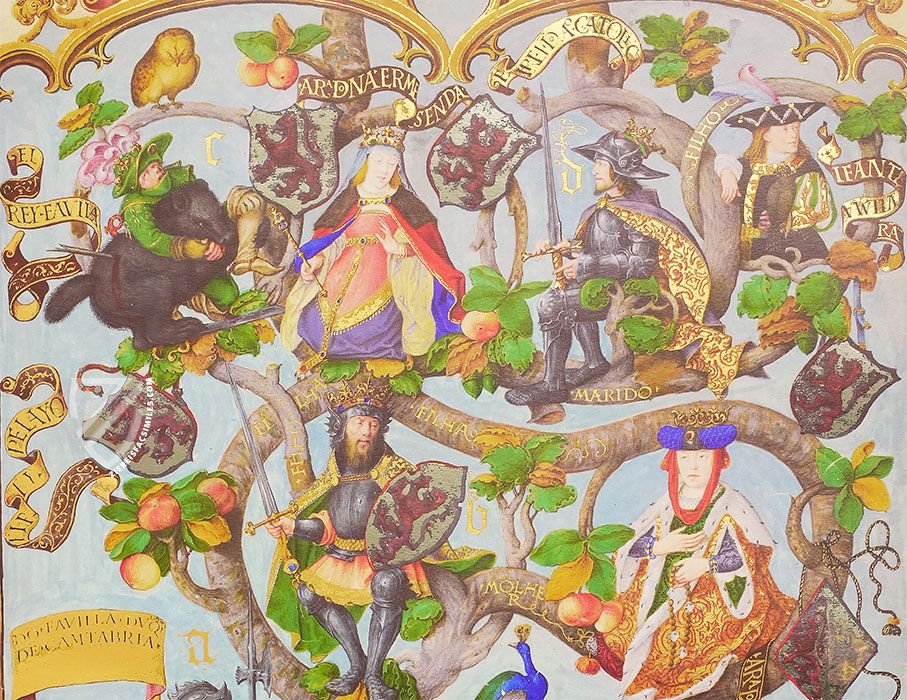 Single Page
Portuguese Genealogy
The First Three Kings of Portugal
This family tree depicts Portugal's rulers from Count Afonso Henriques, who became the first King of Portugal in 1139 as Afonso I, to his son Sancho I, and his grandson Afonso II, who ruled until 1223. The first two kings are armored as warriors, the third is more courtly in dress. Their queens are seated in the bows of the tree alongside them with all figures identified by banderoles.
Lisbon's port is shown in the lower margin with sailing ships detailed in the foreground. The upper miniature on the left depicts a battle against a Christian army, perhaps Castile. Below, we see the Battle of Ourique, Count Afonso's great victory over the Moors that resulted in the establishment of the Kingdom of Portugal, before which he is depicted having a vision.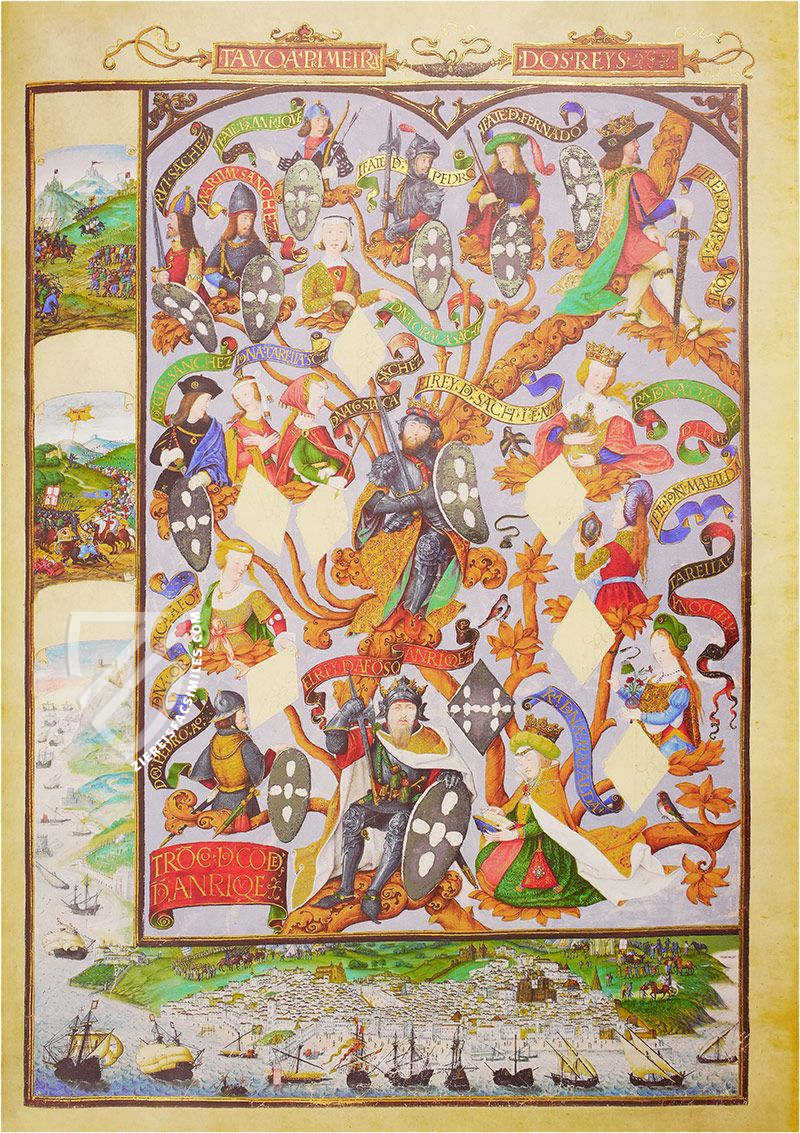 Facsimile Editions
#1

Genealogía de las Reales Casas de Europa Portuguese Genealogy

Limited Edition:

499 copies

Commentary:

1 volume by Scot McKendrick and Javier Docampo
Language: Spanish

1 volume: Exact reproduction of the original document (extent, color and size)

Reproduction of the entire original document as detailed as possible (scope, format, colors). The binding may not correspond to the original or current document binding.
You might also be interested in:
Blog articles worth reading