Rosary of World History - Subḥat al-aḫbār
Description
Rosary of World History - Subḥat al-aḫbār
This splendid genealogical manuscript traces the origins of the Ottoman dynasty through the centuries and all the way back to Adam and Eve. The so-called Rosary of World History is a genealogical work of the highest artistic quality and is one of the finest specimens of this genre of Ottoman illumination. It is also an unusual manuscript for this genre because was created as a codex rather than a scroll. Masterfully designed portraits created with a splendid color palette and gold leaf are accompanied by short biographical texts originally written during the 16th century and appended until the late-17th century, when this manuscript was made by a team of highly skilled and experienced artists. This team combined Western and Eastern artistic influences with an incredible color palette and generously applied gold leaf to create this masterpiece.
Rosary of World History
Illuminated family trees like this were created throughout the Ottoman Empire and were often owned by state functionaries. Although these family trees offer little in the way of new insights for historians, they are nonetheless of great art-historical worth. Vienna is home to one of the finest manuscripts to artfully depict the family tree of the Ottoman dynasty, which is called Subḥat al-aḫbār or "Rosary of World History".
Such works are typically found recorded on long paper scrolls, whereby the character of the family tree stands out all the more clearly, but this manuscript takes the form of a more functional codex. Nonetheless, the geometric scheme is maintained in book form, and the connecting red lines were stretched to the margins of the pages in order that they build a sequence from page to page.
The text was written by Mahmud ibn Shaik Ramadan and is based on the anonymous work Züb detü t-Tevārīḫ or "Quintessence of Histories" from the reign of Suleiman the Magnificent in the 16th century. It was appended in the years to follow and this manuscript was created during the latter period of Sultan Meḥmed IV's reign (r. 1648–1687).
A Magnificent Imperial Genealogy
The genealogy begins with Adam and Eve and includes their children, prophets of the Old Testament, portraits of Persian rulers, Alexander the Great, John the Baptist, Jesus Christ, Mohammed and the caliphs who followed him, and other important religious figures. This bloodline continues through the most important emirs and caliphs of the Islamic Middle Ages, then Turkish princes, members of later Persian dynasties, the Mongols and Timurids, before finishing with the six Ottoman Sultans who had ruled up to the time when the manuscript was made.
The Sultans appear in portraits while family members are depicted in medallion miniatures, often with gold leaf backgrounds, each with a short biography neatly written in Naskh script written in black and red ink. Artistic influences are evident from both Europe, especially the throne depictions, and Asia with regard to the ornamental perspective. These influences were seamlessly integrated and designed with a splendid color palette and soft shapes by a skilled team of experienced artists, making this a true masterpiece of 17th century Ottoman illumination.
Codicology
Alternative Titles

Rosary of World History




Rosenkranz der Weltgeschichte




Subḥat al-aḫbār




Genealogy of Suleiman the Magnificent




Biblia Otomana

Size / Format

34 pages / 30.0 × 18.5 cm

Origin

Date

17th century

Epochs

Style

Language

Illustrations

102 gold-decorated medallion miniatures in bold colors and gold ornaments throughout the codex
---
Available facsimile editions: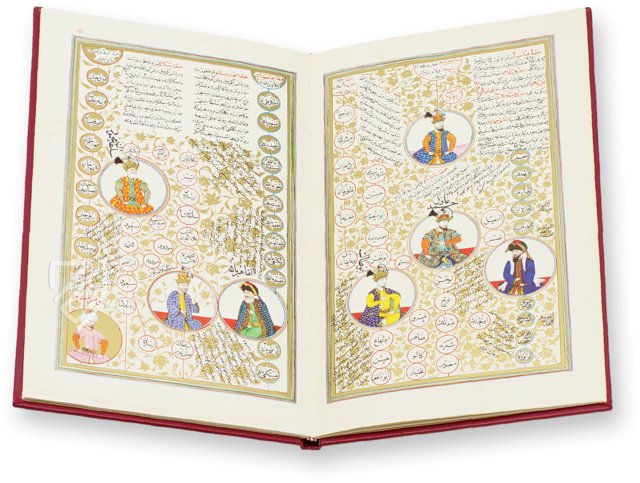 Akademische Druck- u. Verlagsanstalt (ADEVA)
– Graz, 1981
---
CM Editores
– Salamanca, 2021
Detail Picture
Rosary of World History - Subḥat al-aḫbār
Introduction
The introduction page has a decorative header that is as splendid and detailed as any of the miniatures that follow. It is an exemplary specimen of Islamic art and has the title written against a gold leaf background on a carpet, a popular decorative element in Muslim manuscripts that also appeared in Christian art, Insular manuscripts in particular. The deep blue background contrasts wonderfully with the winding golden tendrils, which are filled with colorful blooming flowers.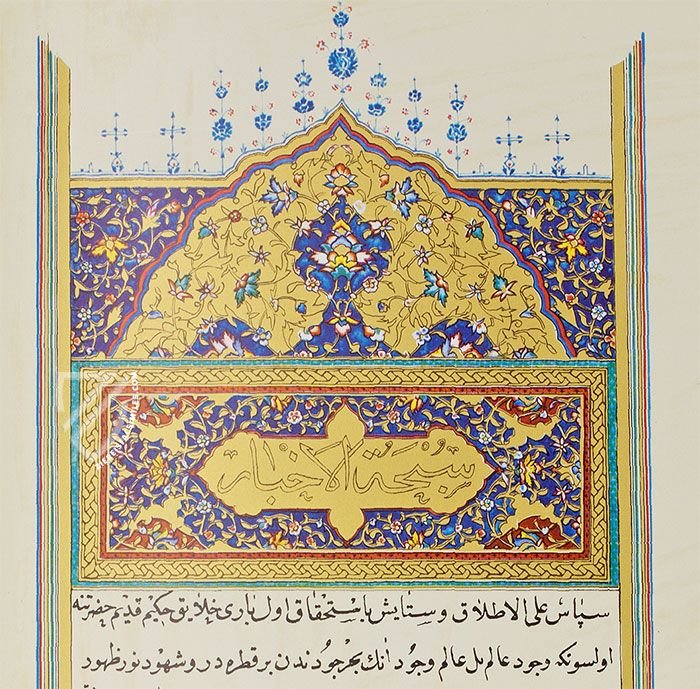 Single Page
Rosary of World History - Subḥat al-aḫbār
Orhan, Murad I, Bayezid I, and Mehmed I
After tracing their line back to early Muslim rulers, Persian dynasties, historic figures like Alexander the Great, and biblical figures ranging from Adam and Eve to Jesus Christ, the manuscript depicts the actual line of descent of the Ottoman's ruling house. Four beys (chieftains) and sultans are presented here in glimmering golden medallions with golden flowers.
These four monarchs ruled over the Ottoman Turks from 1323 to 1421, a century during which time they established themselves as the most powerful force in the Middle East. They are all shown sitting cross legged and leaning up against large cushions. Each is dressed in a turban with flowing brocade robes and Bayezid I, who built one of the world's largest armies, holds a sword.
Facsimile Editions
#1

Der Rosenkranz der Weltgeschichte

Binding:

Gold stamped faux leather

Commentary:

1 volume (8 pages) by Kurt Holter
Language: German

1 volume: Exact reproduction of the original document (extent, color and size)

Reproduction of the entire original document as detailed as possible (scope, format, colors). The binding may not correspond to the original or current document binding.
---
#2

Biblia Otomana (Subhat-al-ahbar)

Commentary:

1 volume
Language: Spanish

1 volume: Exact reproduction of the original document (extent, color and size)

Reproduction of the entire original document as detailed as possible (scope, format, colors). The binding may not correspond to the original or current document binding.
You might also be interested in: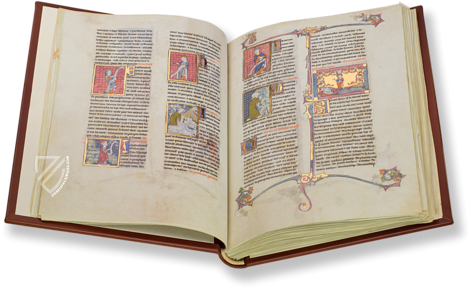 Book of Treasures
France – 1230–1294
Philosophy, history, science, religion, and politics: an exceptional textbook and reference work for the non-clerical, urban patrician audience adorned with 115 imaginative miniatures
Experience More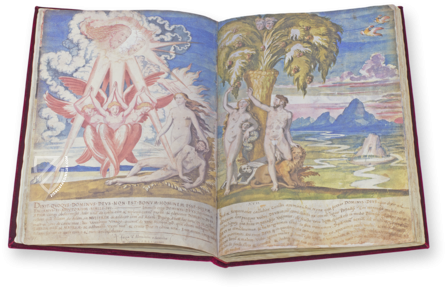 De Aetatibus Mundi Imagines
Évora/Lisbon (Portugal) – 1540–1573
First Michelangelo's pupil, then one of the greatest artists of the Iberian Renaissance: Francisco de Holanda's uniquely illuminated world chronicle
Experience More
Blog articles worth reading