Family Book of Augustus the Younger
Description
Family Book of Augustus the Younger
Duke Augustus the Younger of Brunswick-Lüneburg was a sovereign ruler, scholar, author, and bibliophile in early modern Germany. Considered one of the most literate princes of his era, Augustus received an excellent humanist education beginning at the age of eight and went on to attend university in Rostock, Tübingen, and Strasbourg before traveling extensively throughout Italy, Sicily, Malta, France, and England. He is best remembered for founding the world-famous Herzog August Library at his residence in Wolfenbüttel. His family book of 1594–1604 is a combination of a genealogy, a register of coats of arms, and an Album Amicorum or "friendship book" that has been artfully adorned with splendid copperplate engravings that offer a glimpse of daily life in Germany at the turn of the 17th century.
Family Book of Augustus the Younger
This unique manuscript gives us a detailed and comprehensive representation of life for a Protestant aristocratic German family during the Reformation, but it is somewhat difficult to categorize. On the surface, it appears to be a family register that records genealogical data as well as providing an official record of important events such as births, marriages, deaths, and expatriations. However, in form it also closely resembles an album amicorum, an "album of friends" or "friendship book", which emerged during the Reformation when it was popular to collect autographs from famous reformers.
These books continued to be popular with university students into the early 19th century and came to include illustrations and poems. Entire pages would be filled out by friends, usually during a special occasion or sojourn from an academic term. Since these books also carried autographs from professors, prominent clerics, aristocrats, and other figures, they often served as letters of recommendation for students applying to new universities. Regardless of the precise nature of this codex, it is a deeply personal and unadulterated glimpse into the life of Duke Augustus II of Brunswick (1579–1666).
An Enlightened Prince
Augustus was the fourth and last son of a scion of a Welf noble house and as such had no chance of inheriting his father's position or having any lands of his own to rule. Augustus returned home from his studies and travels in 1604 and came to a settlement with his brother, who granted him the small domain of Hitzacker an der Elbe where he established a modest court and spent the next 30 years living the secluded life of a scholar. During this time, he wrote numerous books including two under the cryptonym Gustavus Selenus, an anagram of Augustus and a reference to the ancient Greek moon goddess Selene, who is etymologically linked to Lüneburg through the Latin Luna for "moon". He published a book on chess in 1616, which was the first comprehensive theoretical text on the game in German, as well as works concerning cryptography, religion, philosophy, translations of the Bible, Aesop's Fables, Cicero, Horace, Aristotle, and other classical authors, as well as several genealogical works.
Building a Princely Library
After the middle house of Brunswick was left without male heirs, he inherited the Principality of Brunswick-Wolfenbüttel in 1635 and was finally able to take up residence at Wolfenbüttel in 1643 after concluding piece with the emperor whose troops were occupying the city in the course of the Thirty Years' War. Although his scholarly pursuits now necessarily took a backseat to the affairs of state, Augustus channeled his interests into expanding the library in Wolfenbüttel from the ca. 150 books he had brought with him to 31,300 volumes and 134,400 titles by the time of his death in 1666. He was able to build this collection through extensive correspondence with various scholars and dealers across Europe including Philip Hainhofer, whom he paid an annual salary of up to 600 thalers. In this manner, he created the Herzog August Library, one of the finest and most extensive private libraries in Europe as well as the largest collection of books and manuscripts north of the Alps in the 17th century.
Codicology
Alternative Titles

Stammbuch von Herzog August d. J.




Herzog August d. J. zu Braunschweig und Lüneburg. Stammbuch 1594-1604

Size / Format

614 pages / 10.0 × 15.5 cm

Origin

Date

16th and 17th century

Epochs

Style

Language

Patron

Duke Augustus the Younger of Brunswick-Lüneburg (1579–1666)
---
Available facsimile editions:

Müller & Schindler
– Stuttgart or Simbach am Inn, 1979
Facsimile Editions
#1

Herzog August d. J. zu Braunschweig und Lüneburg. Stammbuch 1594-1604

Commentary:

1 volume by Wolfgang Harms and Maria Katte

1 volume: Exact reproduction of the original document (extent, color and size)

Reproduction of the entire original document as detailed as possible (scope, format, colors). The binding may not correspond to the original or current document binding.

Facsimile Copy Available!

Price Category: €
(under 1,000€)
You might also be interested in: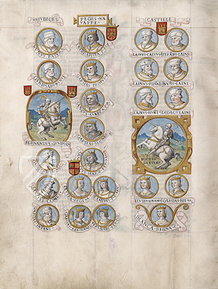 Liber Genealogiae Regum Hispaniae
Spain – Mid 15th century
A magnificent genealogy for the consort of Emperor Charles V: the imposing history of the Spanish kings from the 6th to the 15th century in beautifully illuminated pedigrees and portraits
Experience More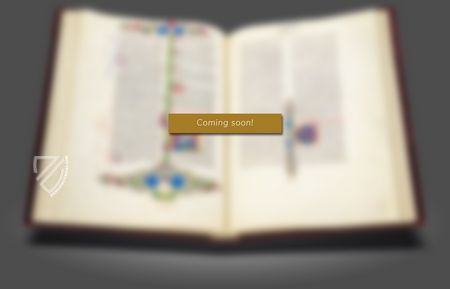 Blog articles worth reading