Medieval Housebook of Wolfegg Castle
Description
Medieval Housebook of Wolfegg Castle
Created sometime between 1470 and 1480 by a team of authors, the so-called Housebook of Wolfegg Castle is a compendium designed for use in an aristocratic household, which is noteworthy for the lively, high-quality imagery that fills the pages. These 47 miniatures, vignettes, and marginalia are particularly useful for their insights into everyday life in the Late Middle Ages. Most of them consists of colored pen drawings, while others are uncolored but masterfully shaded. The text of the manuscript is divided into 6 sections: memorization techniques; astrological descriptions of the planets; illustrations of a bathhouse, a castle with moat, a tournament including the joust, hunting scenes, and an "obscene love garden"; recipes ranging from cooking to pharmacology to dying fabrics; mining, metallurgy, and assessing gold coins; weapons, siege equipment, and other military technology.
Codicology
Alternative Titles

Mittelalterliches Hausbuch von Schloss Wolfegg




Mittelalterliches Hausbuch

Origin

Date

Ca. 1470–1480

Epochs

Style

Genre

Illustrations

47 colored pen drawings

Previous Owners

Maximilian Willibald of Waldburg-Wolfegg
Facsimile Editions
#1

Das Mittelalterliche Hausbuch
Commentary:
1 volume by Christoph, Graf zu Waldburg Wolfegg
Languages: English, German

1 volume: Exact reproduction of the original document (extent, color and size)
Reproduction of the entire original document as detailed as possible (scope, format, colors). The binding may not correspond to the original or current document binding.
You might also be interested in: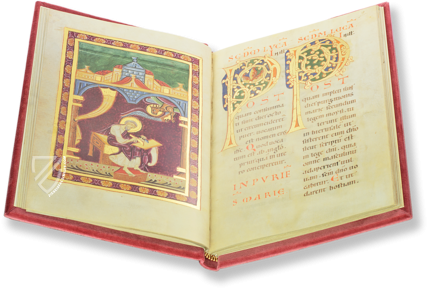 Golden Book of Pfäfers
Monastery of Reichenau (Germany); Pfäfers (Switzerland) – ca. 1070–1450
An ongoing work for centuries: splendid Romanesque and Gothic illumination and an important testimony to medieval monastic life
Experience More
Blog articles worth reading