Profane and Sacred Engravings by Albrecht Dürer
Description
Profane and Sacred Engravings by Albrecht Dürer
The collection of Profane and Sacred Engravings by Albrecht Dürer originates from the turn of the 15th/16th centuries in Dürer's hometown of Nuremberg. It contains some of the artist's greatest works, among them the master print Melancholia.The copperplate engravings and woodcuts of Dürer clearly distinguish themselves in their quality among all the masterpieces of the Renaissance.
Profane and Sacred Engravings by Albrecht Dürer
Albrecht Dürer was probably the most dazzling representative of the Renaissance in Germany. The universally gifted and world-famous artist measurably influenced various scholarly fields such as mathematics or art history. Dürer's Apocalypse, Great- and Small Passion count among the most exciting illuminated manuscripts of the German Renaissance. His collection of Profane and Sacred Engravings contains some of the best works by the great artists. It contains a total of 27 great images in black-and-white.
Highlights of Dürer's Art
The collection contains a selection of the best engravings of the exceptionally talented artist, Dürer. His pictures are characterized by the deep religiosity of the master, his penchant for the mystical and supernatural. The multifaceted master's whole range of interests shines here splendidly. Some of the images represent chronicles of daily life, which Dürer saw around him every day. Some other images are excellent portraits of clerical and secular people. For example, the depiction of the great humanist Erasmus of Rotterdam attained particular fame.
Dürer's Master Prints
Every work of Albrecht Dürer's can be considered as an artwork of incomparable quality. Certainly his pictures of the Virtuosos achieved particular fame worldwide. These are the three so-called Master Engravings of Albrecht Dürer. The three master engravings are the images of Knight, Death, and Devil, St. Jerome in His Study, and Melancholia. All three images are contained in the afore-mentioned collection. The Melancholia is considered to be the most enigmatic work of Dürer's and is characterized – like many of his works – by a complex iconography and symbolism. The mysterious, ambiguous work attests to the unbelievably artistry of the master. Even after centuries, the high-quality, magic-seeming pictures of the great Renaissance master have lost none of their appeal.
Codicology
Alternative Titles

Grabados profanos y sagrados de Alberto Durero




Weltliche und geistliche Stiche von Albrecht Dürer

Origin

Date

End of the 15th century – beginning of the 16th century

Epochs

Style

Illustrations

27 engravings

Artist / School

Albrecht Dürer (1471–1528)
---
Available facsimile editions: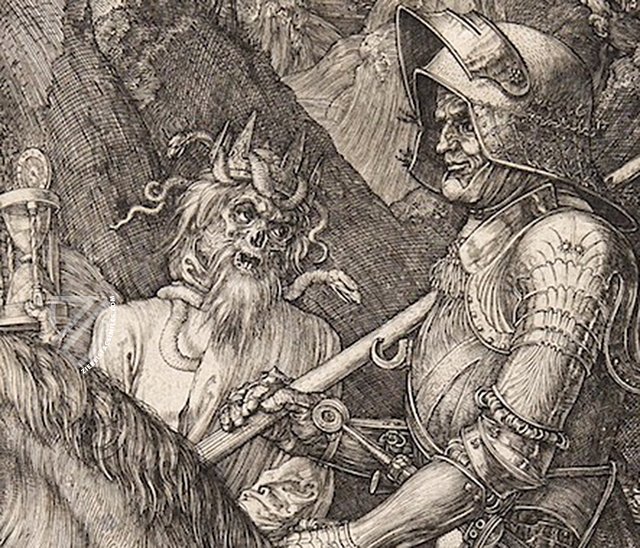 CM Editores
– Salamanca, 2013
Limited Edition:
375 copies
Facsimile Editions
#1

Grabados Profanos y Sagrados de Alberto Durero

Limited Edition:

375 copies

Commentary:

1 volume by Concepción Huidobro
Language: Spanish


1 volume: Exact reproduction of the original document (extent, color and size)

Reproduction of the entire original document as detailed as possible (scope, format, colors). The binding may not correspond to the original or current document binding.