Artistic and Monumental Spain (Collection)
Description
Artistic and Monumental Spain (Collection)
This illustrated travelogue offers a unique glimpse into Spain's cityscapes in all of their nostalgic medieval splendor. Created in the 19th century before the reforms that transformed most Spanish cities, it consists of 144 engravings of landscapes, cityscapes, and grand interior spaces. It is thus a wonderful specimen of Spanish architecture as well as an artifact of the explosion in travel made possible by the technological advances of the 19th century.
Artistic and Monumental Spain (Collection)
Illustrated travel books became popular during the Romantic movement of the 19th century, during which time travel became progressively safer, easier, and more accessible. The three-volume Artistic and Monumental Spain is the result of a collaboration between the Spaniards Jenaro Pérez de Villamil (1807–54), a painter in the Romantic style specializing in landscapes and architectural depictions, and Patricio de la Escosura (1807–78), a politician, journalist, playwright, and author of the Romantic school. The work was published by the Parisian printing house of Veith and Hauser between 1842 and 1850. Altogether, it features 144 engravings, which make it a wonderful source for the history, art, and architecture of Spain. The work presents Spain as it was before the major reforms that transformed much of urban Spain in the course of the 19th century.
A Gorgeous Survey of Historic Spanish Architecture
Villamil created most of the paintings and the resulting plates, which are signed "GP de Villaamil pinxit", while other plates were made from original drawings by other artists. This Romantic work consists of beautiful landscapes, cityscapes, and grand interior spaces with particular attention paid to the cities of Toledo (44 views) and Burgos (19 views) as well as other places in Castile, Aragon, Andalusia, the Basque country, Navarre, and Galicia. Rather than attempting a survey of all regions of Spain, the locations were more arbitrarily chosen for their aesthetic value and Romantic medieval charm. This is a marvelous survey of Spain's gorgeous architectural heritage.
Codicology
Alternative Titles

Espana Artistica y Moumental




Artistic and Monumental Spain (Collection)

Date

1840–1848

Epochs

Style

Content

144 lithographs

Artist / School

Jenaro Pérez de Villamil
Facsimile Editions
#1

Espana Artistica y Monumental

1 volume: Exact reproduction of the original document (extent, color and size)

Reproduction of the entire original document as detailed as possible (scope, format, colors). The binding may not correspond to the original or current document binding.
You might also be interested in: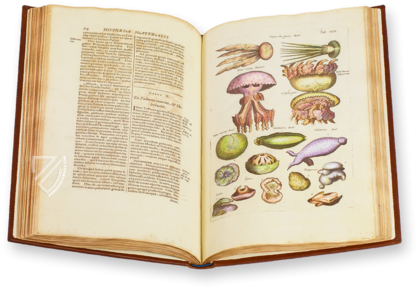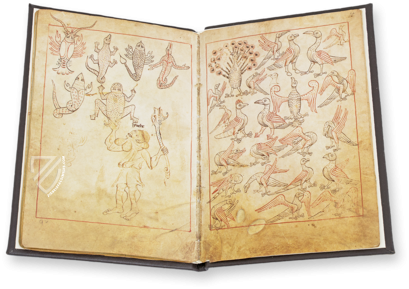 Model Book of Rein
Monastery of Rein (Austria) – 1st half of the 13th century
Influencing generations of artists: the oldest surviving sketchbook of the Middle Ages
Experience More