Flemish Apocalypse
Flanders — 1400–1410
The unique manuscript in the Gothic style contains breath-taking miniatures from Flemish miniaturists

Large, full-page miniatures break with the tradition of English Apocalypses during the Gothic period

The mysterious yet realistic miniatures mark the transition from the art of the Gothic to the Renaissance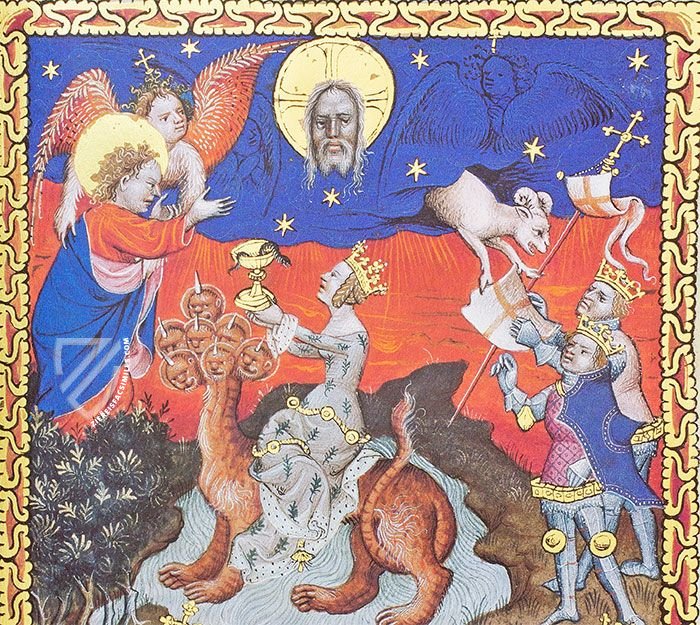 Flemish Apocalypse
Alternative Titles:
Apocalipsis Flamenco
Flämische Apokalypse
Apocalisse Fiamminga
Apocalypse Flamande
Apocalipse Flamengo
Short Description
The Flemish Apocalypse arose between 1400 and 1410 in Belgian Flanders and is found today in the French National Library. The anonymous illuminator made 23 high-quality, gold-adorned Illustrations for the manuscript. These reflect the traditional style of the Apocalypse manuscript of that time, and yet they also contain unique new stylistic characteristics.
Flemish Apocalypse
The Belgian region of Flanders was a stronghold of medieval book art. The coveted illuminated manuscripts from Flemish studios were exported across all of Europe. The Flemish Apocalypse is a work from the Belgian school that continues to astound its beholders to this day. The unique manuscript in the Gothic style arose between 1400 and 1410 and contains breath-taking miniatures, which have been ennobled through gold leaf embellishment. The famous Belgian scholar and mystic Lubertus Hautscilt is considered to be the spiritual father of this apocalypse.
The Genre of the Apocalypse
The Book of Revelation is the last book of the Bible and is also known as the Apocalypse. In this biblical story the visions of John about Judgement Day and the end of the world are thematized. It is described, how sinners will be punished in Hell and righteous people will be rewarded in Heaven. The artistically valuable depictions of the Flemish Apocalypse are counted among the greatest eschatological pictorial visions of the Late Middle Ages.
Special Iconography
The miniatures of the Flemish Apocalypse give evidence to the extraordinary talent of the anonymous master. One the one hand, they maintain the typical style of the Apocalypse tradition, nevertheless they exhibit completely innovative characteristics. Every single miniature exhibits a particular visionary character, and visually echoes the mysterious atmosphere of the text. The special characteristics of the miniatures demonstrate the religious mentality of Flanders at that time. The outstanding manuscript marks the transition from the art of the Gothic to the Renaissance and an artistic highpoint of realistic painting in the southern Netherlands.
Codicology
Alternative Titles

Apocalipsis Flamenco




Flämische Apokalypse




Apocalisse Fiamminga




Apocalypse Flamande




Apocalipse Flamengo

Size / Format

50 pages / 34.0 × 25.0 cm

Origin

Date

1400–1410

Epochs

Style

Genre

Language

Illustrations

23 full-page illuminations decorated with gold
1 available facsimile edition(s) of "Flemish Apocalypse"
Apocalipsis Flamenco
Apocalipsis Flamenco
1 volume: Exact reproduction of the original document (extent, color and size)
Publisher

M. Moleiro Editor – Barcelona, 2005

Limited Edition

987 copies

Binding

Deep red leather with leather case

Commentary

1 volume (224 pages) by Jos Koldeweij and Nelly de Hommel
Language: Spanish

More Information

Reproduction of the entire original document as detailed as possible (scope, format, colors). The binding may not correspond to the original or current document binding.
Matching Background Articles