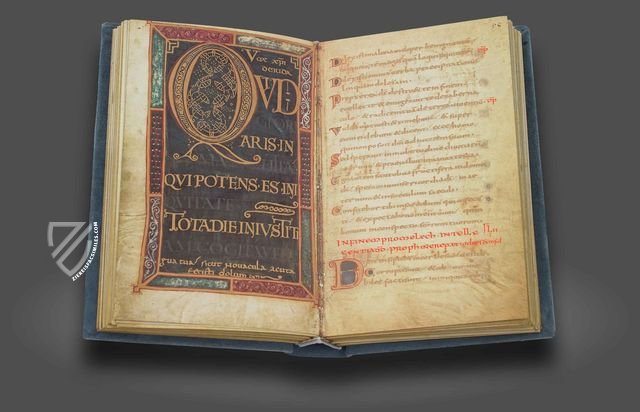 Golden Psalter of Charlemagne - Dagulf Psalter
Worms and Aachen (Germany); Metz (France) — 783–795
A rare personalized Carolingian manuscript originally created as a gift for Pope Adrian I (d. 795)

The Pope died before the codex could be completed, likely passing to of one of Charlemagne's wives

A tour of Carolingian scriptoria: it was begun in Worms and Metz before being finished in Aachen in 795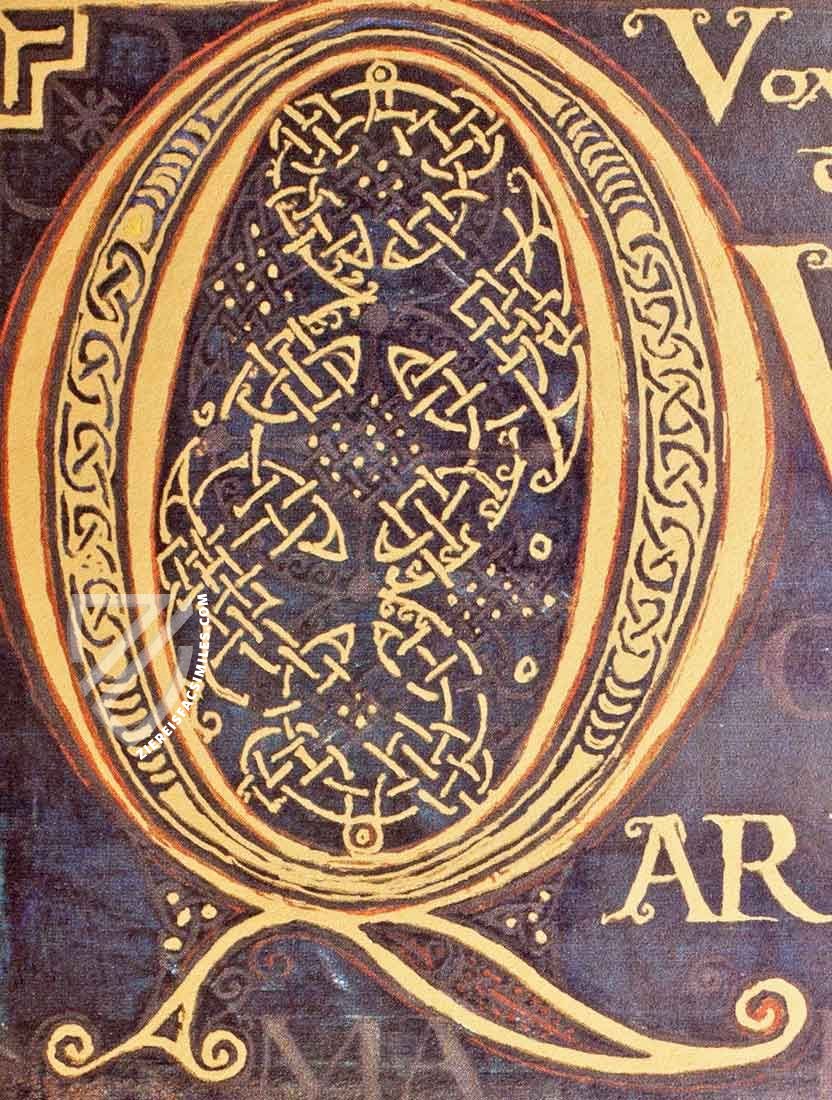 Golden Psalter of Charlemagne - Dagulf Psalter
Alternative Titles:
Der Dagulf-Psalter
Goldener Psalter
Short Description
The Golden Psalter of Charlemagne, also known as Dagulf Psalter according to the name of the scribe who wrote it, is one of the few surviving Carolingian manuscripts that was made for personal use. A product of the so-called Palace School, work on it was begun in Worms and Metz between 783 and 789 before being finished in Aachen in 795. The Psalter may have originally been commissioned as a gift for Pope Adrian I, but it is believed that one of Charlemagne's wives received it for her personal use. As personal manuscripts were rare in this period, particularly for lay-persons and even more so for women, this spectacular manuscript of imperial purple and gold was a particularly ostentatious sign of both power and sophistication.
Dagulf Psalter
The Golden Psalter of Charlemagne, also known as Dagulf Psalter according to the name of the scribe who wrote it, is among the regal manuscripts of the Palace School, i.e. among those jewels of illumination which were produced before the imperial coronation of Charlemagne in the year 800. The Psalter, a collection of 150 Psalms of the Old Testament, covers two decisive phases of the Carolingian school of painting. The section carried out between 783 and 789 may be identified as having been made in Worms and Metz, whereas the completion of the codex undoubtedly took place in Aachen between 790 and 795. The Golden Psalter thus constitutes a testimony to the evolution of the Palace School, which started in several places, but became fully developed after the establishment of the new capital in Aachen.
A Golden Manuscript from Charlemagne's Palace School
Both the size and design of the manuscript reveal that rather than being destined for use in public liturgy, it was intended for a private person. Who this person was remains unclear: it may have been originally intended as a gift to Pope Adrian I (r. 772–795), but he died before it was completed, and thus may have come into the possession of one of Charlemagne's wives. Dagulf, the scribe, used a remarkable wealth of scripts to decorate his Psalter, as was customary in this period. The beautiful script undoubtedly ranks among the finest examples of early Carolingian minuscule which later played an important part in the development of the Roman script we use today. A major portion of the manuscript is referential to Dagulf who signed the book in a dedication poem to Charlemagne.
Illumination at its Very Best
All ornamental pages are lavishly executed and delight the viewer with their well-balanced harmony of colors and golden tones as well as with soft and rounded forms. A certain tension between the individual elements further enhances their charm. An element of improvisation is revealed in the frames and this playful character has contributed much to the book's value. The predominant decorative form is the interlaced band which appears in a wide range of variations. Of all the ornamental pages, the frontispiece stands out due to its unusual coloring because it is dominated by blue tones, lacks a purple background, and the use of gold is reserved.
Codicology
Alternative Titles

Der Dagulf-Psalter




Goldener Psalter

Size / Format

324 pages / 19.1 × 12.0 cm

Date

783–795

Epochs

Style

Genre

Language

Script

Carolingian miniscule Uncial Rustic capitals Square capitals

Illustrations

5 ornamental pages on purple, deep blue, or steel-colored backgrounds

Content

Complete text of the Book of Psalms

Artist / School

Scriptor: Dagulf
Palace School of Charlemagne
1 available facsimile edition(s) of "Golden Psalter of Charlemagne - Dagulf Psalter"
Der Dagulf-Psalter (Goldener Psalter) Facsimile
Der Dagulf-Psalter (Goldener Psalter) Facsimile
1 volume: Exact reproduction of the original document (extent, color and size)
Publisher

Akademische Druck- u. Verlagsanstalt (ADEVA) – Graz, 1980

Limited Edition

700 copies

Binding

Blue silk. Presented with the commentary volume in solid slip case. All folios are cut according to the original.

Commentary

1 volume (100 pages) by Kurt Holter
Language: German

The commentary volume with 100 pages introduces you to the world of Emperor Charlemagne and explains in detail the magnificent illumination.

More Information

Reproduction of the entire original document as detailed as possible (scope, format, colors). The binding may not correspond to the original or current document binding.
Matching Background Articles
Carolingian

What happens when a mighty emperor like Charlemagne assembles Europe's greatest scholars and artists at his court? A mini...

Experience more

8th Century

Islam rises from the East like an irresistible tide and the Vikings begin to raid and pillage from the North Sea to the...

Experience more