Gospels of Korça
93
Central State Archive of Albania (Tirana, Albania)
Description
The State Archive of Tirana, Albania houses a wonderful assortment ca. 100 Byzantine and post-Byzantine manuscripts. Number 93 of that collection, the so-called Gospels of Korça, is a splendid 10th century Gospel Book produced during the Macedonian Renaissance, a blossoming of Byzantine art and culture in the 9th–11th centuries that corresponded with the reestablishment of the Byzantine Empire as the preeminent power of the Eastern Mediterranean. Originally produced in Constantinople, the Gospels of Korça was used and venerated as a holy artifact in the metropolis of Korça in modern Albania for centuries. The text, written in brown ink while red ink and gold was used for chapter titles, was formatted in the shape of a cross, which is rare among Byzantine manuscripts. Six Canon tables introduce the manuscript and Four Evangelist portraits depict the authors of the Gospels dressed in turquoise tunics and pink robes. Nearly every page of this splendid manuscript is adorned with floral, zoomorphic, and architectural motifs.
Codicology
Alternative Titles

Evangeliar von Korça




Codex of Korça 93




Four Gospels of Korça




To Tetraeuaggelion tes Korutsas




Katërungjillëshi i dekoruar i Korçës

Origin

Date

10th century

Epochs

Style

Genre

Language
---
Available facsimile editions:
Limited Edition:
1300 copies
Facsimile Editions
#1

Katërungjillëshi i dekoruar i Korçës : (kodiku i Korçës nr. 93)
Limited Edition:
1300 copies
Binding:
The facsimile comes in a case (44 × 24 × 8 cm) containing the facsimile, the commentary volume, and a magnifying glass.
Commentary:
2 volumes by Sokol Çunga, Andi Rëmbeci, Agamemnōn Tselikas and Ioannis Vitaliotis
Languages: English, Albanian

The facsimile edition includes a combined commentary volume containing both volumes.
1 volume: Exact reproduction of the original document (extent, color and size)
Reproduction of the entire original document as detailed as possible (scope, format, colors). The binding may not correspond to the original or current document binding.
You might also be interested in: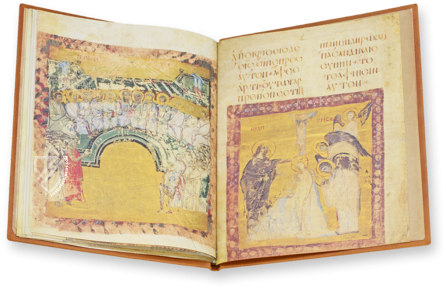 Lectionary of St Petersburg
Trabzon (Turkey) – 2nd half of the 10th century
Worn out over many centuries, but now completely restored: an early Byzantine masterpiece as a gift for the Russian tsars
Experience More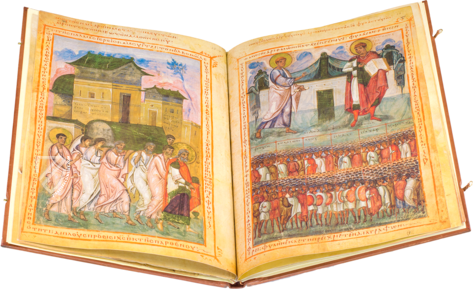 Leo Bible
Court Scriptorium, Istanbul (Turkey) – ca. 925–950
Originally made for a court official: the oldest Byzantine picture Bible with the earliest depictions of saints in Christianity
Experience More
Blog articles worth reading