Gospels of Matilda, Countess of Tuscany
Description
Gospels of Matilda, Countess of Tuscany
Countess Matilda of Tuscany was one of the most powerful nobles in Italy during the second half of the 11th century and brokered a settlement in the Investiture Controversy, which began as a power struggle between Emperor Henry IV and Pope Gregory VII over who had the authority top invest new bishops. She was also a woman of deep faith and a patron of the arts who commissioned a splendid Gospel Book sometime between 1075 and 1099 as a gift to the Abbey of San Benedetto in Polirone, which was founded by her grandfather. The text is written in red and black in and is adorned by 4 incipit pages and 7 canon tables created with rich primary colors, and gold leaf. Most of the 6 full-page miniatures and 6 smaller miniatures were created by using just red paint, gold leaf, and shading while one is completed in full color.
Codicology
Alternative Titles

Evangeliar der Mathilde von Canossa




Gospel book of San Benedetto in Polirone

Size / Format

212 pages / 33.3 × 22.6 cm

Origin

Date

Ca. 1075–1099

Epochs

Style

Genre

Language

Script

Minuscule

Illustrations

6 full-page miniatures; 6 smaller miniatures; 4 incipit pages; 7 canon tables

Content

The four Gospels; The Liber vitae of the monastery of San Benedetto in Polirone (fol. 102-106), which contains a document dated 8th April 1109 by Abbot Albericus concerning the obligation of the monastery of San Benedetto in Polirone to the Countess and A

Previous Owners

Giovanni Battista Racanati
Abbot Mauro Mari
Don Giuseppe Mari
Luigi Celotti of Venice
Rev. Theodore Williams
Sir Thomas Phillipps
---
Available facsimile editions:
Facsimile Editions
#1

Gospels of Matilda, Countess of Tuscany

Commentary:

1 volume by George F. Warner and J. Pierpont Morgan
Language: English

1 volume: This facsimile is not complete.

Reproduction of 19 plates in gold and colour and 12 in greyscale. The binding may not correspond to the original or current document binding.
You might also be interested in: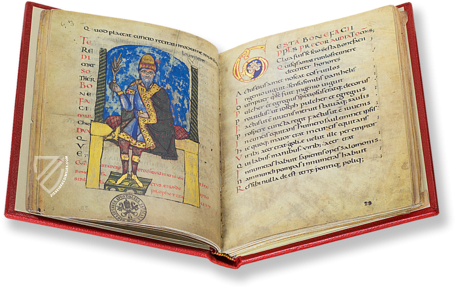 Vita Mathildis
Monastery of Saint Apollonius in Canossa (Italy) – 1115
The famous Investiture Controversy was settled at her castle: the life of Mathilda of Canossa in luminous miniatures
Experience More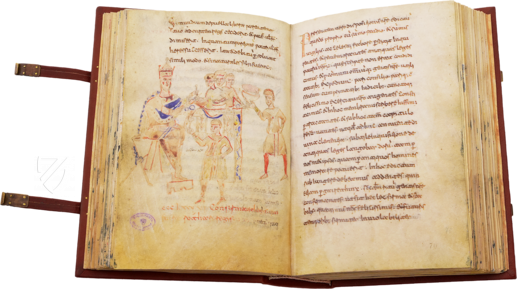 Codex Legum Langobardorum
Benevento (Italy) – Ca. 1005
Mysticism united with a body of laws in the most famous manuscript of the Lombards: the history of the "Longbeards" illustrated with twelve miniatures of the gods Odin and Freyja as well as Lombard and Frankish kings
Experience More