Gospels of Matilda, Countess of Tuscany
Description
Gospels of Matilda, Countess of Tuscany
Countess Matilda of Tuscany was one of the most powerful nobles in Italy during the second half of the 11th century and brokered a settlement in the Investiture Controversy, which began as a power struggle between Emperor Henry IV and Pope Gregory VII over who had the authority top invest new bishops. She was also a woman of deep faith and a patron of the arts who commissioned a splendid Gospel Book sometime between 1075 and 1099 as a gift to the Abbey of San Benedetto in Polirone, which was founded by her grandfather. The text is written in red and black in and is adorned by 4 incipit pages and 7 canon tables created with rich primary colors, and gold leaf. Most of the 6 full-page miniatures and 6 smaller miniatures were created by using just red paint, gold leaf, and shading while one is completed in full color.
Gospels of Matilda, Countess of Tuscany
This is a unique manuscript worthy of an extraordinary woman, Countess Matilda of Tuscany (ca. 1046–1115), also known as la Gran Contessa or "the Great Countess" for her role as one of the most important figures of the Italian Middle Ages and one of the most powerful medieval women overall. What makes her legacy all the more impressive was her ability to rule effectively as a woman during one of the most turbulent periods in European history. Her court was a center of art, literature, and culture, as Matilda was advised by a large number of lawyers and scholars. She acquired legendary status after her death and has become the subject of art, music, literature, miracle stories, and legends. This legacy reached its peak during the Counter-Reformation when she was exalted for her staunch defense of the church during her lifetime.
Unique Illumination
The childless Matilda was mindful of her own legacy and one of the ways she sought to do that was to commission a splendid Book of Gospels, just as any wealthy and powerful male ruler would do. This splendid manuscript is adorned by six full-page and six smaller miniatures, four incipit pages, and seven decorative canon tables. However, their unique style of adornment with a deconstructed color palette that almost resembles a form of proto-grisaille technique. That being said, a portrait of the Evangelist Matthew as well as the canon tables and one of the incipit pages are colored with a rich and sophisticate range of pigments. The fact that the manuscript was completed long before its patron passed away indicates that this simplified color palette was intentional, which makes it unique.
Road to New York City
The manuscript remained in Polirone for centuries before appearing in 1713 among the collections of Giovanni Battista Racanati, who bequeathed it to Polirone upon his death in 1735. It was taken to Santa Justina at Padua in 1805 by Abbot Mauro Mari (d. 1814) to save it from being looted by Napoleon's troops. His brother, Don Giuseppe Mari, soldi it to Luigi Celotti of Venice. Rev. Theodore Williams next acquired the work and had it rebound before selling it on the 10th of April 1827 to Sir Thomas Phillipps. It was finally purchased from the Philipps estate in 1912 by its last owner, J. Pierpont Morgan (1837–1913).
Matilda and Polirone Abbey
The Abbey of San Benedetto in Polirone, located southeast of Mantua, is one of three monastic institutions founded by Matilda's ancestors and supported by her during her lifetime. She also supported numerous churches as well as hospitals to provide care for the poor and pilgrims. After gifting Polirone additional lands to ensure its economic future and funding the construction of a larger church along with other grants, she had most of her family's remains reinterred in splendid coffins there and a mosaic depicting her was made in the abbey's church after her death. It thus became the official monastery and burial place of the House of Canossa.
The Gospel Book she commissioned is believed to have been written and illuminated at Polirone between 1075 and 1099, but this cannot be confirmed with certainty. It also contains a liber vitae commissioned by Abbot Wilhelmus or his successor in honor of Matilda, Pope Urban II, Abbot Hugh of Cluny, and members of the Gonzaga family. Other texts include a memorial book (the only one of its kind from a Cluniac monastery in northern Italy) recording the most important donors and benefactors of the abbey, and a document concerning Matilda's memorial.
Reflecting the character of its pious patron, Polirone also became a center of the reform movement that emerged during the 11th and 12th centuries. In 1633, at the behest of Pope Urban VIII, her body was exhumed and brought to Rome, first placed in Castel Sant'Angelo before finally being deposited in St. Peter's Basilica, where she now lies as one of only six women who have the honor of being buried there.
A Power Broker in Italy
Born a member of the House of Canossa, little is known about the circumstances of her birth other than that she was the youngest of three children and thus not expected to rule. Nonetheless, she was renowned for being well-educated: she spoke Latin, French, and German as well as supposedly being educated in strategy, tactics, riding and wielding weapons. After the successive deaths of her father, older sister, and brother as the Margravine of Tuscany in 1055, which was recognized by the young King Henry IV of Germany (1050–1106), the future Holy Roman Emperor, the following year.
Matilda would go on to play a crucial role in the Investiture Controversy. As a second cousin to the King and thanks her close relationship with the Holy See, she was an ideal mediator. It was at Canossa Castle, her family's stronghold, that Henry IV presented himself barefoot in the snow before Pope Gregory VII (ca. 1015–1085) on the 25th of January 1077 in an act of penance. Matilda presumably brokered the negotiations that followed there or was at least closely involved.
The Donation of Matilda
In defiance of the King's territorial claims, Matilda donated all of her domains to Gregory VII in 1079, but the tides turned against the Pope as disputes with Henry IV continued and he was dethroned by his own bishops on the 15th of June 1080, after which the combined forces of Matilda and Gregory VII were defeated by imperial troops on October 15th. While her ally went into exile in the south, Matilda remained in her stronghold in the Apennine Mountains, from whence she waged a guerilla war in the coming years and a revolt of the southern German princes prevented him from returning to Italy. Matilda was able to reclaim much of her lost domains in the power vacuum that followed in northern Italy and she once again donated these land to the Apostolic See in a modest ceremony at Canossa Castle on the 17th of November 1102. These lands were fought over by popes and emperors well into the 13th century. During the last years of her life, Matilda kept a small castle in the Po Valley and a few other token properties as well as continuing to maintain diplomatic contacts as the Investiture Controversy continued.
Codicology
Alternative Titles

Evangeliar der Mathilde von Canossa




Gospel book of San Benedetto in Polirone

Size / Format

212 pages / 33.3 × 22.6 cm

Origin

Date

Ca. 1075–1099

Epochs

Style

Language

Script

Minuscule

Illustrations

6 full-page miniatures; 6 smaller miniatures; 4 incipit pages; 7 canon tables

Content

The four Gospels; The Liber vitae of the monastery of San Benedetto in Polirone (fol. 102-106), which contains a document dated 8th April 1109 by Abbot Albericus concerning the obligation of the monastery of San Benedetto in Polirone to the Countess and A

Patron

Countess Matilda of Tuscany

Previous Owners

Giovanni Battista Racanati
Abbot Mauro Mari
Don Giuseppe Mari
Luigi Celotti of Venice
Rev. Theodore Williams
Sir Thomas Phillipps
---
Available facsimile editions:
Facsimile Editions
#1

Gospels of Matilda, Countess of Tuscany

Commentary:

1 volume by George F. Warner and J. Pierpont Morgan
Language: English

1 volume: This facsimile is not complete.

Reproduction of 19 plates in gold and colour and 12 in greyscale. The binding may not correspond to the original or current document binding.
You might also be interested in: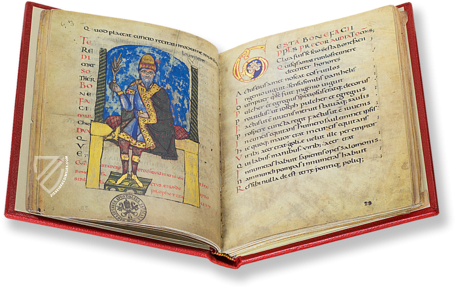 Vita Mathildis
Monastery of Saint Apollonius in Canossa (Italy) – 1115
The famous Investiture Controversy was settled at her castle: the life of Mathilda of Canossa in luminous miniatures
Experience More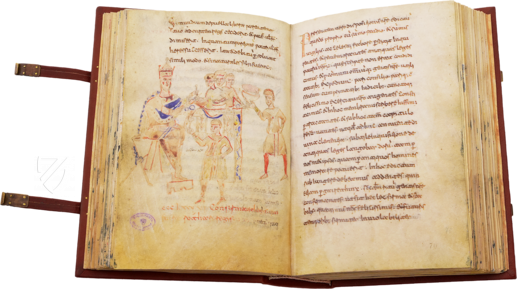 Codex Legum Langobardorum
Benevento (Italy) – Ca. 1005
Mysticism united with a body of laws in the most famous manuscript of the Lombards: the history of the "Longbeards" illustrated with twelve miniatures of the gods Odin and Freyja as well as Lombard and Frankish kings
Experience More
Blog articles worth reading