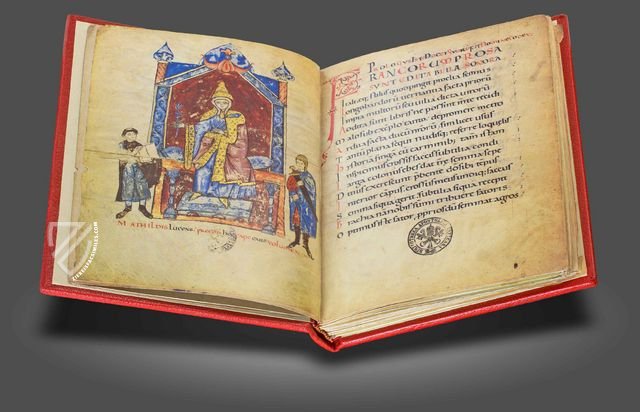 Vita Mathildis
Monastery of Saint Apollonius in Canossa (Italy) — 1115
The Margraves of Tuscia rose to become on of the most powerful families of 11th century Italy

This family history is centered on Mathilda of Canossa (1046–1115), the dynasty's last Marchioness

The story of this deeply pious woman's life is recorded in luminous colors and 23 karat gold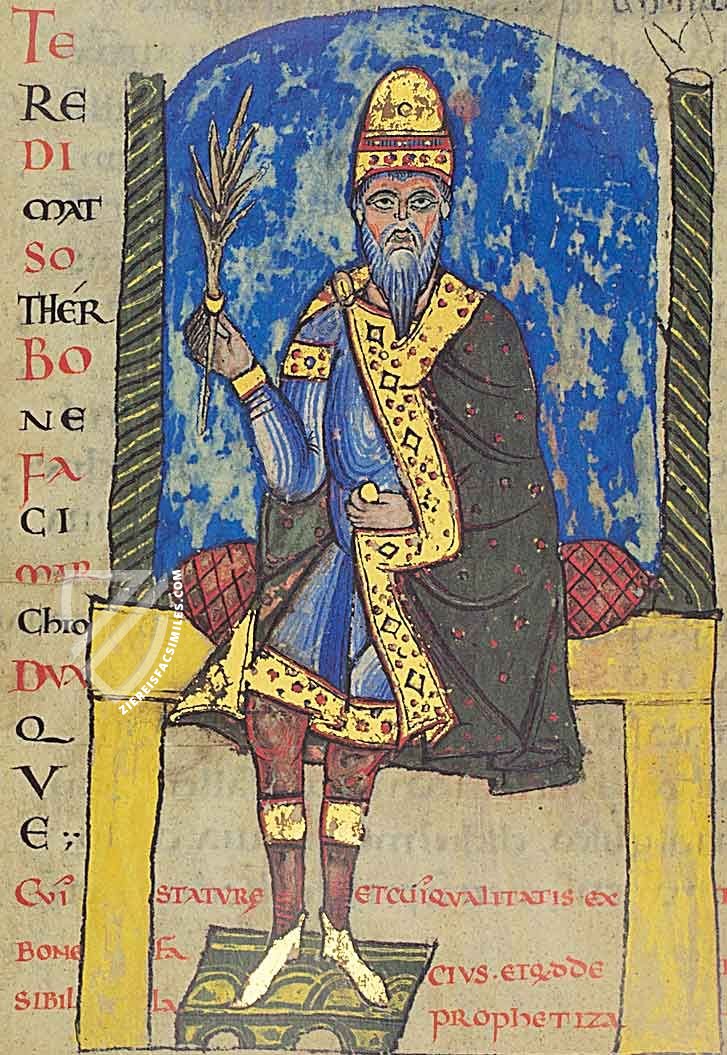 Vita Mathildis
Alternative Titles:
Life of Matilda of Tuscany
Acta Comitissae Mathildis
Life of Mathilda of Canossa
Vita der Mathilde von Canossa
Short Description
The Vita Mathildis was produced between 1111 and 1115 by the Benedictine monk Donzio. The work is concerned with the powerful Italian princely family of Canossa and in doing so places Marchioness Mathilda of Canossa at the center. It is decorated with eight splendid, gold-adorned miniatures and numerous embellished initials.
Vita Mathildis
Mathilde of Canossa (1046–1115) was the last representative of the great dynasty of the Margraves of Tuscia. They built up a domain in Italy in less than one hundred years. Her life was under the spell of great politics, which were defined by the power struggle between the papacy and the empire. Through her support of the papacy, which culminated in the transfer of her entire domain to the Papal States, she sacrificed her house's claim to power. The Vita Mathildis not only brings this illustrious personality to life, but also transmits approaches for the evaluation of historical events and figure which are disputed today.
Partition in Two Parts
The Vita Mathildis was produced between 1111 and 1115 by the Benedictine monk Donzio, who the marchioness knew personally and esteemed. His work is separated into two books. The first book extols the rise of the House of Canossa to one of the most powerful princely families of 11th century Italy. The second book is dedicated entirely on Marchioness Mathilda. Standing in the foreground is her deep piety, her loyalty to the papacy, and her endeavors to mediate between Henry IV and Pope Gregory VII. The work was first completed after Mathilda's death, Donzio added a lament as a result.
Romanesque Book Art
The work contains 8 magnificent miniatures in the Romanesque Style. The illustrations impress through luminous colors and lavish application of gold. The master utilized 23 karat gold here. Along with the charming miniatures, the text of the codex is adorned with many embellished initials. With its high-quality illustrations, the Vita Mathildis is an impressive testimony to the development of a dynasty between the poles of contemporary events.
Codicology
Alternative Titles

Life of Matilda of Tuscany




Acta Comitissae Mathildis




Life of Mathilda of Canossa




Vita der Mathilde von Canossa

Size / Format

180 pages / 21.0 × 16.0 cm

Date

1115

Epochs

Style

Genre

Language

Illustrations

8 miniatures and many initials

Artist / School

Author: Donzio
1 available facsimile edition(s) of "Vita Mathildis"
Vita der Mathilde von Canossa Facsimile
Vita der Mathilde von Canossa Facsimile
1 volume: Exact reproduction of the original document (extent, color and size)
Publisher

Belser Verlag – Zurich, 1984

Limited Edition

2000 copies

Binding

Red leather

Commentary

1 volume (221 pages) by Carlo Golinelli and Axel Janeck
Language: German

More Information

Reproduction of the entire original document as detailed as possible (scope, format, colors). The binding may not correspond to the original or current document binding.
Matching Background Articles
Saints' Lives

How does one become a saint? Find out by reading about the lives of the saints and the example they set through their...

Experience more

Romanesque

The first international European artistic movement was vigorous, innovative, and yet coherent, seamlessly blending...

Experience more

12th Century

Are you ready for an age of epic events and flourishing art? The Crusades and Reconquista rage at either end of the...

Experience more