Legends of Saint Margaret and Saint Agnes
Description
Legends of Saint Margaret and Saint Agnes
This manuscript of the Legends of Saint Margaret and Saint Agnes was made by the so-called Gerona Master in the late-13th century Italy. Both saints were virgins and devoted Christians and both died a martyr's death for resisting the lust of powerful men and did not waiver from their faith. As such, The work conveys the legends of both saintly virgins and is adorned by 33 full-page miniatures with gold backgrounds and innumerable filigree capitals in blue and red colors. It is clearly influenced by the Byzantine style of illumination, which was often imitated in 13th century art including the Gerona Master and his circle of artists. Vivid, colorful scenes peopled by elegant figures with expressive faces and gestures depict the lives of the saints as well as the manner in which they were tortured and eventually killed.
Legends of Saint Margaret and Saint Agnes
The Italian illumination of the Middle Ages produced some of the most beautiful illuminated manuscripts of Europe. Numerous famous masters created their works here, which served artists as templates worldwide. The so-called Gerona Master and the circle of young artists that had formed around him produced some of the most coveted Gothic manuscripts. Among these was also the breathtaking work that combined the saint's legends of Margaret and Agnes. The gorgeous codex is furnished with 33 full-page miniatures and numerous colorful decorative initials.
Patron Saints of Women
Little is known from the lives of both St. Margaret and St. Agnes. In the Legends of Saint Margaret and Saint Agnes, which tells of their lives, it is recorded that both of them devoted their lives to Jesus Christ and remained virgins. They attracted attention and lust to themselves from powerful men, nevertheless they remained steadfast in their faith. For this reason they were taken prisoner, tortured, and suffered terrible agonies. Both died a martyr's death. Margaret was deemed a patron saint for delivering women and difficult births after her death, Agnes as the patron saint of all children. The splendid codex of Gerona was produced at the end of the 13th century for a lordly milieu was dedicated to Ana, a lady in blessed circumstances, as a wish for a good pregnancy.
Filigree Decoration
The beautiful Italian codex is adorned with 33 full-page illustrations. The vivid, colorful scenes are found against a background of 23 carat gold leaf. Light, elegant figures move before relief-like background scenes. The high-quality painting clearly demonstrates Byzantine stylistic elements, which were commonly reproduced in the art of the 13th century. Alongside the graceful picture scenes, text pages of the work are embellished with countless filigree initials in red and blue colors. The work represents a true feast of the senses for the eye of each beholder. The original codex is found today in the Biblioteca Riccardiana in Florence.
Codicology
Alternative Titles

Le Leggende di S. Margherita e S. Agnese




Legenden der Heiligen Margareta und Agnes




Legends of Saints Margaret and Agnes

Size / Format

122 pages / 14.5 × 10.3 cm

Origin

Date

Late 13th century

Epochs

Style

Genre

Language

Illustrations

33 full-page miniatures and innumerable filigree capitals in blue and red colors

Artist / School

Master of Gerona
---
Available facsimile editions:
Facsimile Editions
#1

Le Leggende di S. Margherita e S. Agnese

Limited Edition:

999 copies

Binding:

Blue velvet with gold and silver fittings, lapis lazuli stone on the cover center

Commentary:

1 volume by Giovanna Lazzi
Language: Italian

1 volume: Exact reproduction of the original document (extent, color and size)

23 carat fine gold on CartaPergamena
You might also be interested in: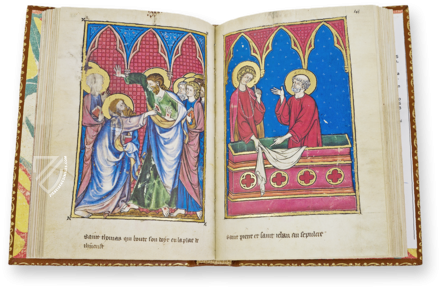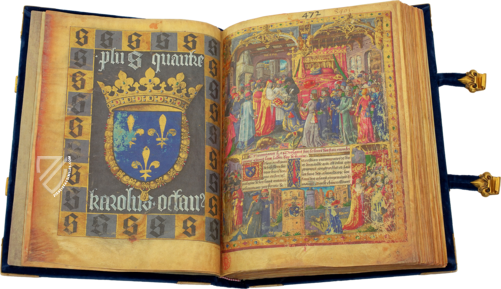 Life and Miracles of St. Louis
France – Around 1480
France's only saint to sit on the throne and the ideal of a Christian ruler: 48 large and masterful miniatures from the life of King Louis the Saint, King of France
Experience More
Blog articles worth reading