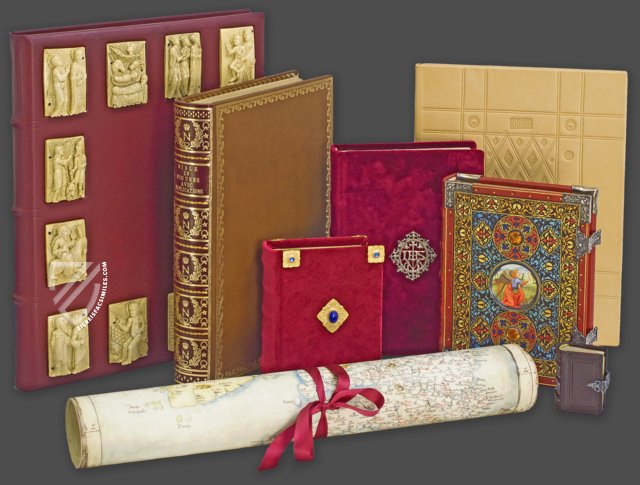 Graduale Albiense
Alternative Titles:
Graduale di Albi
Gradual of Gaillac
Short Description
The Graduale Albiense is an 11th century gradual originating from France, likely from the Abbey of Saint-Michel de Gaillac near Albi. The main part appears to have been completed in the third quarter of the 11th century with another section added sometime after 1079, when Gaillac was attached to the Abbey of Chaise-Dieu, a subsidiary of the Abbey of Saint-Géraud d'Aurillac, whose influence in the manuscript has been discovered by researchers. The manuscript would have fallen out of use in the 15th century and was thereafter preserved in a local library before coming into the possession of notable bibliophiles like Jean-Baptiste Colbert, a minister of King Louis XIV. It is considered to be one of the best examples of the Aquitaine notation, which preserves and perfectly respects the form of the Gregorian gradual. A drawing of a labyrinth, numerous multicolored decorative initials, and a full-page historiated initial adorn the work.
Codicology
Alternative Titles

Graduale di Albi




Gradual of Gaillac

Date

11th century

Epochs

Style

Genre

Language

Previous Owners

Jean-Baptiste Colbert
1 available facsimile edition(s) of "Graduale Albiense"
Il cod. Paris Bibliothèque Nationale de France lat. 776: Graduale di Gaillac Facsimile
Il cod. Paris Bibliothèque Nationale de France lat. 776: Graduale di Gaillac Facsimile
1 volume: Exact reproduction of the original document (extent, color and size)
Commentary

1 volume by Nino Albarosa, Heinrich Rumphorst and Alberto Turco
Language: Italian

More Information

Reproduction of the entire original document as detailed as possible (scope, format, colors). The binding may not correspond to the original or current document binding.
Matching Background Articles
Music / Poetry

Do you feel elevated by monastic chant? Are you a sucker for chivalric love poetry? Music and poetry were among the most...

Experience more

Gothic

Gothic illumination is some of the most spectacular and iconic imagery of medieval art and first emerged in Northern...

Experience more

14th Century

How could a century of endemic warfare, famine, and the Black Death produce great minds like Petrarch, Boccaccio, and...

Experience more