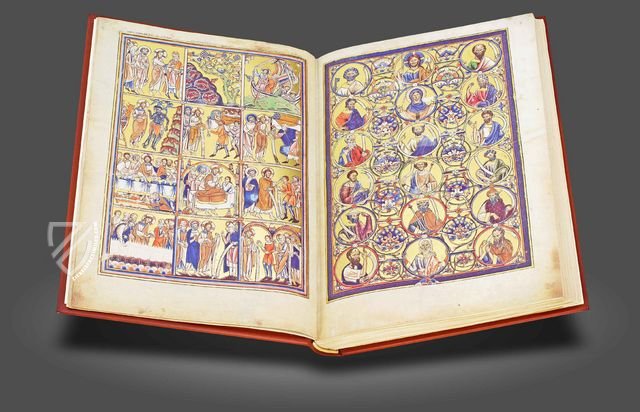 Great Canterbury Psalter
Canterbury (United Kingdom) and Catalonia (Spain) — ca. 1200 and ca. 1350
The Psalter was begun in Canterbury, England ca. 1200 and finished in Spanish Catalonia ca. 1350

It marks both the transition from Romanesque to Gothic and the new Italian style of the 14th century

Duke Jean de Valois, Princess Margarete of Austria, and Queen Mary of Hungary are among its owners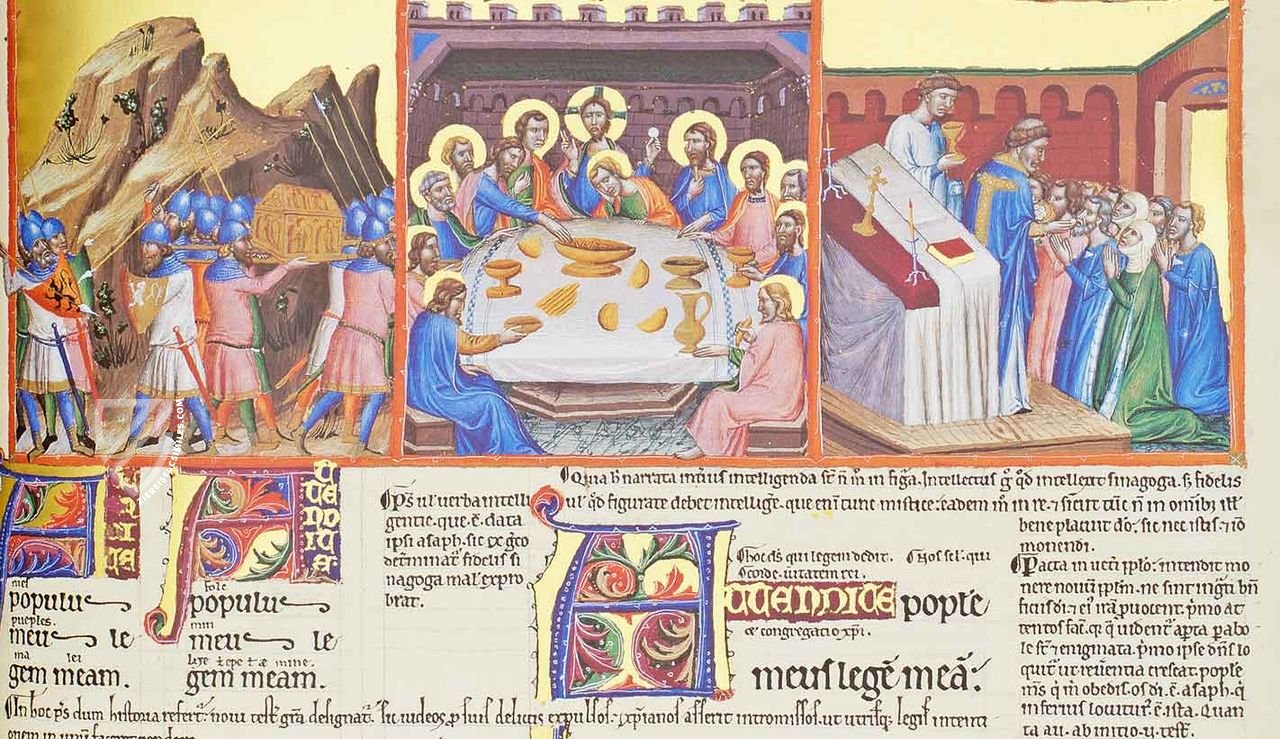 Great Canterbury Psalter
Alternative Titles:
Salterio Glosado
Salterio Anglo-Catalán
Anglo-Katalanischer Psalter
Der Große Canterbury Psalter
Salterio Glossato
Psautier Anglo-Catalan
Saltério Glosado
Anglo Catalan Psalter
Short Description
The Great Canterbury Psalter consists of two different parts. The first part of the manuscript originates from English Canterbury ca. 1200, the second part from Spanish Catalonia ca. 1350. Various stylistic directions make the manuscript a unique piece of art worldwide. It contains high quality and interesting miniatures.
Great Canterbury Psalter
In the French National Library there is a psalter which is exceptional in every way, in which two works from different epochs are combined in one grandiose codex. The Great Canterbury Psalter, which contains the three Latin versions of the Psalms attributed to St. Jerome, was partly produced in England and partly in Spain. The exciting work of art contains over 140 miniatures by first class book masters, who depict the prevailing conceptual world of their time in pictures. Numerous decorative initials and gold embellishments additionally decorate the text.
Various Stylistic Directions
The fascinating Great Canterbury Psalter is a work that consists of two parts, which were produced at completely different times. The first part arose in English Canterbury ca. 1200. The second part was produced around 150 years later in Catalonia. This temporal difference between both parts is clearly discernable in the illustrations of the work. The English originates from a time in which Late Romanesque painting was being gradually supplanted by the painting of the world of Gothic. The full-page miniatures and charming initials show influences from the masterworks of Late Gothic book art. The Catalonian part of the manuscript is oriented on 14th century Italian painting. Both parts of the books are of excellent quality and reflect new artistic ideas alongside classical traditions.
The Adventurous History of the Psalter
Medieval psalters were concerned with collections of the Psalms, which are attributed to King David. They usually served purposes of private study. The special Great Canterbury Psalter was nevertheless a work, for which its owners enjoyed astonishment and admiration. The owners came from the highest ranks of each epoch and are to be sought among the most influential rulers. Soon after its production, the incomplete manuscript went from England to Spain and came into the possession of Duke Jean de Valois. It was later purchased by Princess Margarete of Austria. This she left to her niece, Queen Mary of Hungary. In 1809, it received a new binding in Paris in the reign of Napoleon I. The manuscript is still found in Paris today.
Noteworthy Book Art
The miniatures of the psalter are shaped in a special manner after each Psalm. The pictures are always divided into several scenes and show a variety of high quality colors. Most are laid against a carmine red background and are adorned with filigreed and polished gold leaf. The second part of the manuscript was demonstrably illustrated by the studio of Ferrer and Arnau Bassas, two of the great Spanish book painters of the Middle Ages. The stylistic influences from various epochs and lands make the illuminated manuscript a unique work of art worldwide.
Codicology
Alternative Titles

Salterio Glosado




Salterio Anglo-Catalán




Anglo-Katalanischer Psalter




Der Große Canterbury Psalter




Salterio Glossato




Psautier Anglo-Catalan




Saltério Glosado




Anglo Catalan Psalter

Size / Format

356 pages / 48.0 × 32.2 cm

Date

ca. 1200 and ca. 1350

Style

Genre

Language

Script

English Vernacular Minuscule

Illustrations

More than 140 fascinating miniatures including 8 full pages embellished with gold, 28 historiated initials, and 190 ornamental letters upon gold ground with plants motifs

Artist / School

Ferrer Bassa (ca. 1285–1348)

Previous Owners

Jean, Duke of Berry (1340–1460)
Charles Croy
Margaret of Austria (1480–1530)
Mary of Hungary (1505–58)
Archduke Albert I of Belgium (1875–1934)
1 available facsimile edition(s) of "Great Canterbury Psalter"
Salterio Glosado Facsimile
Salterio Glosado Facsimile
1 volume: Exact reproduction of the original document (extent, color and size)
Publisher

M. Moleiro Editor – Barcelona, 2004

Limited Edition

987 copies

Binding

Brown leather with gold décor. Red leather slipcase.

Commentary

1 volume (296 pages) by Nigel Morgan, Rosa Alcoy and Klaus Reinhardt
Language: Spanish

More Information

Reproduction of the entire original document as detailed as possible (scope, format, colors). The binding may not correspond to the original or current document binding.
Matching Background Articles
Gothic

Gothic illumination is some of the most spectacular and iconic imagery of medieval art and first emerged in Northern...

Experience more

14th Century

How could a century of endemic warfare, famine, and the Black Death produce great minds like Petrarch, Boccaccio, and...

Experience more

13th Century

Despite ongoing religious wars and the threat of Mongol invasion from the East, this is a time of great personalities,...

Experience more