History of the Destruction of Troy
Lat.F.v.IV.5
National Library of Russia (St. Petersburg, Russia)
Description
History of the Destruction of Troy
The popular historical work by Guido de Columnis in a grandiose 14th century French manuscript: this magnificent edition of the History of the Destruction of Troy, whose provenance is associate with famous names, is stored in the Russian National Library in St. Petersburg. Two French miniaturists created the impressive visual adornment of the manuscript at the end of the 14th century, clearly influenced by the Italian Quattrocento and yet completely rooted within the tradition of the period's outstanding French illumination. In this way, the work of Guido de Columnis can be discovered in a magnificent combination with outstanding illumination!
History of the Destruction of Troy
Waring hosts in luminous blue armor people the miniatures. Kings and protagonists are in bright colors, the people are represented as elegant gothic figures with elongated bodies, and there are decorative backgrounds with medieval peasants before a colorful raster. Gorgeous initials and exuberant bordures of fine foliage additionally characterize the elegant overall impression of the manuscript. Clearly oriented stylistically on the Italian art of the Quattrocento, the paintings are nonetheless rooted firmly in the tradition of the outstanding French illumination of that period. Two anonymous miniaturists took part in the furnishing of the manuscript. The battle scenes display an impressive variety of gestures and movements and so they are an expression of the great mastery of these artists!
The History of Troy According to Guido de Columnis
Manuscript Lat.F.v.IV.5 of the Russian National Library in St. Petersburg contains a total of 35 miniatures on 302 pages. These illustrate the famous text by Guido de Columnis about the destruction of Troy. Columnis composed his magnum opus in elegant Latin between 1270 and 1287 and organized it into 35 chapters. The text was adopted from Benoît de Sainte-Maure and enriched with his own ideas. Therefore, it contained moralizing notes, inter alia, to help Christians understand the story. At the time of its creation – the late 14th century – the St. Petersburg codex was extremely popular across all of Europe.
Desired by the Tsarina
Several famous names are bound-up with the St. Petersburg manuscript. The history of the codex up until the 18th century remains a mystery. It then first appeared in the possession of Jean-Louis Gaignant, a French book dealer. Catherine the Great was interested in buying Gaignant's entire collection. However, the Trojan codex was acquired at the same time by the powerful Stroganov family. The treasured book finally reached the Russian National Library in 1889, where it is stored like a true gem today.
Codicology
Alternative Titles

Historia de la destrucción de Troya




Geschichte von der Zerstörung Trojas




Le Roman de Troie, de Benoit de Sainte-Maure

Size / Format

302 pages / 28.8 × 22.2 cm

Origin

Date

End of the 14th century

Epochs

Style

Language

Script

Bastard Secretary

Illustrations

35 miniatures with elaborately patterned backgrounds, 38 decorative miniatures with gold leaf, floral tendril marginalia

Content

Latin prose narrative of the Trojan legend

Artist / School

Guido della Colonna (ca. 1210 – ca. 1287) (author)

Previous Owners

Jean-Louis Gaignant
Stroganov family
---
Available facsimile editions:
Facsimile Editions
#1

Historia de la destrucción de Troya

Limited Edition:

299 copies

Binding:

Bound in leather embossed in gold In a protective case with the commentary volume

Commentary:

1 volume by José M. Salvador González and Natalia Elaguina

1 volume: Exact reproduction of the original document (extent, color and size)

Reproduction of the entire original document as detailed as possible (scope, format, colors). The binding may not correspond to the original or current document binding.

Facsimile Copy Available!

Price Category: €€€
(3,000€ - 7,000€)
You might also be interested in: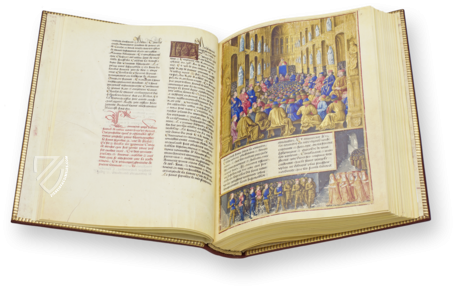 The Crusades: Les Passages d'Outremer
Bourges (France) – 1474
Commissioned by Louis de Laval, illuminated by none other than Jean Colombe: the greatest medieval source on the history of the Crusades, adorned with splendid full-page miniatures full of exciting detail
Experience More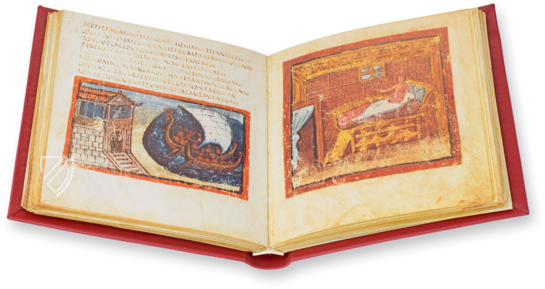 Vergilius Vaticanus
Rome (Italy) – Around 400
Like murals from Pompeii: the oldest Vergil manuscript from antiquity and the most important example of an illustrated book of the period
Experience More
Blog articles worth reading