Hours of Catherine of Cleves
Description
Hours of Catherine of Cleves
This private devotional and prayer book of Catherine of Cleves originated ca. 1430 is an exciting and artistically high-grade work of 15th century illumination. Concealed behind the book cover (only 19.1 x 13 cm) are 714 parchment pages with gorgeous pictures, which amaze even today with their rich detail and proximity to the lifeworld of the 15th century.
The Book of Hours of Catherine of Cleves (ca. 1430)
This especially gorgeous and lovingly made book of hours, whose origins with regard to the patron are still unknown, was probably made for Catherine of Cleves (1417–1479) since she is depicted at the beginning of the book in a miniature painting (fol. 1 verso). Her name is connected to the powerful family of the dukes of Burgundy (on the mother's side by their grandfather John the Fearless), as well as the Lower Rhine-Westphalian Duchy of Cleves, (through her father Duke Adolf II). Due to her marriage with Arnold von Egmond, the Duke of Guelders and the Baron of Zutphen, she was displaced from her sphere of action in the Netherlands, which was the center of art in the early 15th century.
An Unknown Master in Top Form
Through the commission of this manuscript, she as patron laid the cornerstone for an authoritative work of late medieval illumination in the Netherlands. The anonymous "Master of the Book of Hours of Catherine of Cleves" has not only created the forerunner for such important works as the famous Book of Hours of Mary of Burgundy, but also skillfully influenced the most important art movements and artists of his time and anticipated coming visual subjects like genre painting.
The Splendid Adornment
The miniatures of the Book of Hours of Catherine of Cleves are characterized by their surprising pictorial inventions, which present the popular depictions of well-known scenes in a richly detailed and exciting manner, often in a sophisticated new way. Thus, one finds full-page scenes among the 157 miniatures of the book with a strong richness and an artistic composition that is no way inferior to 15th century panel painting. Additionally, there are a multitude of half-page miniatures as well as small, lovingly painted marginal scenes depicting the real lifeworld of the Late Middle Ages that are skillfully interwoven with depictions of saints, which are typical of devotional and prayer books of this time. All of this is naturally framed with ornamental frames, which appear to be the signature of the unknown artist who crafted the book. The beholder will be amazed by the gorgeous, nearly 600-year-old pictures depicted, which will surely cast a spell on any manuscript enthusiast.
A Tumultuous History
Additionally, the turbulent history of this book of hours underlines its significance. For example, the book was parted into two equal sized pieces in the late 19th century and sold to private collections, which were then acquired by New York's Pierpont Morgan Library in 1963 and in 1970, where they were reunited together. Back in its original state, the manuscript offers the possibility of witnessing the world of Catherine of Cleves through the magnificent pictures and illustrations of an unknown Dutch master.
Codicology
Alternative Titles

Stundenbuch der Katharina von Kleve

Size / Format

714 pages / 19.1 × 13.0 cm

Origin

Date

Ca. 1430

Epochs

Style

Genre

Language

Illustrations

157 half- and full-page miniatures; the margins are magnificently decorated with an extraordinary attention to detail

Content

Liturgy of the Hours

Patron

Catherine of Cleves (1417–79)

Artist / School

Master of Catherine of Cleves

Previous Owners

Ermengard of Lochhorst
Jacques Joseph Techener (1802–73)
Prince Charles d'Arenberg
Julie d'Arenberg
Duke Engelbert d'Arenberg
Hans P. Kraus (1907–88)
Baron Maurice de Rothschild (1881–1957)
---
Available facsimile editions:
Detail Picture
Hours of Catherine of Cleves
Jesus in a Baby Walker
Today we live in the age of "helicopter parenting" and so we tend to think that we are the first to be protective of our young, but this is simply not true. Here we see the baby Jesus in a wooden walker with wheels, one of the earliest depictions of such a device. This Dutch miniature shows the Holy Family living as a prosperous late-medieval carpenter's family with Joseph shaving down a piece of wood as Mary weaves. The scene is created with a remarkable sense of depth and space.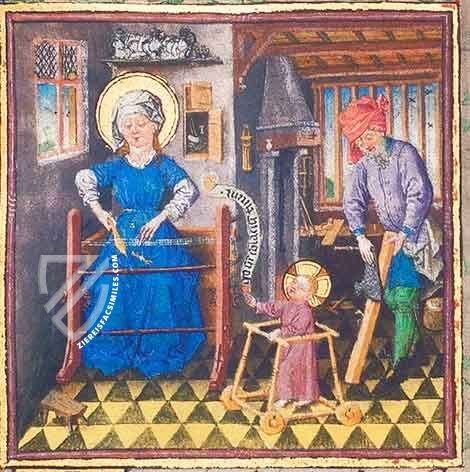 Single Page
Hours of Catherine of Cleves
Holy Family at Supper
This depiction of the Holy Family is remarkable both for the refinement of the artistry and for the incredible detail it offers: a detailed inside glimpse of a Dutch home in the 15th century. Framed by flowering tendrils, accompanied by decorative initials, and judiciously adorned with gold leaf, it is a small masterpiece.
The perspective in the room is consistent from floor to ceiling, establishing the spatiality of the scene, which is centered on a cylindrical fireplace with carved faces, steaming pots, tongs, bellows, and delicately depicted smoke. Mary suckles the Christ Child as Joseph eats from a bowl, seated in a barrel chair. The room is filled with typical domestic objects such as pewter dinnerware, shears, and a cabinet.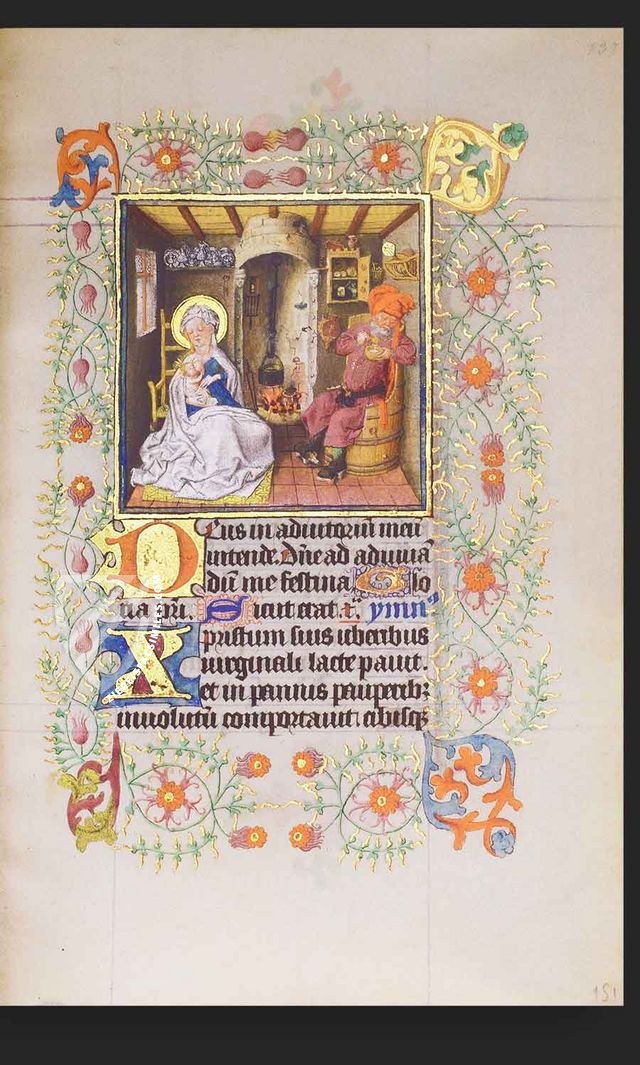 Facsimile Editions
#1

Stundenbuch der Katharina von Kleve

Limited Edition:

980 copies

Binding:

Reproduction of a post-1480 binding from Utrecht: embossed brown leather, two gilt book clasps on fine gold chains, and a red gemstone on the front cover.

Commentary:

1 volume (344 pages) by Rob Dückers, Eberhard König, Anne S. Korteweg, James H. Marrow, William M. Voelkle and Roger S. Wieck
Languages: English, German

1 volume: Exact reproduction of the original document (extent, color and size)

Reproduction of the entire original document as detailed as possible (scope, format, colors). The binding may not correspond to the original or current document binding.
You might also be interested in: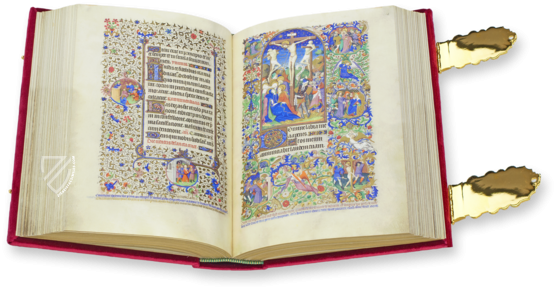 Bedford Hours
Paris (France) – Written 1410–1415, illuminated 1415–1430
The Bedford Master's magnum opus with splendid full-page miniatures and more than 1,250 medallions: one of the richest and most beautiful illuminated manuscripts of all time
Experience More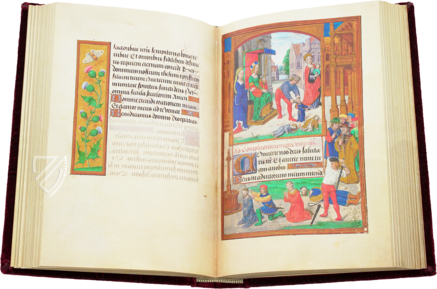 Flemish Book of Hours of Marie de Medici
Bruges or Ghent (Belgium) – 1515–1520
Named after the French queen from the House of Medici: a precious Flemish Book of Hours of extraordinary imagery, created by the famous Master of the David Scenes in the Grimani Breviary
Experience More
Blog articles worth reading