Hours of Mary of Burgundy
Description
Hours of Mary of Burgundy
Printing had already been invented when book illumination experienced a final zenith and Mary of Burgundy (1457–1482), the daughter of Charles the Bold, received this refined illuminated manuscript as a gift from her stepmother Margaret of York. It is one of the most famous books of hours still preserved today, reflecting the wealth and sophistication of the Burgundian court at that time. While 20 full-page miniatures virtuously bring to life essential biblical stories, the famous calendar pages and important text passages shine in gold and silver writing on a black background. Moreover, the beautiful and fanciful borders, which entirely enclose many pages and are repeatedly adorned with medallions and vibrant drôleries, are particularly noteworthy. The entire manuscript is nothing less than a supreme artistic and artisanal achievement of Flemish book illumination in the 70s of the 15th century!
Book of Hours of Mary of Burgundy
The Book of Hours of Mary of Burgundy, daughter of Charles the Bold, was made when book illumination had reached its peak, at a time when there were already printed books; however, this period also saw the production of precious hand-written codices, especially in the Netherlands and in France. This book of hours, with its magnificent miniatures and scrollwork reflecting the splendor of the Burgundian court, was a gift from Margaret of York to her stepdaughter Mary. The codex is well known among art historians and connoisseurs of illumination alike. Its outstandingly beautiful decoration makes it one of those manuscripts that both fascinates and astonishes the reader with every page. Besides miniatures of Flemish origin, it also contains some of the most splendid compositions by leading artists of the Burgundian court.
Enchanting Flemish Miniatures for a Famous Medieval Woman
All 378 pages (189 folios) of the prayer book fascinate with their artful decoration. The first 34 leaves containing the calendar excel by virtue of a special technique which seems well worth mentioning: the text is hand written in gold and silver ink on a black ground. With a total of 20 full-page miniatures, the book raises the curtain on everyday life and thinking in the Burgundian period. Each text page of the book is embellished with ornamental borders, drolleries, fantastic decorations and rich calligraphic elements. Only top artists were asked to make their contribution to this holistic work of art
The Masters of the Book of Hours
The production of a richly artful, illuminated book of hours was usually the work of a team. While a calligrapher was in charge of the writing, the ornamental borders were executed by a technically competent miniaturist who based his work on existing models or even prefabricated stencils. The illustrations as such were added by a different master at a later stage. A book of hours entrusted to a number of different masters would most likely suffer in its uniform identity. The person in charge of the overall planning and selection of the artists would therefore be anxious to choose painters of an equal level of accomplishment. The result is clearly visible in this work which combines the foremost achievements of Flemish book painting in the late 1470's.
Reflections of a Luxurious Court life
By today's standards, the luxurious decoration of this book of hours does not always correspond with the character of a book of meditation. Although the illustrations show religious scenes, their composition and details are above all masterpieces of painting, as the emphasis seems to be more on artistic execution than on content. This book most impressively presents not only the way of thinking prevalent during the heyday of the Burgundian court, but also documents the courtly society of this period. The reader's gaze is often pleasantly diverted from the contents of the picture, by idyllic landscape backgrounds, magnificent architecture, or fashionable and elegant clothing, not to mention the numerous amusing figures in the margins. If our secular age takes offence at the profane decoration of prayer books, this is because we have forgotten that people of these times were quite innocent of our radical separation of the spiritual and the secular today; they had a holistic Christian conception of the world in which the beautiful and the serene were present, side by side with the holy.
Codicology
Alternative Titles

Stundenbuch der Maria von Burgund




Berliner Stundenbuch der Maria von Burgund und Kaiser Maximilian

Size / Format

378 pages / 22.5 × 16.3 cm

Origin

Date

1470–1480

Epochs

Style

Genre

Language

Script

Littera bastarda

Illustrations

24 calendar pictures, 20 full-page miniatures, 14 initial ornaments, 16 pictures of saints

Content

Liturgy of the Hours

Patron

Margaret of York (1446–1503)

Artist / School

Master of Mary of Burgundy (fl. 1469–83)
Lieven van Lathem (1430–93)
Simon Marmion (ca. 1425–89)
Willelm Vrelant (fl. 1454–81)

Previous Owners

Holy Roman Emperor Matthias (1557–1619)
---
Available facsimile editions: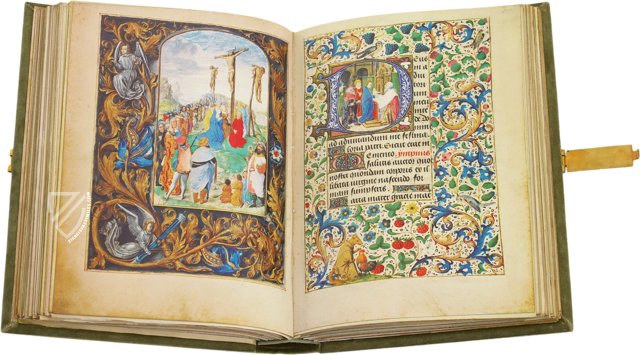 Akademische Druck- u. Verlagsanstalt (ADEVA)
– Graz, 1968
Limited Edition:
1000 copies
Detail Picture
Hours of Mary of Burgundy
December: Baking Bread
Although scenes of pigs being slaughtered, butchered, and salted for winter storage are more common, baking scenes are often presented for the month of December. This wonderful calendar page shows a medallion miniature with a cheerful baker feeding a lump of dough into an oven and may have been preferable for its female patron, the Duchess of Burgundy. The calendar section itself is elegantly written in gold and silver ink, which is further highlighted by dying the background black.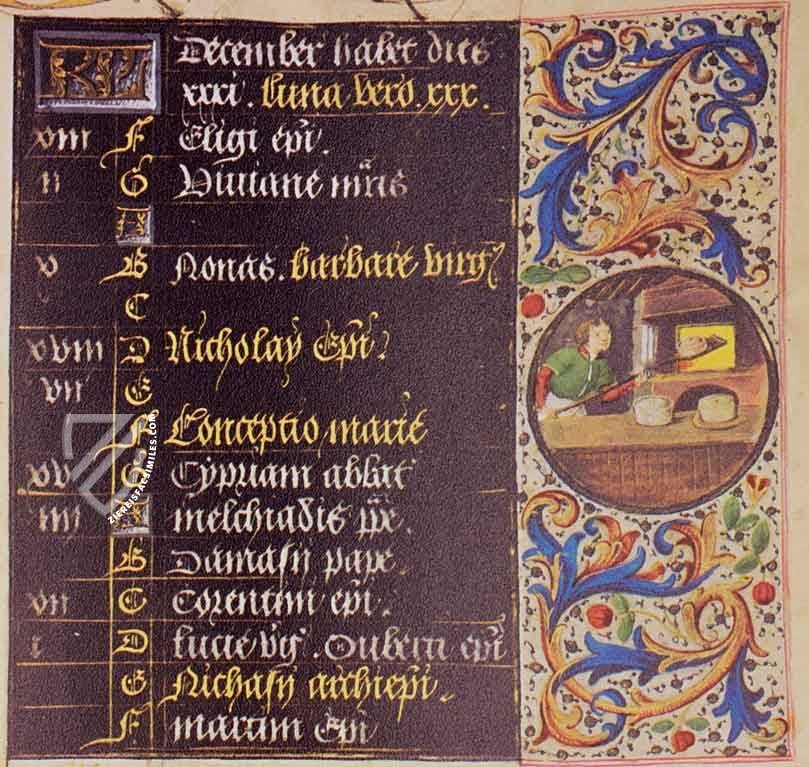 Single Page
Hours of Mary of Burgundy
Mary of Burgundy at Prayer
This is one of the finest and most famous miniatures of all time. First, one is drawn into the image by its skillful, perspectival depiction a Gothic church's interior. Then one notices that this Virgin and Child is actually a scene within a scene, which is imagined by Mary of Burgundy as she reads her prayer book with her lapdog at a window sill.
Seated next to a vase filled with irises and other luxury goods, the young noblewoman imagines the Holy Family surrounded by four angels with candles. Mary of Burgundy is pictured again in this scene wearing a beautiful blue dress with gold brocade kneeling before a group of ladies. This is not only a faithful representation of a medieval interior space, but an inside glimpse into the medieval imagination.
Facsimile Editions
#1

Das Stundenbuch der Maria von Burgund

Limited Edition:

1000 copies

Binding:

Luxurious green velvet with and elegant gilded clasp in the style of the period. All folios are cut according to the original.

Commentary:

1 volume (186 pages) by Franz Unterkircher and Antoine De Schryver
Languages: German, French

The expert commentary completing the facsimile edition was written by Franz Unterkirchner, former Director of the Manuscript Department at the Austrian National Library, who gives a codicological description (German), and by Antoine De Schryver whose contribution provides an insight into the Book of Hours of Mary of Burgundy from an art historian's point of view (French). De Schryvers found no proof for the assumption that the prayer book once belonged to Charles the Bold and suggests that it was rather made for his daughter Mary of Burgundy.

1 volume: Exact reproduction of the original document (extent, color and size)

Reproduction of the entire original document as detailed as possible (scope, format, colors). The binding may not correspond to the original or current document binding.

Facsimile Copy Available!

Price Category: €€
(1,000€ - 3,000€)
You might also be interested in: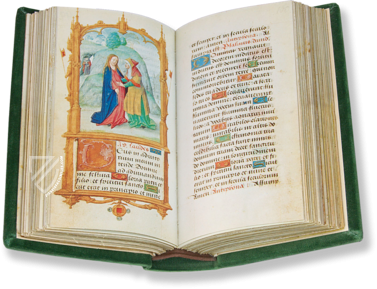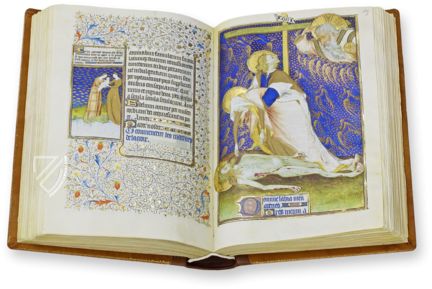 Rohan Hours
Paris or Angers (France) – 1430–1435
The beginning of a new era in illumination: masterful, full-page miniatures in an abundantly illuminated book of hours
Experience More
Blog articles worth reading