Hours of Henry IV of France
Description
Hours of Henry IV of France
The so-called Hours of Henry IV of France is counted among the most outstanding masterpieces of French Renaissance illumination. The splendor, which radiates from the consistently golden backgrounds of the pages, is thoroughly befitting of a king. This impressive beauty is completed by the 60 miniatures, which appear almost grisaille-like in their elegantly restrained colorfulness. The detail of garments and faces in interior scenes are matched by the grandiose landscapes of exterior scenes. This manuscript is exceptional all around!
Hours of Henry IV of France
Henry IV (1553–1610) was the first French King from the house of Bourbon. He distinguished himself as one of France's most important monarchs, making numerous significant decisions, and whose reign left a deep impression on his country. As such, he guaranteed inter alia the religious freedom of protestants in the famous Edict of Nantes. Henry was married to Maria de' Medici from the powerful Florentine dynasty. Even his own death was exceptionally tragic: he fell victim to an unexpected assignation during a coach ride in Paris.
A Royal Masterpiece from Paris
The impressive manuscript in the Bibliothèque Nationale de France in Paris bears Henry's name today. Nonetheless, he was actually the second owner of this treasure. Previously, the book of hours was in the possession of Cardinal Charles II de Bourbon (1433–1488). Originating from an outstanding Parisian workshop in the last quarter of the 15th century and developed further in the following century, the magnificent manuscript found itself in Henry's possession in the famous Renaissance palace of Gaillon. From there, it came to the Louvre in Paris and has been in the French National Library since 1720.
A Golden Sensual Frenzy
The coat of arms of Henry IV and Charles de Bourbon can already be found on the binding. Yet, when opening the pages of the elegant manuscript, one is immediately blinded by the exuberant splendor. The artistic design ranges from text pages with golden backgrounds above the impressively varied frames and bordures to 16 fine pen drawings and finally the outstanding miniatures. The text of the prayers, Psalms, and excerpts from the Gospels is artfully superimposed on the gold background in black and white, as is the calendar with the patron saints of Paris in French. The frames are endowed with emblems, devises, and symbolic ornaments.
The Grisaille Miniatures
Finally, the 60 miniatures present themselves as wonderfully elegant works of art. They are colorfully designed, but are very subtly colored, which lends them an impression of particularly sophisticated grisaille painting. Here one finds inter alia gorgeous pictures of the Evangelists in interior spaces with views of a wide, atmospheric landscape or illustrations of biblical tales. The artful draping of the garments and the extraordinary composition of the faces vies with the grandiose landscapes in the background. A discrete accentuation with gold coloring finally completed this pictorial sensual frenzy.
Codicology
Alternative Titles

Libro de horas de Enrique IV de Francia y III de Navarra




Stundenbuch Heinrichs IV von Frankreich

Size / Format

180 pages / 22.5 × 15.5 cm

Origin

Date

Ca. 1500

Epochs

Style

Genre

Language

Illustrations

60 full-page grisaille miniatures, 16 small ink miniatures, foliage motifs in the margins

Artist / School

Workshop of Jean Pichore

Previous Owners

Henry IV of France
Cardinal Charles de Bourbon
---
Available facsimile editions: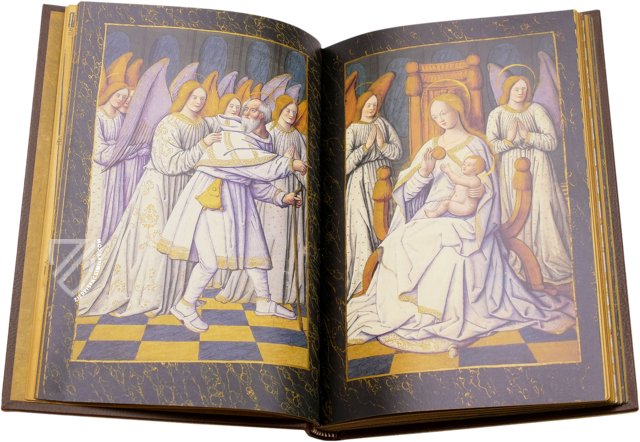 M. Moleiro Editor
– Barcelona, 2017
Limited Edition:
987 copies (+ 77 copies with Roman numbers)
You might also be interested in: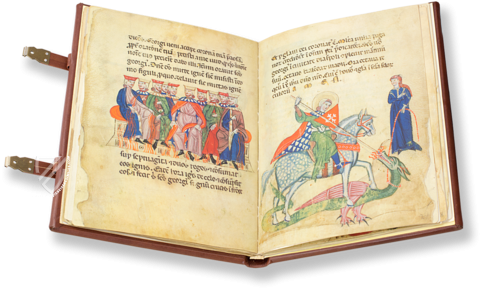 Prayer to the Virgin
Verona (Italy) – Second half of the 13th century
A 13th century illuminated codex from Verona: the life of the Blessed Virgin and various saints in captivating pictures
Experience More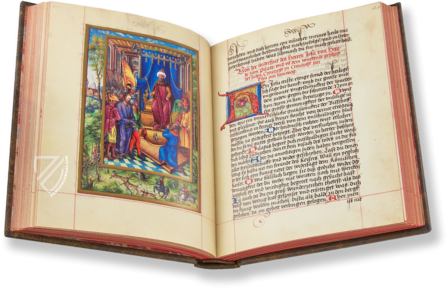 Blog articles worth reading