Kálmáncsehi-Liechtenstein Codex
MS G.7
The Morgan Library & Museum (New York, USA)
Description
Kálmáncsehi-Liechtenstein Codex
This gorgeously illuminated breviary dated 1481 was created in the workshop of the Corvina Library for Domonkos Kálmáncsehi, Grand Provost of St. Mary's Companion Chapel of Székesfehérvár, Hungary between 1474 and 1495. In the years after he became the Bishop of Oradea, Transylvania, and Kaocsa and in addition to his ecclesiastical role, he also played an active role at the royal court and was entrusted with financial and diplomatic duties. His coat of arms – a shield with a lion and a star of six points crowned by a miter – is depicted six times in the manuscript as a roundel at the bottom of the page, usually embedded in a decorative border. Altogether, the rich décor of the manuscript includes a calendar featuring decorative initials painted green, pink, blue, and gold, a full-page miniature of the Crucifixion, 54 decorative borders – seven of them historiated with animals and people – with floral motifs, vases, etc., 18 roundels and medallion miniatures, and 48 historiated initials as well as hundreds of other decorative initials.
Codicology
Alternative Titles

Kálmáncsehi-Liechtenstein codex




Codex Kálmáncsehi-Liechtenstein




Kálmáncsehi Breviarium




Kálmáncsehi-breviarium

Size / Format

674 pages / 30.2 × 22.5 cm

Origin

Date

1481

Epochs

Style

Genre

Language

Illustrations

Calendar featuring decorative initials, 1 full-page miniature, 54 decorative borders (7 of them historiated), 18 roundels and medallion miniatures, and 48 historiated initials as well as hundreds of other decorative initials

Content

Breviary and missal

Patron

Domonkos Kálmáncsehi

Previous Owners

Cistercian abbey of Viktring near Klagenfurt
Library of the Princes of Liechtenstein in Vienna
Detail Picture
Kálmáncsehi-Liechtenstein Codex
The Nativity
This magnificent historiated initial – a "P" consisting of green acanthus leaves with a gold frame – shows the newborn Baby Jesus lying on a bed of golden hay as his mother kneels, hands folded in prayer, gazing upon the Messiah. The animals are also captivated by the child: the ox stands back and watches while the donkey leans in to give him a sniff. Joseph stands back holding a book in one hand and making a rhetorical gesture with the other. Unlike the other figures, he stares contemplatively up at the sky with a look of wonder on his face.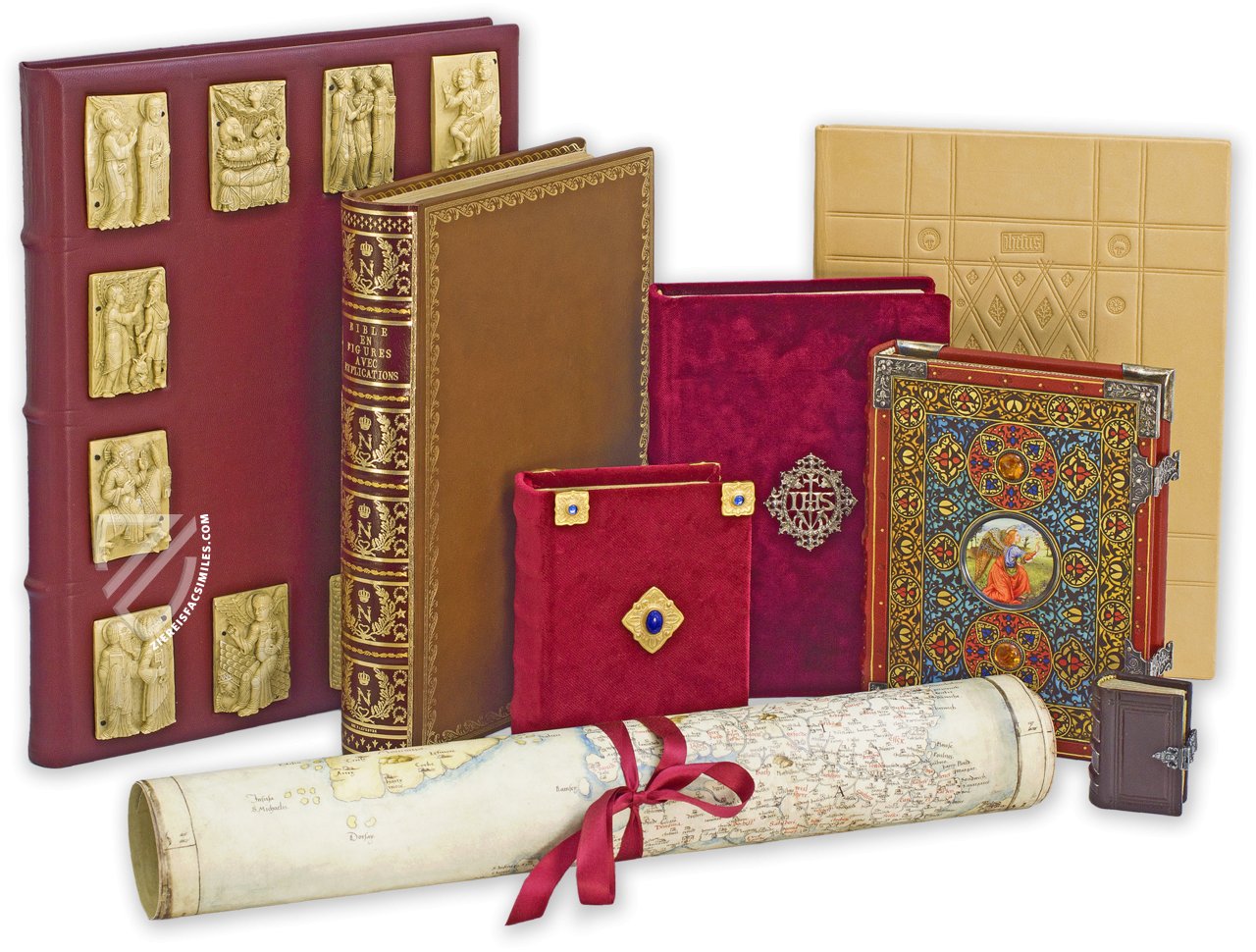 Single Page
Kálmáncsehi-Liechtenstein Codex
The Crucifixion
Christ's pale body bleeds from the wound in his side made by the spear of Longinus and the nails in his hands and feet as the vinegar-soaked sponge of Stephaton is held aloft in the background. He is flanked by Dymas (left), the repentant thief whose soul is being lifted up by an angel, and Gestes (right), the unrepentant thief who soul is taken by a demon. A crowd of soldiers and the seven hills of Jerusalem fill the background and five figures with halos appear in the foreground: one wipes tears away with a handkerchief, St. John and another figure support the swooning Virgin Mary, and Mary Magdalene embraces Christ's cross.
The central miniature is surrounded by a gold historiated frame of flowering tendrils with naked figures, some lounging while others frolic and even wrestle. It also contains four medallion miniatures depicting Christ praying in the Garden of Gethsemane (top), the Deposition of Christ (left), the Entombment of Christ (right), and the coat of arms of Domonkos Kámáncsehi surmounted by a miter with infulae.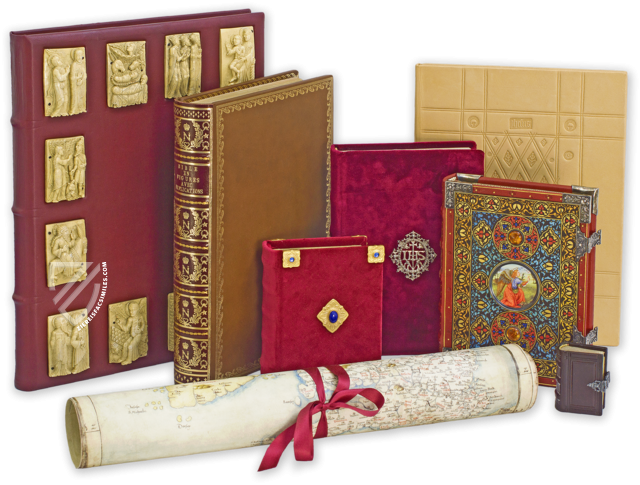 Facsimile Editions
#1

Kálmáncsehi-breviarium

Commentary:

1 volume by Judit Lauf, Edina Zsupán and Árpád Mikó