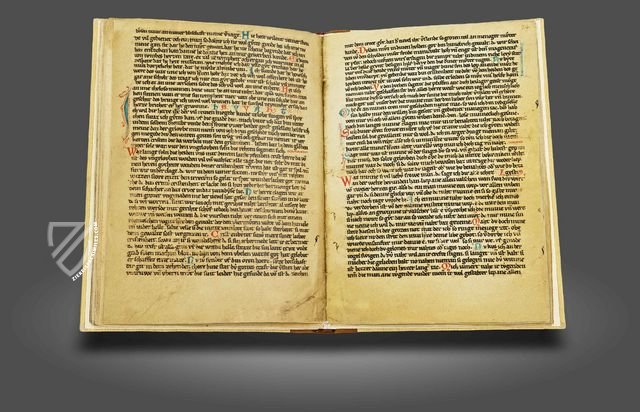 Kleine Heidelberger Liederhandschrift
Possibly Strasbourg (France) — 1280
This small manuscript originated from the Alsace region, possibly Strasbourg, ca. 1270–1280

Originally written by a single scribe in Low Alemannic German, it was appended by five different scribes ca. 1375

As its name implies, it is relatively small – 18.5 x 13.5 cm – for a musical manuscript

Kleine Heidelberger Liederhandschrift
Alternative Titles:
Kleine Heidelberger Liederhandschrift
codex palatinus germanicus 357
Short Description
The German equivalent of the troubadour tradition is called Minnesang and originates from the 12th to the 14th centuries. Of the three most important specimens of the Minnesang tradition, this Alsatian manuscript from ca. 1270–80 is the oldest. It represents one of the most important historical documents of 13th century Germany and offers important insights into high medieval court culture.
Kleine Heidelberger Liederhandschrift
This is the oldest manuscript of the three most important sources of Minnesang, the Middle High German tradition of lyric- and songwriting originating from the 12th to the 14th centuries. Known as the Kleine Heidelberger Liederhandschrift or "Small Heidelberg Song-Manuscript", it is one of this tradition's three major manuscripts along with the Codex Manesse and Weingarten Manuscript *. The primary subject of these songs was *Minne, a Middle High German word for love. Individual songs were called a Minnelied and were performed by a Minnesänger, the German equivalent of a troubadour.
An Alsatian Songbook
This particular specimen originated from the Alsace region, possibly Strasbourg, ca. 1270–1280. As its name implies, it is relatively small – 18.5 x 13.5 cm – for a musical manuscript. The main body of the text was originally written by a single scribe in Low Alemannic German, but this was later appended by five different scribes ca. 1375, whose writing reveals a more Central German linguistic influence. There are 34 sections in the text that are attributed to various authors, although some appear in multiple sections so that about 30 can be distinguished with certainty. These sections can range from two to 151 strophes, as in the case of the famous Walther von der Vogelweide (ca. 1170 – ca. 1230). The 14th century appendix adds another 56 verses without citing their authors, but almost all can be identified on the basis of other manuscripts. Today, the manuscript is the proud possession of Heidelberg University Library, where it is stored under the shelf mark Cod.Pal.germ. 357.
Codicology
Alternative Titles

Kleine Heidelberger Liederhandschrift




codex palatinus germanicus 357

Origin

Date

1280

Epochs

Style

Genre

Language
1 available facsimile edition(s) of "Kleine Heidelberger Liederhandschrift"
Die kleine Heidelberger Liederhandschrift Facsimile
Die kleine Heidelberger Liederhandschrift Facsimile
1 volume: Exact reproduction of the original document (extent, color and size)
Publisher

Reichert Verlag – Wiesbaden, 1972

Limited Edition

800 copies

Commentary

1 volume by Walter Blank
Language: German

More Information

Reproduction of the entire original document as detailed as possible (scope, format, colors). The binding may not correspond to the original or current document binding.
Matching Background Articles
Music / Poetry

Do you feel elevated by monastic chant? Are you a sucker for chivalric love poetry? Music and poetry were among the most...

Experience more

Gothic

Gothic illumination is some of the most spectacular and iconic imagery of medieval art and first emerged in Northern...

Experience more

13th Century

Despite ongoing religious wars and the threat of Mongol invasion from the East, this is a time of great personalities,...

Experience more