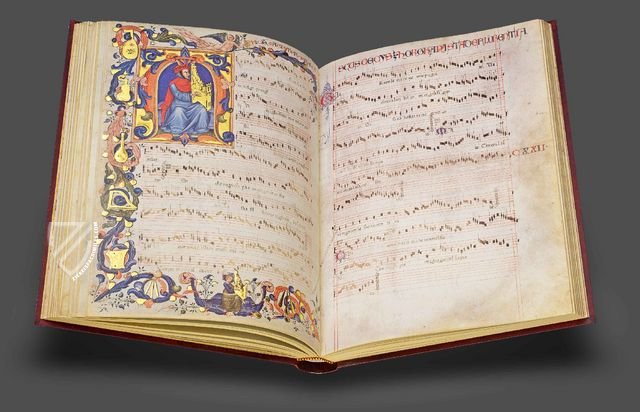 Squarcialupi Codex
Monastery of Santa Maria degli Angeli, Florence (Italy) — 1410–1420
This splendid codex is an incomparable compendium of secular music from the Trecento in Florence

The musical manuscript contains 352 works from fourteen famous composers altogether

With its golden composer portraits, the work is the epitome of Renaissance painting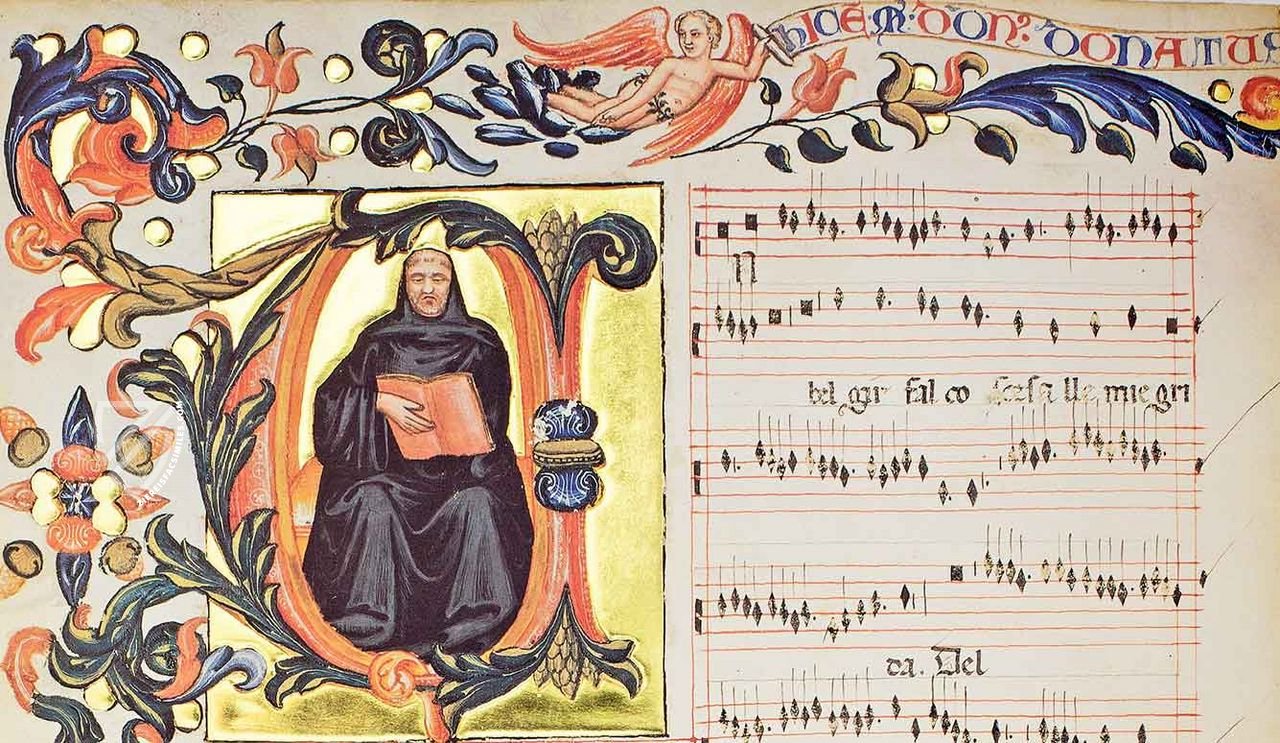 Squarcialupi Codex
Short Description
The Squarcialupi Codex presents itself as an Italian illuminated manuscript of the early 15th century in the exuberant garb of the Renaissance. This splendor is appropriate because the codex is an incomparable compendium of secular music during the Trecento in Florence. Over 350 works from the most important composers of 14th century Italy!
Squarcialupi Codex
Antonio Squarcialupi lent his name to this impressive codex. Squarcialupi (1416–1480) was a significant Florentine organist and composer during the 15th century, who stood in service of the Medici inter alia. The impressive manuscript, which found itself in his possession, is thus also associated with the Medici and is stored today in the Biblioteca Medicea Laurenziana in Florence.
A Cross Section of the Secular Music of the Trecento
The Squarcialupi Codex originated in the years 1410–20 and is an illuminated manuscript from the Monastery of Santa Maria degli Angeli in Florence. On its 432 pages, the codex collects an unbelievable wealth of secular music from the Trecento: 352 works altogether from fourteen famous composers. Alongside the great Francesco Landini one finds inter alia Bartolino da Padova, Niccolò da Perugia, Andrea da Firenze, Jacopo da Bologna, Lorenzo da Firenze, Gherardello da Firenze, Donato da Cascia, Giovanni da Cascia, and Vincenzo da Rimini.
The Manuscript as a Work of Art
The appearance of the codex is also impressive: the visual adornment presents the work as the epitome of the Renaissance: exuberant decorative frames consisting of bright, floral ornaments and accentuated with gold surround the songs. Musical instruments and other symbolic objects as well as human, animal, and mythical figures people the garlands and thus represent the connection of the decoration with the content of the songs. Large initials with portraits in the compositions introduce the individual chapters and fine, extremely artful initials precede the individual compositions. The Squarcialupi Codex is an all-around synthesis of the arts: an unbelievable anthology of 14th century music and simultaneously a true treasure of an Italian Renaissance manuscript!
Codicology
Alternative Titles

Codice Squarcialupi

Size / Format

432 pages / 41.0 × 28.5 cm

Date

1410–1420

Epochs

Style

Genre

Language

Artist / School

Francesco Landini, Bartolino da Padova, Niccolò da Perugia, Andrea da Firenze, Jacopo da Bologna, Lorenzo da Firenze, Gherardello da Firenze, Donato da Cascia, Giovanni da Cascia, Vincenzo da Rimini

Previous Owners

Antonio Squarcialupi
Medici Family
Palatine Library in Florence
1 available facsimile edition(s) of "Squarcialupi Codex"
Codice Squarcialupi Facsimile
Codice Squarcialupi Facsimile
1 volume: Exact reproduction of the original document (extent, color and size)
Publisher

Giunti Editore – Florence, 1992

Limited Edition

998 copies

Binding

Deluxe clamshell case in half leather.

Commentary

1 volume (287 pages) by John Nádas, Kurt von Fischer, Luciano Bellosi, Margherita Ferro Luraghi, Nino Pirrotta, Giuseppe Tavani, Giulio Cattin and Agostino Ziino
Languages: English, Italian

More Information

Reproduction of the entire original document as detailed as possible (scope, format, colors). The binding may not correspond to the original or current document binding.
Matching Background Articles
Music / Poetry

Do you feel elevated by monastic chant? Are you a sucker for chivalric love poetry? Music and poetry were among the most...

Experience more

Renaissance

What does the word "Renaissance" bring to mind for you? Art, science, and culture of course! It was a "rebirth" and...

Experience more

15th Century

Come and explore an age of stark contrasts as Europe comes back from the brink: calamities like the Fall of...

Experience more