Squarcialupi Codex
Description
The Squarcialupi Codex presents itself as an Italian illuminated manuscript of the early 15th century in the exuberant garb of the Renaissance. This splendor is appropriate because the codex is an incomparable compendium of secular music during the Trecento in Florence. Over 350 works from the most important composers of 14th century Italy!
Squarcialupi Codex
Antonio Squarcialupi lent his name to this impressive codex. Squarcialupi (1416–1480) was a significant Florentine organist and composer during the 15th century, who stood in service of the Medici inter alia. The impressive manuscript, which found itself in his possession, is thus also associated with the Medici and is stored today in the Biblioteca Medicea Laurenziana in Florence.
A Cross Section of the Secular Music of the Trecento
The Squarcialupi Codex originated in the years 1410–20 and is an illuminated manuscript from the Monastery of Santa Maria degli Angeli in Florence. On its 432 pages, the codex collects an unbelievable wealth of secular music from the Trecento: 352 works altogether from fourteen famous composers. Alongside the great Francesco Landini one finds inter alia Bartolino da Padova, Niccolò da Perugia, Andrea da Firenze, Jacopo da Bologna, Lorenzo da Firenze, Gherardello da Firenze, Donato da Cascia, Giovanni da Cascia, and Vincenzo da Rimini.
The Manuscript as a Work of Art
The appearance of the codex is also impressive: the visual adornment presents the work as the epitome of the Renaissance: exuberant decorative frames consisting of bright, floral ornaments and accentuated with gold surround the songs. Musical instruments and other symbolic objects as well as human, animal, and mythical figures people the garlands and thus represent the connection of the decoration with the content of the songs. Large initials with portraits in the compositions introduce the individual chapters and fine, extremely artful initials precede the individual compositions. The Squarcialupi Codex is an all-around synthesis of the arts: an unbelievable anthology of 14th century music and simultaneously a true treasure of an Italian Renaissance manuscript!
Codicology
Alternative Titles

Codice Squarcialupi

Size / Format

432 pages / 41.0 × 28.5 cm

Origin

Date

1410–1420

Epochs

Style

Genre

Language

Artist / School

Francesco Landini, Bartolino da Padova, Niccolò da Perugia, Egidius, Andrea da Firenze, Jacopo da Bologna, Lorenzo da Firenze, Gherardello da Firenze, Donato da Cascia, Giovanni da Cascia, Vincenzo da Rimini, Guilielmus de Francia

Previous Owners

Antonio Squarcialupi
Medici Family
Palatine Library in Florence
---
Available facsimile editions:
Detail Picture
Squarcialupi Codex
Portrait of Donato da Cascia
Seventeen compositions in this music manuscript are attributed to Donato da Cascia and are considered to be some of the finest works of the Italian Ars nova, the late medieval musical style which was associated with the proliferation of polyphonic and secular music. Despite all of this, almost nothing is known about the man other than that he was active in Tuscany between 1350 and 1370. This historiated initial with a burnished gold background depicts him as a Benedictine monk.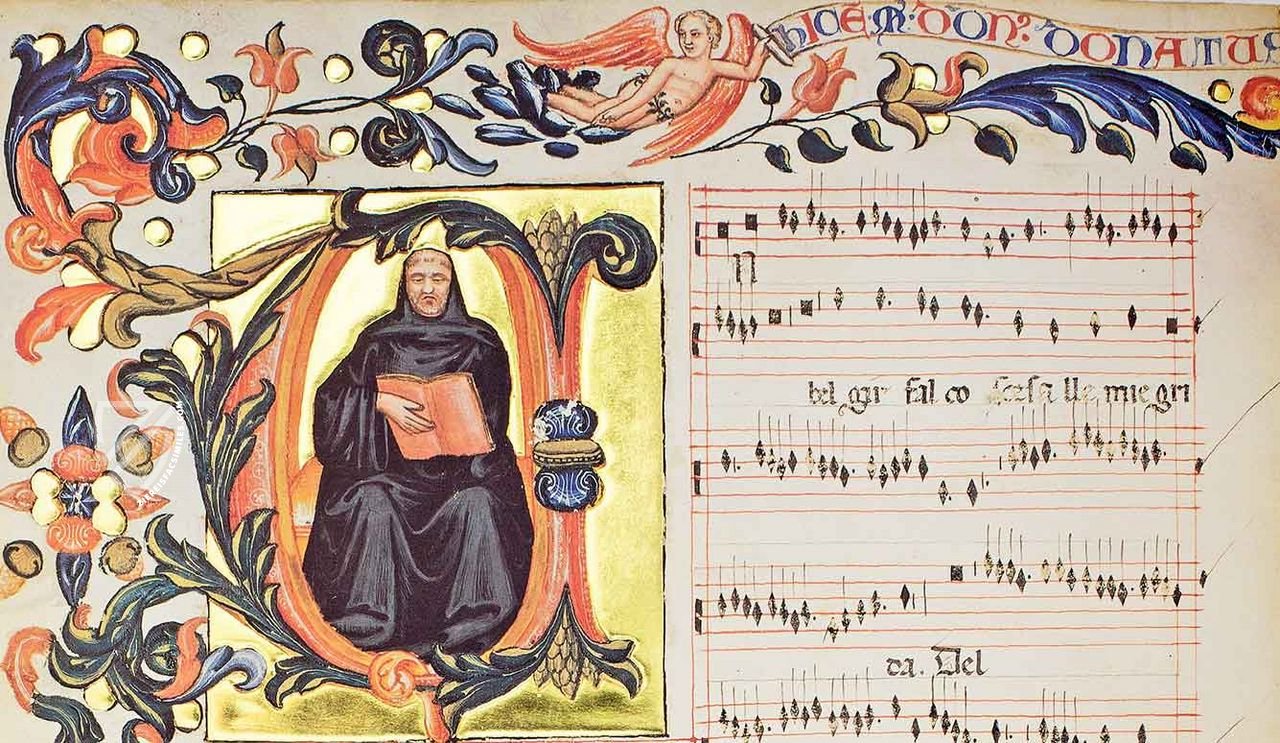 Single Page
Squarcialupi Codex
Portrait of Francesco Landini
This manuscript presents the music of the Italian Renaissance and pays tribute to its composers, including Francesco Landini, an Italian singer, organist, poet, and instrument-maker. His portrait, like the others, is presented next to a composition of his, which is adorned with red-blue initials and marginalia filled with angels and musical instruments.
This wonderful historiated initial consists of a gorgeous gold leaf frame with red and blue tendrils. In it, Landini plays a portative organ, a small pipe organ consisting of two rows of pipes that is strapped to the musician, operated by a small bellows and a set of keys. Such instruments were commonly used for performing secular music between the 12th and 16th centuries.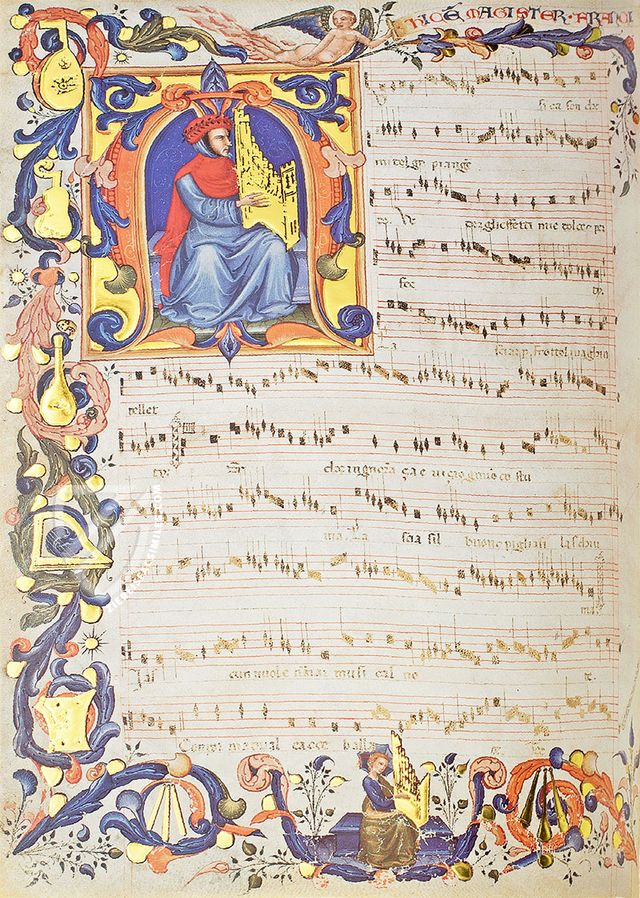 Facsimile Editions
#1

Codice Squarcialupi

Limited Edition:

998 copies

Binding:

Deluxe clamshell case in half leather.

Commentary:

1 volume (287 pages) by Alberto F. Gallo, John Nádas, Kurt von Fischer, Luciano Bellosi, Margherita Ferro Luraghi, Nino Pirrotta, Giuseppe Tavani, Giulio Cattin and Agostino Ziino
Languages: English, Italian

1 volume: Exact reproduction of the original document (extent, color and size)

Reproduction of the entire original document as detailed as possible (scope, format, colors). The binding may not correspond to the original or current document binding.
You might also be interested in:
Blog articles worth reading