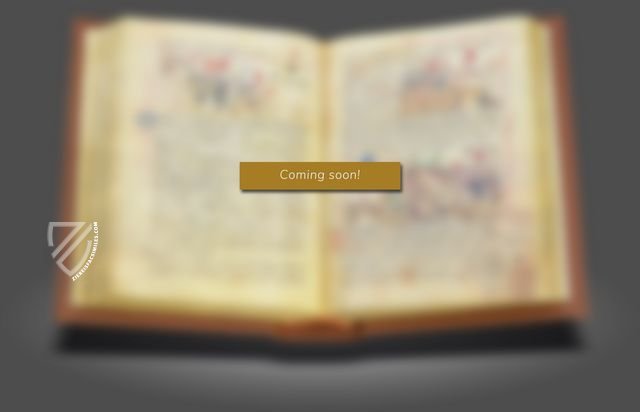 Eton Choirbook
This manuscript represents the largest collection of the Latin choral tradition in pre-Reformation England

The valuable music manuscript probably originated between 1490 and 1501 in Eton College

24 composers are listed including Robert Wylkynson, John Browne, Gilbert Banastre, and William Cornysne
Eton Choirbook
Short Description
One of the greatest collections of Latin choir music to survive the English Reformation originated at Eton College between 1490 and 1501. The Eton Choirbook contains 64 compositions on 260 surviving pages, which include nine Magnificats, a Passion, and 54 motets, which were primarily sung in the evening after the prayer to the honor of the Virgin Mary. Pieces from 24 composers are assembled in the cultural artifact, whereby the Englishman John Browne (1453-ca. 1500) is represented most often. Charming initials are distributed throughout the entire manuscript, which gentrify the otherwise unostentatious choir book.
Eton Choirbook
The *Eton Choirbook is an important piece of the English choral tradition before the reforms of Henry VIII**. Containing 260 of the original 428 pages, it assembles spiritual English vocal music. Nine Magnificats belong among the 64 surviving compositions, which were sung in the liturgy of the hours, as well as a Passion that sets the biblical Passion text to music, and 54 motets, which one can recognize as polyphonic vocal music, which emerged in the 13th century. One sang the motets primarily in the evening after the prayer for the honor of the Virgin Mary. The valuable music manuscript probably originated between 1490 and 1501 in Eton College, which was established through the charity of Henry VI. Decorative initials are spread over the entire manuscript and lend it a splendid character.
A Music Manuscript of Particular Importance
The particular importance of the Eton Choirbook is twofold. On the one hand, it is esteemed as a cultural artifact, while on the other hand, it is a source for English polyphonic choir music composed in the 15th and early 16th centuries. It contains the largest collection of Latin choral works to survive the English Reformation, aside from the Lambeth/Arundel Choir Book and the Caius Choir Book. The majority of the compositions can only be found in this manuscript.
A Long List of Participants
With 24 proud names, the list of composers who enter into the Eton Choirbook is extraordinarily long. Many of them stood in close connection with Eton College, and thus Robert Wylkynson (ca. 1450–1515), the choir master of the college beginning in 1500, is also included. The Englishmen John Browne (1453-ca. 1500), whose music is distinguished by its unusually long melodies, is represented with the most pieces. Additional compositions by Gilbert Banastre, William Cornysne, Richard Davy, Robert Fayrfax, Richard Hygons, Walter Lambe, and many more are contained in the first class music manuscript.
1 available facsimile edition(s) of "Eton Choirbook"
The Eton Choirbook Facsimile
The Eton Choirbook Facsimile
1 volume: Exact reproduction of the original document (extent, color - reduced size)
Publisher

DIAMM – London, 2010

More Information

Reproduction of the entire original document as detailed as possible (scope, format, colors). The binding may not correspond to the original or current document binding.
Matching Background Articles
Music / Poetry

Do you feel elevated by monastic chant? Are you a sucker for chivalric love poetry? Music and poetry were among the most...

Experience more