Winchester Troper
Description
Compiled in the early 11th century and appended until the early 12th, the Winchester Troper consists of two manuscripts of liturgical plainchant and two-voice polyphony copied and used in the Old Minster at Winchester Cathedral in Hampshire, England. Both "books of tropes" contain a variety of liturgical genres, including Kyries, Glorias, Introits, Alleluias, Tracts, and Sequences using Anglo-Saxon neume notation and written in Carolingian miniscule, many of them unique to the manuscript. Although the core of each manuscript dates to Anglo-Saxon England, the later sequences reflect the new political reality post-1066 and exhibit Norman influences. They nonetheless represent the largest surviving collection of 11th century polyphony and are vital for the study of Anglo-Saxon music.
Winchester Troper
The term "Winchester Troper" was first applied to these two manuscripts by Walter Frere and the monks of Solesmes Abbey. However, it should be noted that they are neither identical nor are they part of a set and contain compositions other than tropes. The term is thus applied loosely and can be used to identify either manuscript or the two of them collectively. Today they are found at Corpus Christi College, Cambridge and the Bodleian Library, Oxford and stored under the respective shelf marks Corpus 473 and Bodley 775. The repertoire of music in the two manuscripts includes some compositions founds in other English or Northern French tropers, but many are unique to Winchester and dedicated to local saints like St. Æthelwold and St. Swithun.
Dating and Differentiating between the Manuscripts
The core of Corpus 473 was likely copied in the 1020's and 1030's while Bodley 775 was probably copied during the 1050's, and was perhaps copied directly from a now-lost manuscript dating to the late-970's and 980's. Both manuscripts had additional chants added to them throughout the 11th century and Norman influences become increasingly strong in the latter half of the century, particularly after the Conquest of 1066. The core of each manuscript remains Anglo-Saxon, nonetheless. Although they share much of the same music for many of the feasts, the manuscripts differ in terms of their other contents and organization with Bodley 775 being lest systematic, although it separates the tropes for feasts of the Temporale and Sactorale. Corpus 473 contains the largest extant collection of 11th century liturgical polyphony but has only half of the Alleluia cycle. The notation of both manuscripts consists of adiestematic neumes, which indicate the melodic contour but not precise pitches. It would appear as though the monks at Winchester exercised a certain degree of compositional freedom when writing organa.
Codicology
Alternative Titles

Winchester Tropar

Size / Format

398 pages / 14.5 × 9.0 cm

Origin

Date

Ca. 1020–1075

Style

Genre
Facsimile Editions
#1

The Winchester Troper

Commentary:

1 volume by Susan Rankin
Language: English

1 volume: Exact reproduction of the original document (extent, color and size)

Reproduction of the entire original document as detailed as possible (scope, format, colors). The binding may not correspond to the original or current document binding.

Facsimile Copy Available!

Price Category: €
(under 1,000€)
You might also be interested in: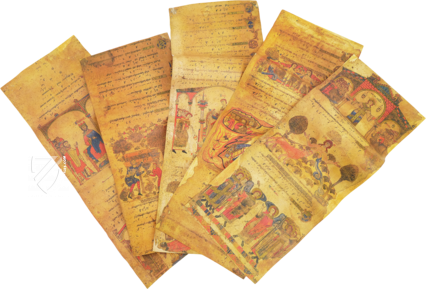 Barberini Exultet Roll
Montecassino Abbey (Italy) – Ca. 1058
Commissioned by Abbot Desiderius (1058–1087) of Montecassino: Romanesque art treasure for the doxology of the Easter Mass and one of the last scrolls ever made
Experience More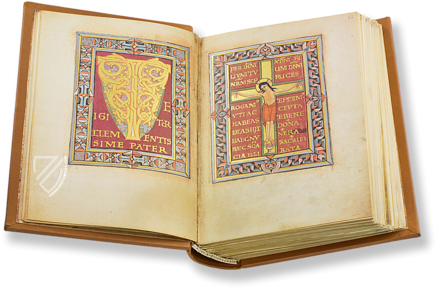 Blog articles worth reading