Echternach Sacramentary and Antiphonary
Description
Echternach Sacramentary and Antiphonary
A splendid early medieval manuscript from the famous monastery of Echternach, which can be considered a precursor of the missal: the Echternach Sacramentary was written for the monastery in about 1030, and, as some stylistic features suggest, probably in Echternach itself. Its numerous dignified miniatures and exquisite initials make it a masterpiece of early medieval illumination, as do its unusual purple pages, but this work is also of special interest to the musicologist. It contains an early highlight of musical notation in the form of neumes, which transmit the rhythm and melody of medieval Gregorian chant in a unique way. The neumes from Echternach represent an independent and more down-to-earth neume writing than those from St. Gall.
Echternach Sacramentary and Antiphonary
The arrangement of chants and prayers to be said by the priest in successive groups makes the Echternach Sacramentary and Antiphonary a forerunner of the Roman missal. It is considered a masterpiece of early German illumination due to it numerous miniatures and splendid initials. In each table, the notated chants are set down one after the other, followed by the orations. The chants with their Neume notation are written in small script between the carefully executed letters. The rich ornamentation of both the script and the miniatures gives this manuscript extraordinary artistic value in addition to its great musicological worth. The manuscript was written and illuminated ca. 1030 for Echternach Abbey, although a few stylistic features indicate that it may have originated in Echternach itself.
Codicology
Alternative Titles

Echternacher Sakramentar und Antiphonar

Size / Format

556 pages / 23.6 × 16.7 cm

Origin

Date

Ca. 1030

Style

Language

Script

Carolingian minuscule Carolingian uncial Carolingian capitals

Content

Prayers and chants with Neume notation
---
Available facsimile editions: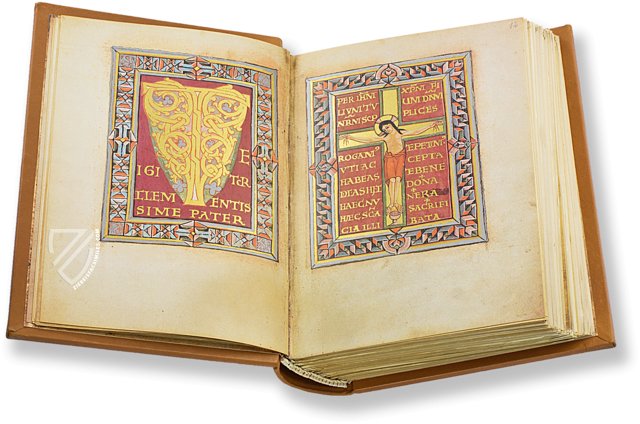 Akademische Druck- u. Verlagsanstalt (ADEVA)
– Graz, 1982
Limited Edition:
500 copies
Detail Picture
Echternach Sacramentary and Antiphonary
Incipit Page: Gregorian Introit for Easter Sunday
This fabulous "R" initial has all the hallmarks of Ottonian illumination: an elaborate incipit page created with an acanthus leaf frame, fine interlace, a purple background, as well as both gold and silver leaf. The page presents the opening lines of the Introit, the liturgical celebration of the Eucharist, for recitation at mass on Easter Sunday according to the Gregorian tradition: RESURREXI ET ADHUC TECUM SUM ALLELUIA or "I have risen and am always with you. Hallelujah."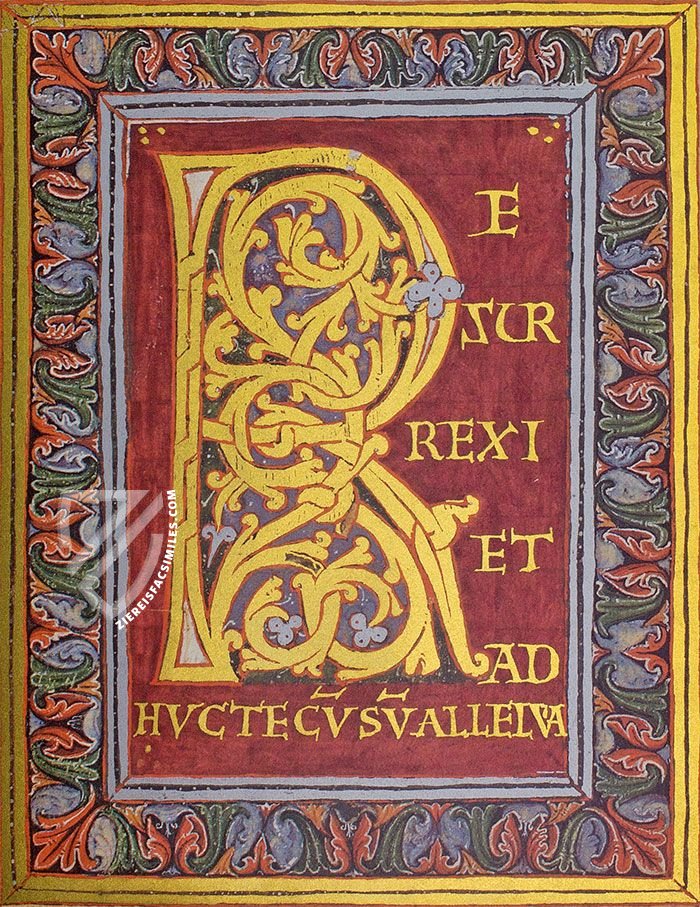 Single Page
Echternach Sacramentary and Antiphonary
Christ Benedictory
Here we have a splendid Ottonian miniature presented before a burnished, Byzantine-style gold background, which gives a timeless and spaceless feel to the image. Christ has a monumental, statuesque appearance, staring at and even through the beholder. Arms stretched out, he makes the sign of benediction with his right hand and upholds the Gospels with his left.
The scene is presented within a typically-Ottonian frame with a pattern of red, pink, green, and blue with gold leaf highlights. The Apostle kneeling before Christ appears as though he is sitting on the edge of the frame. Aside from adding dynamism to the image, it gives the impression that like the beholder, he is removed from the image and separated from the divine.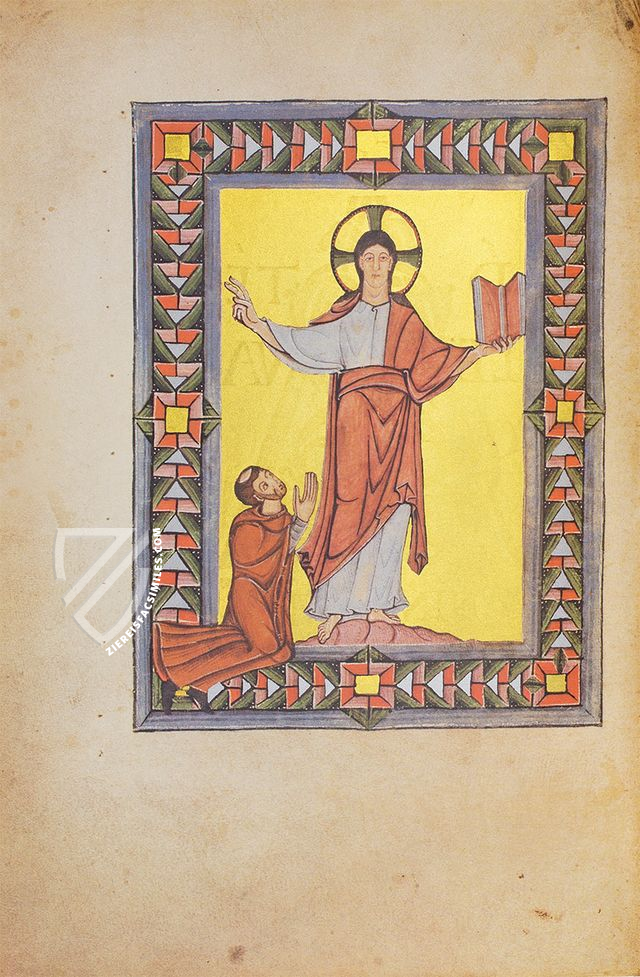 Facsimile Editions
#1

Das Echternacher Sakramentar und Antiphonar

Limited Edition:

500 copies

Binding:

Embossed Leather. Facsimile and commentary volume in a solid slip case.

Commentary:

1 volume (238 pages) by Kurt H. Staub, Paul Ulveling, and Franz Unterkircher
Language: German

K. H. Staub (codicology), P. Ulveling (musicology), and F. Unterkircher (liturgy)

1 volume: Exact reproduction of the original document (extent, color and size)

Reproduction of the entire original document as detailed as possible (scope, format, colors). The binding may not correspond to the original or current document binding.
You might also be interested in: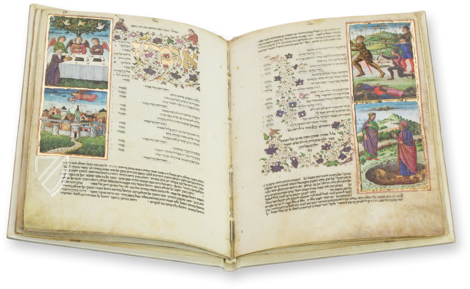 Rothschild Haggadah
Northern Italy – 1479
With both religious and secular texts: one of the most valuable Haggadot in the history of Hebrew book illumination
Experience More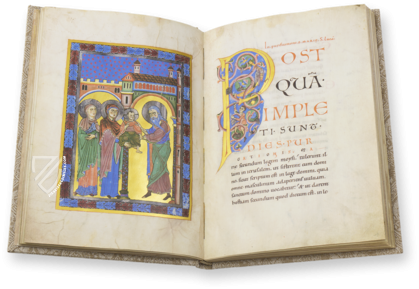 Passau Evangeliary
Abbey of St. Nikola, Passau (Germany) – Ca. 1170–1180
Elements of the Romanesque and Byzantine styles wonderfully combined: a splendid Romanesque work from Passau with large animated initials and brilliant miniatures on luminous gold backgrounds
Experience More
Blog articles worth reading