Codex Caesareus Upsaliensis
MS C93
Universitetsbibliotek Uppsala (Uppsala, Sweden)
Description
Codex Caesareus Upsaliensis
This fine manuscript is counted among the elaborate Gospel books commissioned by various emperors from the Carolingian, Ottonian, and Salian dynasties. Commissioned by the Emperor Henry III ca. 1050, the Codex Caesareus Upsaliensis was created as a gift for the newly established Goslar Cathedral. Six full-page miniatures present portraits of the Four Evangelists as well as coronation and presentation miniatures of the Emperor and Empress in addition to numerous full-page decorative initials, incipit pages, and canon tables. The manuscript is the product of the famous scriptorium of Echternach Abbey, which produced lavishly illuminated tomes for centuries that are some of the finest in all of medieval art.
Codex Caesareus Upsaliensis
Although sometimes referred to as the Emperor's Bible, the Codex Caesareus Upsaliensis is actually an 11th century Gospel book originating from the famous scriptorium of Echternach Abbey when that institution was at the peak of its manuscript production. It was commissioned ca. 1050 by the Emperor Henry III (1016-56) who then gifted it to Goslar Cathedral, an event which is depicted in a presentation miniature depicting the Emperor gifting the codex to Jude the Apostle and Simon the Zealot, who were the patron saints of the cathedral. On the opposite page, an additional miniature shows the coronation of Henry III and his wife Agnes of Poitou (1025-77) and both miniature pages are framed with a lovely textile pattern.
Décor Worthy of an Emperor
Aside from the two full-page miniatures at the beginning, each Gospel is preceded by a full-page Evangelist portrait. Five full-page initials also aid to introduce the commentary by Saint Jerome and each individual Gospel, in addition to two decorative incipit pages, respectively. Twelve gorgeous canon tables written in gold ink with vaulted arches, multicolored columns, and medallions with the Apostles and other figures. A single scribe appears to be responsible for the text, which was written by a masterly hand in Carolingian miniscule. Chapter headings and passages are preceded by decorative purple-green initials with gold leaf. The text ends with a series of pericopes and other short passages for specific holidays, indicating its ceremonial purpose.
A Missing Masterpiece
After being donated by the Emperor, the manuscript stayed in the treasury of Goslar Cathedral for more than five centuries, where it would have been used for ceremonial occasions and important holidays. The precious codex was lost in the course of the Thirty Years' War (1618-48) when the Protestant city of Goslar was occupied by allied Swedish troops from 1632-34. However, the priests of the cathedral continued to practice Catholicism, and as such may have been the victim of plunder. Nonetheless, when it resurfaced more than 100 years later ca. 1740 it was in the possession of the Swedish diplomat, civil servant, and bibliophile Gustaf Celsing the Elder – and the luxury binding was gone. Upon the death of his son in 1805, the work was acquired by Uppsala University where it remains to this day.
Codicology
Alternative Titles

Evangeliary of Henry III




Evangeliar Heinrichs III.




The Emperor's Bible of Uppsala




Kaiserbibel

Size / Format

318 pages / 38.0 × 28.0 cm

Origin

Date

Ca. 1050

Style

Language

Script

Carolingian Minuscule

Illustrations

12 exceedingly splendid canon panels; 2 ornate carpet pages; 6 full-page miniatures richly decorated with gold; 6 full-page splendid initials on a gold background; 16 full-page and half-page text pages with gold background and uncounted gold initials

Content

Gospels

Patron

Emperor Henry III (1016–1056)

Artist / School

Master of St. Matthew
Master of the Mutineers
Echternach School

Previous Owners

Gustaf Celsing
Gustaf junior and Ulrik Celsing

---
Available facsimile editions:
Detail Picture
Codex Caesareus Upsaliensis
Patron Portrait of Henry III
Dressed in imperial purple trimmed with cloth of gold, Henry III is shown presenting the manuscript at hand to Saint Simon and Saint Jude, patron saints of the Goslar Cathedral, who are shown seated under a green tile roof. They are barefoot to emphasize their piety and are dressed in traditional Roman togas. The artwork is conspicuously Byzantine in style, especially with regard to the burnished gold background and the enlarged hands, which emphasize their gesturing.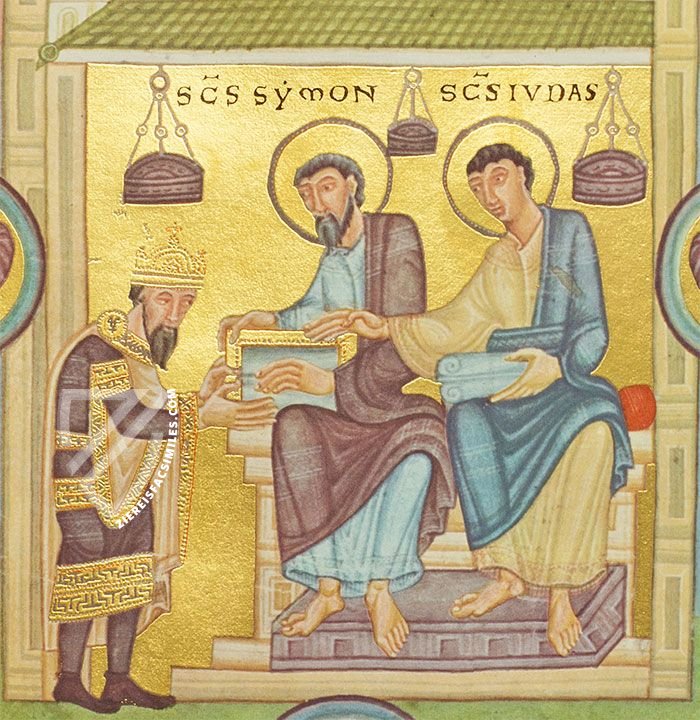 Single Page
Codex Caesareus Upsaliensis
Coronation Miniature
Opposite of the donor portrait, Emperor Henry III and his wife Empress Agnes are shown being crowned by Christ, who sits in majesty and looks out from the page directly at the reader. Christ's feet are shown resting on an orb with rings of various colors that represents the world and all of creation and he is presented before a spaceless and timeless gold leaf background.
The Emperor is depicted wearing golden spurs and holding a scepter with a bird on it, the Empress holds a scepter with a fleur-de-lis, both figures are dressed in purple robes trimmed with gold. The three figures are surrounded by the Evangelist Symbols, each presented in a medallion with a gold background. An intricate textile pattern frames the entire page.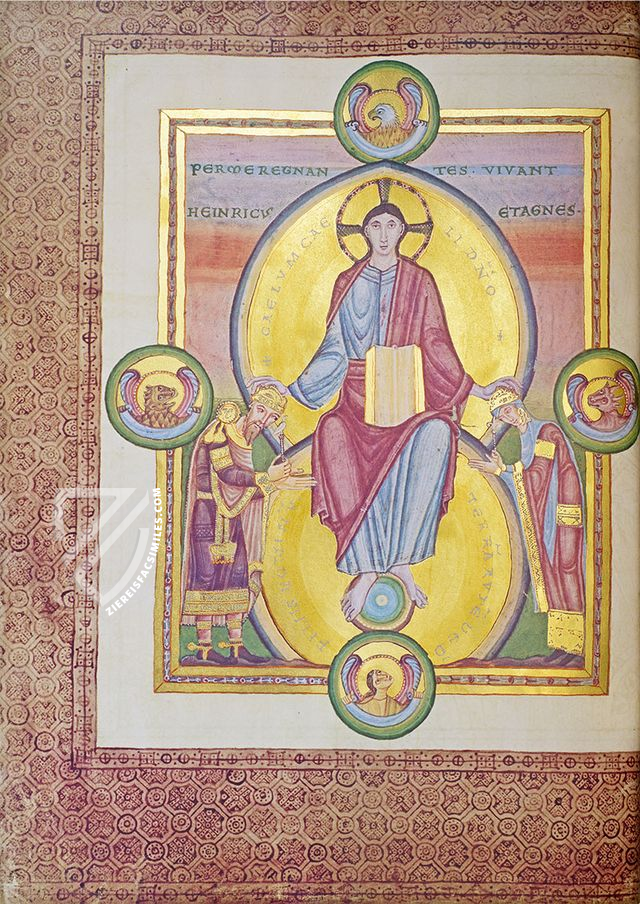 Facsimile Editions
#1

Codex Caesareus Upsaliensis

Limited Edition:

500 copies

Binding:

The facsimile with parchment binding and the commentary volume with half leather binding come in a dark red slipcase.

Commentary:

1 volume by Carl Nordenfalk
Language: English

1 volume: Exact reproduction of the original document (extent, color and size)

Reproduction of the entire original document as detailed as possible (scope, format, colors). The binding may not correspond to the original or current document binding.

Facsimile Copy Available!

Price Category: €€€
(3,000€ - 7,000€)
You might also be interested in: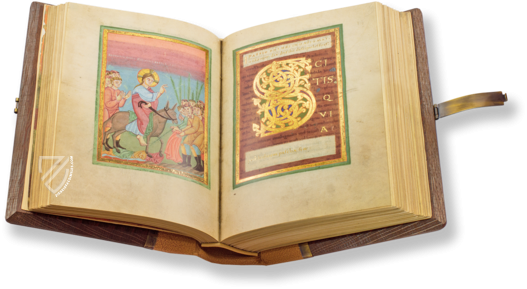 Echternach Pericopes
Echternach Abbey (Luxembourg) – Ca. 1030
A masterpiece from the famous scriptorium in Echternach: pastel miniatures and golden initials in a luminous luxury manuscript
Experience More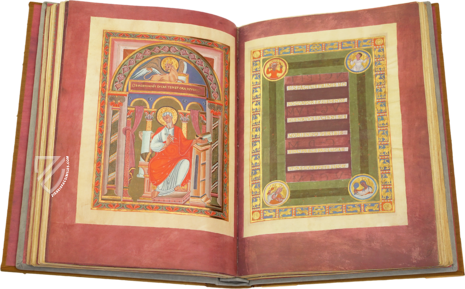 Codex Aureus of Echternach
Echternach Abbey (Luxembourg) – 1020–1050
Made by order of Theophanus, written entirely in gold, and adorned with a breathtaking magnificent binding: arguably the most splendid and beautiful manuscript of all time, created in the famous scriptorium of Echternach
Experience More
Blog articles worth reading