Dow Partbooks
Description
During the Renaissance and Baroque eras, partbooks were used to record music for each individual voice or instrument, rather than a large choirbook containing all the parts that were sung by an entire choir. This both reduced costs and allowed each singer or musician to have their own copy, but few of these flimsy originals have survived. The Dow Partbooks consists of five partbooks compiled by Robert Dow in Oxford ca. 1581–88, which are important sources for music in Tudor England. Thanks to Dow's skill as a calligrapher, they are incredibly easy to read in comparison to most manuscripts from the Tudor period.
Dow Partbooks
The five Dow Partbooks, named after their scribe Robert Dow (1553–88), originated from Oxford ca. 1581–88. Dow himself was a master calligrapher and his exceptional virtuosity can be admired in the black ink on red lines. For a manuscript from the 16th century, it is unbelievably exact and legible. Numbers 53 and 54 originate from the hand of John Baldwin (pre–1560–1615) and an unknown scribe is responsible for numbers 99 and 100. The manuscript remains in Oxford today, proudly housed in the magnificent collections of the Christ Church Library.
An Important Source of Tudor Music
Not only are the Dow Partbooks some of the most beautiful manuscripts containing music from Tudor England, in many cases they are the only source for the pieces, making it an exceptionally authoritative collection of documents. The five parts of the book come together on 960 impressive pages with a diverse repertoire suitable for both vocals and violin. One finds among them simple Latin motets, English doxologies, and a selection of textless chansons by famous composers like William Byrd, Thomas Tallis, Robert White, Robert Parsons, Philip van Wilder, and Alfonso Ferrabosco.
Codicology
Alternative Titles

The Dow Partbooks

Size / Format

960 pages (5 partbooks) / 16.5 × 22.0 cm

Origin

Date

Ca. 1581–1588

Epochs

Style

Illustrations

Cadels und calligraphical ornament

Content

Motets, anthems, consort songs, "In nomines", textless chansons

Artist / School

Robert Dow (scribe)
Single Page
Dow Partbooks
In resurrectione tua
William Byrd is regarded as one of the greatest composers of the Renaissance and one of the most important British composers of all time who greatly influenced future generations. As someone who originally belonged to the Church of England but later converted to Catholicism, Byrd has composed sacred music for both Protestant and Catholic services.
In resurrectione tua is #34 in the Dow Partbooks and as its name suggests, it was written to celebrate Christ's resurrection on Easter Sunday. Appearing between 5-line staves created with red ink, the elegant text is easily legible thanks to Robert Dow's skill as a calligrapher. Dow had numerous elaborate ways of writing Byrd's name in the manuscript and even used varying spellings – here it is spelled Birde.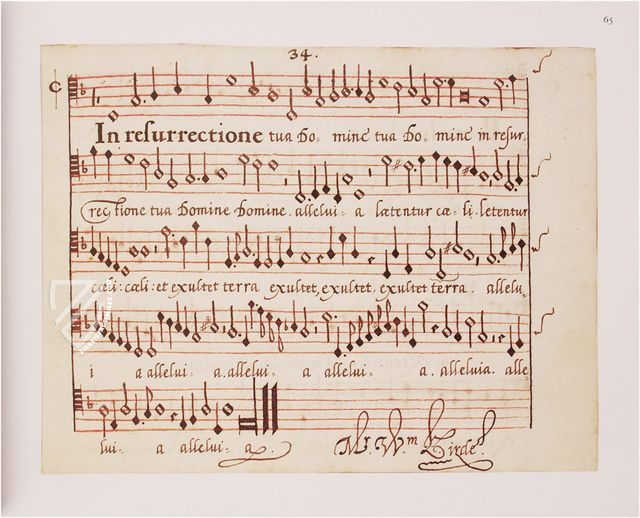 Facsimile Editions
#1

The Dow Partbooks

Publisher:

DIAMM

– London, 2010

Commentary:

1 volume (100 pp.) by John Milsom
Language: English

1 volume: This is not complete. (Note: Map 1 from the original Atlas of Antonio Millo)

Reproduction of the entire original document as detailed as possible (scope, format, colors). The pages are presented on a larger white background. The binding may not correspond to the original or current document binding.
You might also be interested in:

Dancing Book of Margaret of Austria
Flanders – Ca. 1470
Musical notations and calligraphy in gold and silver for the wife of Emperor Maximilian: one of only seven surviving manuscripts from the Middle Ages executed entirely on black parchment
Experience More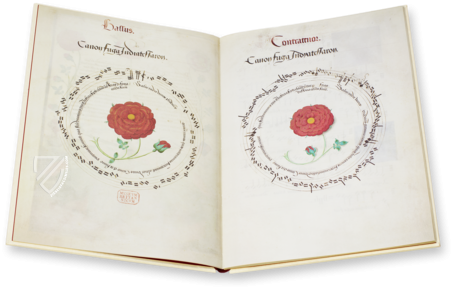 Blog articles worth reading