Libro de Motes de Damas y Cavalleros - El Juego de Mandar
Description
Libro de Motes de Damas y Cavalleros - El Juego de Mandar
A splendid specimen from the Spanish Golden Age in Valencia: Luis de Milán's Libro de Motes de Damas y Cavalleros - El Juego de Mandar. This tiny codex with a parlor game and music is shamelessly secular, so much so as to be considered blasphemous by later generations, which is why it is the only surviving edition of the work. The work, published in 1535, is a wonderful testimonial to 16th century Valencia, a vibrant place infused with the spirit of the Italian Renaissance, a place Justo García Morales described thusly: "If there is a place in Spain where the chivalrous, sober, and medieval sense of its first 'reconquistadores' comes together with the sweet hedonism that is born from her sea, her skies, and her earth, it is undoubtedly Valencia."
Libro de Motes de Damas y Cavalleros - El Juego de Mandar
Justo García Morales (1914–1998) called this text "strange and evocative", pointing out that it is a thoroughly secular work the size of a small pocket book intended for travel that contained a parlor game and music, all other specimens of which have been destroyed. The work is adorned with various woodcuts depicting contemporary Spanish ladies and gentlemen. He states that it is a perfect sample of 16th century Valencia: "If there is a place in Spain where the chivalrous, sober, and medieval sense of its first 'reconquistadores' comes together with the sweet hedonism that is born from her sea, her skies, and her earth, it is undoubtedly Valencia". It was a time when Valencia was infused with the spirit of the Italian Renaissance by the "levantinos" (Spaniards from the country's East coast) to Naples and Sicily, which were then under Spanish control, as well as Rome under the rule of the Valencian papacy of Pope Alexander VI, the famous Borgia Pope, who had been born Rodrigo de Borja (1431–1503). Only such an inspired time period could have produced such a lighthearted piece of literature.
Renaissance Valencia
In this time, the influence of the Renaissance had softened descendants of the romantic and courageous companions of King James I the Conqueror (1208–76), to whom Moorish Valencia capitulated on September 28th, 1238. The Valencians were filled with confidence in the aftermath of the Reconquista, enriched with gold and silver from Spain's American colonies, and imbued with the spirit of Renaissance Humanism. This was the Spanish Golden Age, a period of flourishing art and literature. It was in this atmosphere that the author Luis de Milán (ca. 1500 – ca. 1561) wrote this text, which was printed on October 29th, 1535 by Francisco Díaz Romano in Valencia. He concludes by describing himself as the "son of a frivolous and happy court, presided over by an even more frivolous and funny lady, which did not have any more transcendence than to serve as pastime and to entertain happily and gallantly for a few hours". With this in mind, it is no wonder that all other specimens of this trivial and playful work were destroyed in the ensuing period of dour, introspective Spanish religiosity, when such blatantly secular works would have been deemed problematic, if not blasphemous.
Codicology
Alternative Titles

Spielebuch der Damen und Ritter

Size / Format

224 pages / 10.5 × 8.2 cm

Origin

Date

October 29th, 1535

Epochs

Style

Genre

Language

Illustrations

Xylographic views of male and female figures and decorative borders

Content

Games descriptions

Artist / School

Luis Milán (author)
Francisco Díaz Romano (printer)
---
Available facsimile editions:
Vicent Garcia Editores
– Valencia, 2004
Limited Edition:
3160 copies
Facsimile Editions
#1

Libro de Motes de Damas y Cavalleros - El Juego de Mandar

Limited Edition:

3160 copies

Binding:

Binding of parchment on wooden cover Cloth-lined presentation case with gold engraved leather spine

1 volume: Exact reproduction of the original document (extent, color and size)

Reproduction of the entire original document as detailed as possible (scope, format, colors). The binding may not correspond to the original or current document binding.

Facsimile Copy Available!

Price Category: €
(under 1,000€)
You might also be interested in: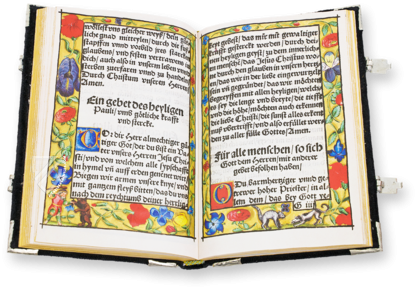 Duchess Dorothea's Prayer Book
Nuremberg (Germany) – 1536
An early print with beautiful, hand-painted floral borders and fantastical drôleries by Nikolaus Glockendon: the personal prayer book of the Protestant Duchess Dorothea of Prussia
Experience More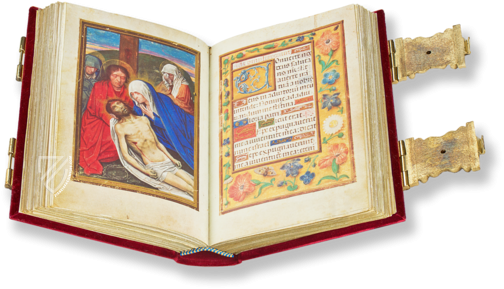 Simon Bening's Flowers Book of Hours
Bruges and Ghent (Belgium) – 1520–1525
Created by a genius painter, fascinatingly vivid and detailed in execution: bright flowers, insects, and birds on almost every page of this Flemish masterpiece by Simon Bening
Experience More
Blog articles worth reading