Book of Sorts
Description
The Book of Sorts by Lorenzo Spirito Gualteri was made in Italy in 1482 and depicts a parlor game that allows the player to pose possible answers to questions about their destiny and future. It is a testament to peoples' fascination in the Late Middle Ages with astrology, divination, and other forms of fortune telling. The beautiful, colored illustrations of the work are full of symbolic meaning as well as being richly furnished with gold and delight the reader with their combination of drama and humor. Thus, the wheel of fortune and various prophets are presented alongside zodiac symbols and celestial spheres. Although the identity of the patron remains debated, the possible candidates have been narrowed down to noble families from the central Italian city of Perugia.
Book of Sorts
Questions of one's future have occupied people since the beginning of time. In the Middle Ages, many practices – no longer considered to be scientific today – gained great fame, such as astrology. Based on star constellations, weather phenomena, or other mystical signs, people sought to read what would happen to them in their future life. The Italian author Lorenzo Spirito Gualteri composed a handwritten and illustrated codex that enabled the interpretation of the future in the form of a parlor game. His so-called "Book of Destiny" unified splendid miniatures, which were influenced by the great Italian painting of the 15th century, with astrological and religious symbolism.
Future Interpretation in the Renaissance
In the Middle Ages, Spirito Gualtieri's work offered people possible answers to questions about their destiny. The manuscript concerns itself with the themes of luck and health, honor, the birth of a child, the moment of death, political problems, or professional success. Such spiritual writings were extraordinarily popular in the time period of the Renaissance. The Book of Destiny can be considered as Italy's first bestseller.
First-Rate Illustration
The Book of Destiny originated at the court of a noble family in Perugia, whereat the scholar Lorenzi Spirito Gualtieri was employed. It was probably made at the court of the Braccio da Montone family, however there are too few sources available to confirm the manuscripts exact point of origin. In any case, the splendid work was commissioned by a wealthy benefactor. Many of the richly illustrated pages of the book were furnished with opulent gold adornment. The wheel of fortune, kings, astrological symbols, celestial spheres, and prophets are all depicted. This exciting Renaissance parlor game is stored today in the Biblioteca Nazionale Marciana in Venice.
Codicology
Alternative Titles

Schicksalsbuch des Lorenzo Spirito Gualtieri




El libro de las suertes de Lorenzo Spirito Gualtieri




Book of Sorts

Size / Format

256 pages / 24.4 × 17.4 cm

Origin

Date

Written in 1482; Illuminated in the first decade of the 16th century

Epochs

Style

Script

Humanistic minuscule

Illustrations

Various full-page miniatures

Patron

Probably Braccio da Montone family (Perugian noble family)

Artist / School

Lorenzo Spirito Gualtieri (author)
Circle of Pietro Perugino and of the young Raphael (illuminator)

Previous Owners

Lorenzo Spirito Gualtieri (1426–1496)
---
Available facsimile editions: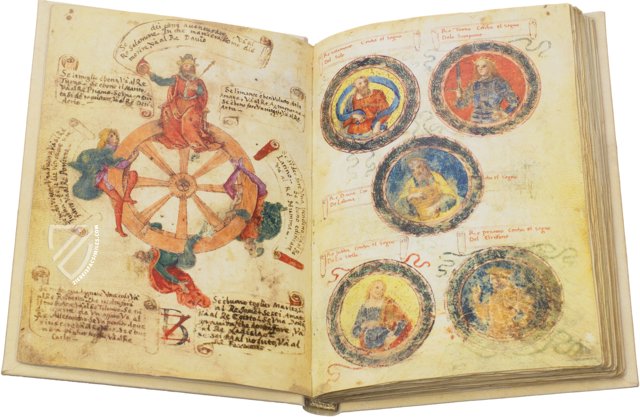 Franco Cosimo Panini Editore
– Modena, 2010
Limited Edition:
980 copies
Detail Picture
Book of Sorts
Saturn
Wrapped in a red cloth and identified by his large scythe with a blade of silver leaf, the Roman god Saturn is shown bearded and bald headed in this medallion miniature. He has a distant look on his face and is resting on the staff of his scythe, which he points to with his left index finger. Saturn was described as a god of generation, dissolution, plenty, wealth, agriculture, periodic renewal, and liberation. His mythological reign was depicted as a Golden Age of plenty and peace.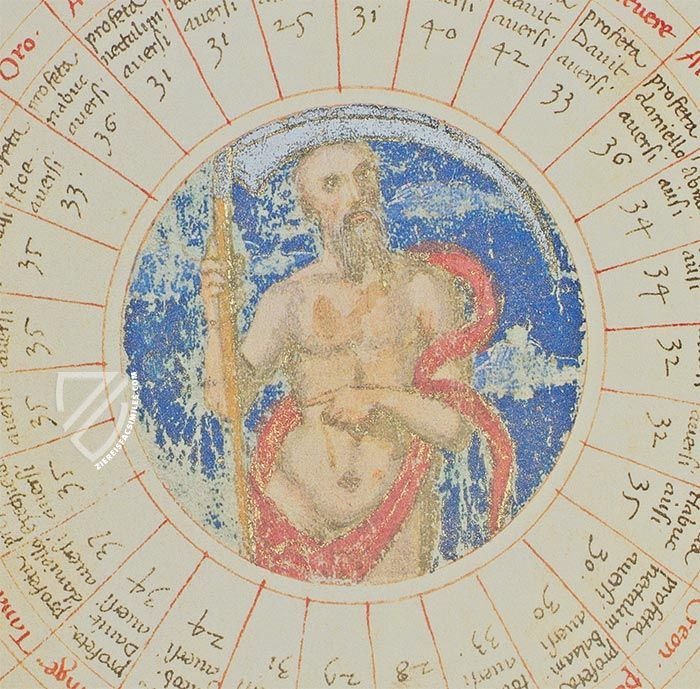 Single Page
Book of Sorts
Wheel of Fortune
The Wheel of Fortune was a common theme in ancient and medieval philosophy symbolizing the fickle nature of fate. It's four figures each represent a king in a different stage of life and are traditionally labelled (clockwise from the top) "I reign, I reigned, My reign is finished, I shall reign". As an aid to religious instruction, it represented the temporality of earthly things, often focusing on the downfall of the powerful.
In this depiction, each figure is shown alongside a scroll with historic examples of rulers who epitomized each stage of the cycle. Furthermore, the goddess Fortuna, normally depicted spinning the wheel as is her prerogative, is curiously absent from this depiction, perhaps an implication that we decide our own fates.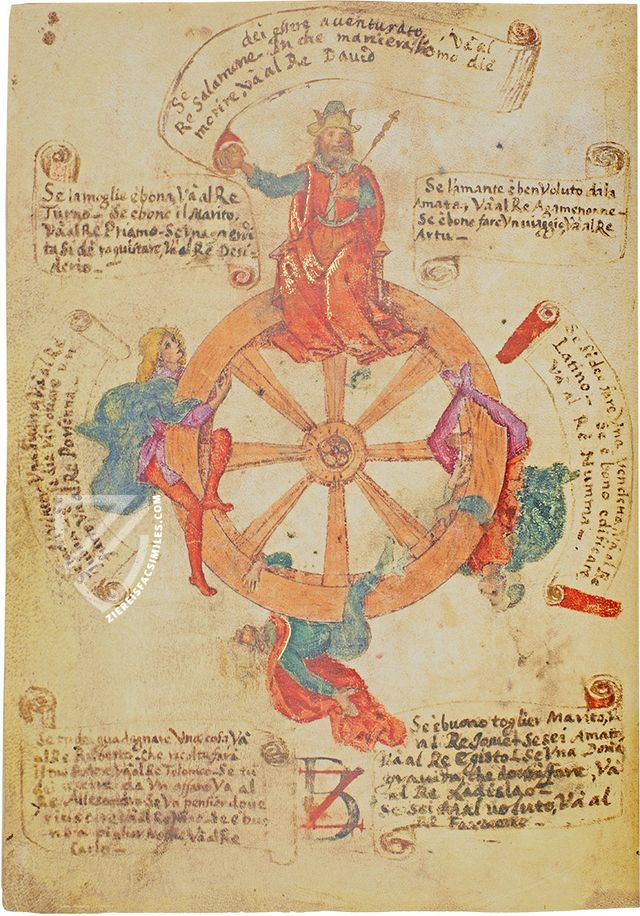 Facsimile Editions
#1

Libro delle Sorti di Lorenzo Spirito Gualtieri

Limited Edition:

980 copies

Binding:

Cover in parchment decorated with gold.

Commentary:

1 volume (ca. 200 pages) by Silvia Urbini, Baldassarri Peruzzi, Lucantonio degli Uberti, Jacopo Melenghino
Language: Italian

1 volume: Exact reproduction of the original document (extent, color and size)

Elegant mahogany slipcase with compartments for the facsimile, the commentary, the instructions and three dice.