Libro del Juego de las Suertes
Description
Libro del Juego de las Suertes
Parlor games were popular during the Middle Ages and ranged from board games like Chess to card games and even fortune-telling games. In 1559, the Book of the Game of Luck was among the second group of texts to added to the Índice de libros prohibidos, the "Index of Forbidden Books" established by the Spanish Inquisition in 1551 as a reaction to the rise of secular Renaissance literature. Nonetheless, the work enjoyed great popularity before it was banned and appeared in numerous translations, including the Valencian specimen at hand.
Libro del Juego de las Suertes
The so-called Book of the Game of Luck contains a game wherein the participants guess the answers to a set of primary questions about life, the point of which inter alia is to avoid doing nothing. This is all explained in the book's prologue, which also informs the reader that these answers are nonsense. Although the author is unnamed, research indicates that the Italian poet Lorenzo Spirito Gualtieri (1426–96) was responsible for the work. The current Valencian specimen, which is adorned with detailed and instructive full-page woodcuts, was published on July 1st, 1528. The original manuscript of Libro della ventura, ovvero Libro delle sorti was created in Vicenza in the 1480's with Italian editions being produced through the mid–16th century, as well as some 16th century French editions. A Castilian-language edition from 1502 in Milan and owned by Ferdinand Columbus (1488–1539), son of the great explorer and famous bibliophile, was reedited in the Valencian workshop of Jorge Costilla in 1515. It came into the Biblioteca de la Real Academia de la Historia in Madrid along with the collection of Antonio Rodríguez Moñino and María Brey, while the 1528 edition at hand, along with another unicum from 1535, are housed in the Österreichische Nationalbibliothek in Vienna.
Codicology
Alternative Titles

Buch der Glücksspiele

Size / Format

80 pages / 30.3 × 21.5 cm

Origin

Date

July 1st, 1528

Epochs

Style

Genre

Language

Illustrations

Xylographic engravings like the frame on the title page and tables of games

Content

Games description

Artist / School

Lorenzo Spirito (author?)
Juan Joffre (printer)
---
Available facsimile editions: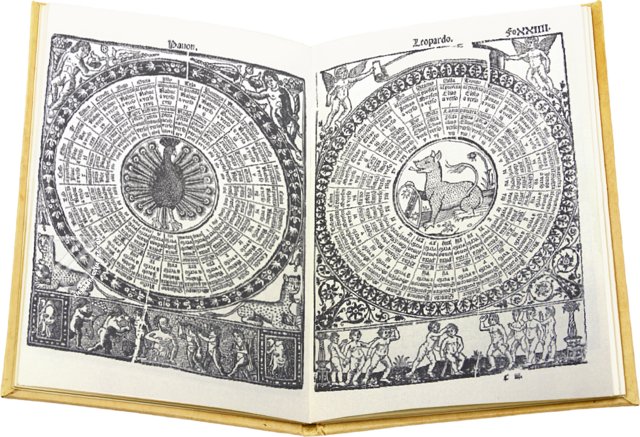 Vicent Garcia Editores
– Valencia, 2006
Limited Edition:
3160 copies
Facsimile Editions
#1

Libro del Juego de las Suertes

Limited Edition:

3160 copies

Binding:

Binding of parchment on wooden cover Cloth-lined presentation case with gold engraved leather spine

1 volume: Exact reproduction of the original document (extent, color and size)

Reproduction of the entire original document as detailed as possible (scope, format, colors). The binding may not correspond to the original or current document binding.
You might also be interested in:
Book of Hunting of Gaston III Phoebus
France – End of the 14th century
Splendid pictures of aristocratic hunting parties at their royal pastime: a luxuriously illuminated guide to hunting with Gaston Phoebus's teachings on hunting techniques and the training and care of horses and hunting dogs
Experience More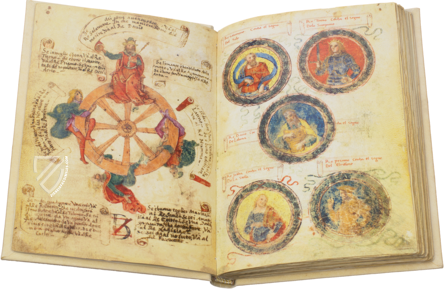 Book of Sorts
Perugia (Italy) – Written in 1482; Illuminated in the first decade of the 16th century
An illuminated parlor game and the first "best seller" in Italy: questions and answers about the fate of the players, conceived by the most prestigious scholar of Umbria at the time
Experience More
Blog articles worth reading