Codex Turin J.II.9
Description
Europe was undergoing a musical revolution in the Late Middle Ages, particularly in France and the Burgundian Low Countries. Nonetheless, this is the sole manuscript from the period dedicated purely to French music, as well as the largest of the period. This large tome is a priceless source for the history of European music.
Codex Turin J.II.9
This collection of plainchant, polyphonic mass movements, motets, and polyphonic chansons represents the sole source dateable to the early–15th century that is devoted exclusively to French music. The codex is also the largest corpus of French music from the period and contains music from the court of King Janus of Cyprus (1375–1432), who also titular King of Armenian Cilicia and Jerusalem from 1398–1432, and his second wife Charlotte de Bourbon (1388–1422). The manuscript also contains one of the oldest masses of a cantus firmus composed outside the British Isles, which was presumably copied in the area of Savoy. As such, these 334 compositions are of fundamental importance for the study of early–15th century music.
Codicology
Alternative Titles

Codice J.II.9




Codex J.II.9




MS J.II.9 "Cypriot-French"

Size / Format

318 pages / 37.5 × 27.0 cm

Origin

Date

Early 15th century

Epochs

Style

Genre

Script

Gothic Textura Gothic cursive

Illustrations

1 miniature of St. Hylarion (fol. 1); floral and ornamental border decorations; blue and red initials on gold; fleuronné initials

Content

Polyphony

Patron

Bagarotti family (?)
Charlotte of Bourbon (?)

Previous Owners

Anne de Lusignan (?)
Facsimile Editions
#1

Il Codice J.II.9

Commentary:

1 volume by Isabella Data and Karl Kügle
Languages: English, Italian

1 volume: This facsimile is not complete.

Reproduction of the entire original document as detailed as possible (scope, format, colors). The pages are presented on a larger white background. The binding may not correspond to the original or current document binding.
You might also be interested in: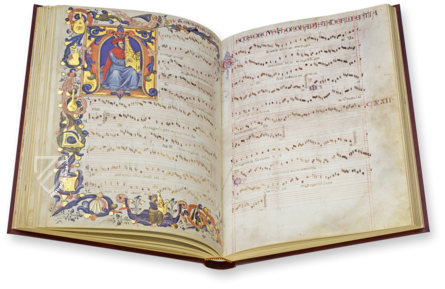 Squarcialupi Codex
Monastery of Santa Maria degli Angeli, Florence (Italy) – 1410–1420
The secular music of the Florentine Trecento collected in a magnificent manuscript: 352 works by 14 famous Italian composers presented in gold-adorned Renaissance portraits
Experience More
Blog articles worth reading