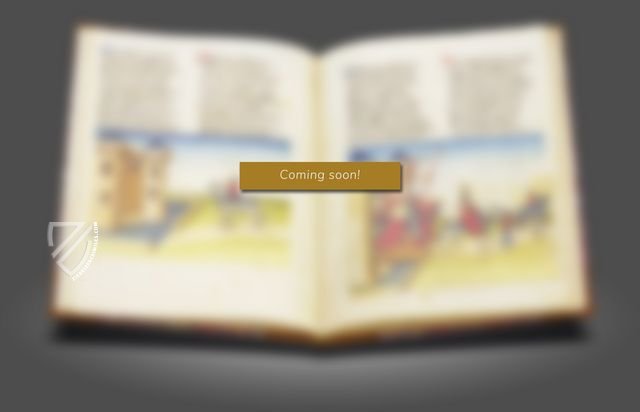 Oswald of Wolkenstein: Manuscript A
Probably Kloster Neustift near Brixen (Italy) — Around 1425
One of the oldest surviving song manuscripts, consisting of 100 songs and their notation

The artistic embellishment of the work is also impressive

The portrait on the interior side of the front cover is also the oldest authentic portrait of a German poet
Oswald of Wolkenstein: Manuscript A
Alternative Titles:
Oswald von Wolkenstein: Handschrift A
Short Description
Oswald von Wolkenstein´s songbook was compiled during his lifetime and presumably at his command. Carefully written and attractively illuminated, the manuscript has been well preserved; and its lines and colors have remained intact despite six centuries and equally clear and bright in this facsimile. To be sure, the portrait of the author has suffered the ravages of time; therefore this edition also reproduces a later, yet satisfactory, reconstructed copy.
Oswald of Wolkenstein Manuscript A
The work at hand is the first complete color study edition of the oldest surviving Liederhandschrift or "song manuscript" consisting of 100 songs with notes, which are transmitted to us in Codex Vindobonensis 2777. This is the key manuscript for any research into Oswald von Wolkenstein (1376/77–1445). The precious original can now be simultaneously stored and made accessible thanks to the facsimile edition.
The manuscript originating from 1425 was probably written at Oswald's request, like the newer Innsbruck Codex B. Now that Ms. B is no longer considered merely a corrected and expanded copy of Ms. A, but a compilation of the same separate texts, it is evident that any further textual study must take Ms. A. into account. The significance of the manuscript lies not only in the very important transmission of the texts and notes, which with the help of this edition can be read for the first time without consulting the original, but rather in the artistic furnishings, which are simple yet impressive.
The portrait of the poet on the interior side of the front cover is particularly important for the history of Tirolean illumination. It is the oldest authentic portrait of a German poet.
Codicology
Alternative Titles

Oswald von Wolkenstein: Handschrift A

Size / Format

66 folios / 36.8 × 26.8 cm

Date

Around 1425

Epochs

Style

Genre

Language

Illustrations

1 full-page miniature

Content

150 songs
1 available facsimile edition(s) of "Oswald of Wolkenstein: Manuscript A"
Oswald von Wolkenstein: Handschrift A Facsimile
Oswald von Wolkenstein: Handschrift A Facsimile
1 volume: Exact reproduction of the original document (extent, color and size)
Publisher

Akademische Druck- u. Verlagsanstalt (ADEVA) – Graz, 1977

Binding

Cloth

Commentary

1 volume by F. Delbono
Language: German

Delbono, Rome. 50 pp. Text with 6 black-and-white ill. and 1 colour-plate.

More Information

Reproduction of the entire original document as detailed as possible (scope, format, colors). The binding may not correspond to the original or current document binding.
Matching Background Articles
Music / Poetry

Do you feel elevated by monastic chant? Are you a sucker for chivalric love poetry? Music and poetry were among the most...

Experience more

Gothic

Gothic illumination is some of the most spectacular and iconic imagery of medieval art and first emerged in Northern...

Experience more

15th Century

Come and explore an age of stark contrasts as Europe comes back from the brink: calamities like the Fall of...

Experience more