Oswald of Wolkenstein: Manuscript A
Description
Oswald of Wolkenstein: Manuscript A
"Cheerful, tender, lovely and limpid, graceful, still and silent, / in gentle, sweet, chaste, languid manner / awake, thou lovely, fair woman..." Just as he knows here how to pack his impatience at the sight of a desired, still sleeping woman into an urgent series of adjectives, Oswald von Wolkenstein (1377-1445) also packed his life as full as possible: already at the age of 10 he left his parents' castle Schöneck in South Tyrol to see as much of the world as he could as a squire. Then he became an adventurer, merchant, world traveler, politician, diplomat in the service of Emperor Sigismund I, poet, composer, and singer. Manuscript A, the oldest surviving song manuscript, contains more than 100 songs with notes and was probably commissioned by Oswald himself ca. 1425. The portrait of Oswald is the oldest surviving authentic portrait of a German poet.
Oswald of Wolkenstein Manuscript A
The work at hand is the first complete color study edition of the oldest surviving Liederhandschrift or "song manuscript" consisting of 100 songs with notes, which are transmitted to us in Codex Vindobonensis 2777. This is the key manuscript for any research into Oswald von Wolkenstein (1376/77–1445). The precious original can now be simultaneously stored and made accessible thanks to the facsimile edition.
The manuscript originating from 1425 was probably written at Oswald's behest, like the newer Innsbruck Codex B. Now that Ms. B is no longer considered merely a corrected and expanded copy of Ms. A, but a compilation of the same separate texts, it is evident that any further textual study must take Ms. A. into account. The significance of the manuscript lies not only in the very important transmission of the texts and notes, which with the help of this edition can be read for the first time without consulting the original, but rather in the artistic furnishings, which are simple yet impressive.
The portrait of the poet on the interior side of the front cover is particularly important for the history of Tirolean illumination. It is the oldest authentic portrait of a German poet.
Codicology
Alternative Titles

Oswald von Wolkenstein: Handschrift A

Size / Format

66 folios / 36.8 × 26.8 cm

Origin

Date

Ca. 1425

Epochs

Style

Genre

Language

Illustrations

1 full-page miniature

Content

150 songs

Patron

Oswald of Wolkenstein (1376/77–1445)
---
Available facsimile editions:
Detail Picture
Oswald of Wolkenstein: Manuscript A
Carmina germanica (No. 40)
This elegant "D" initial introduces one of the songs composed by Oswald, it was created using expensive red and blue inks, fine pen strokes, and is accompanied by red five-line staves using a late from of neume notation. The lyrics of the song, which were written under the neumes by an expert hand, are still easily legible today, making one of the oldest surviving song manuscripts also very accessible for those interested in music from the Middle Ages.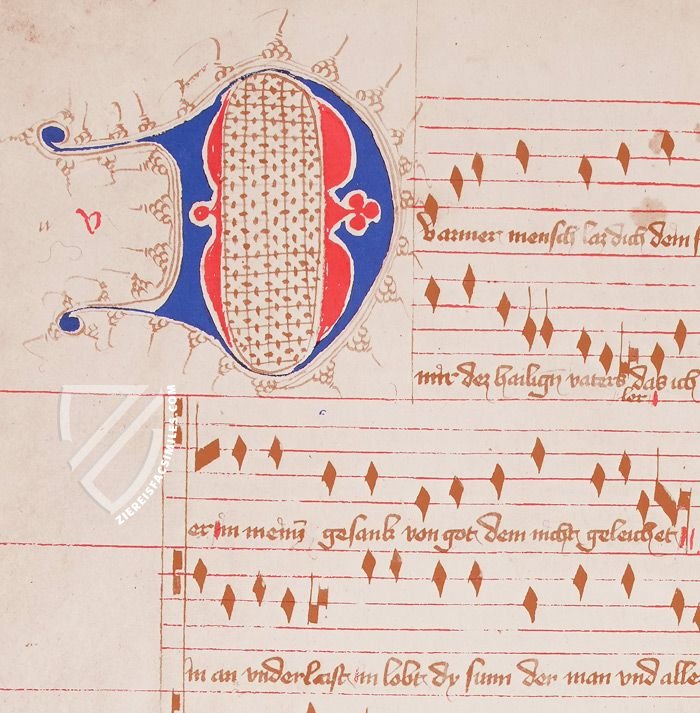 Single Page
Oswald of Wolkenstein: Manuscript A
Author Portrait
Painted on the inside of the manuscript's front cover, this full-page miniature is the oldest surviving portrait of a German poet and originated sometime ca. 1425. It depicts the poet, composer, and diplomat Oswald von Wolkenstein, who travelled across Europe and as far as the Kingdom of Georgia in the Caucaus Mountains and belonged to at least three chivalric orders.
Oswald is shown in front of a blue background, flanked by his heraldic devices, and dressed in the style of a typical aristocrat in the early 15th century: he is wearing a fur hat and a black fur-lined tunic secured at the waist with a belt and his legs are covered in tights, one black and one white. He holds up a sheet of music in his right hand with a large red initial.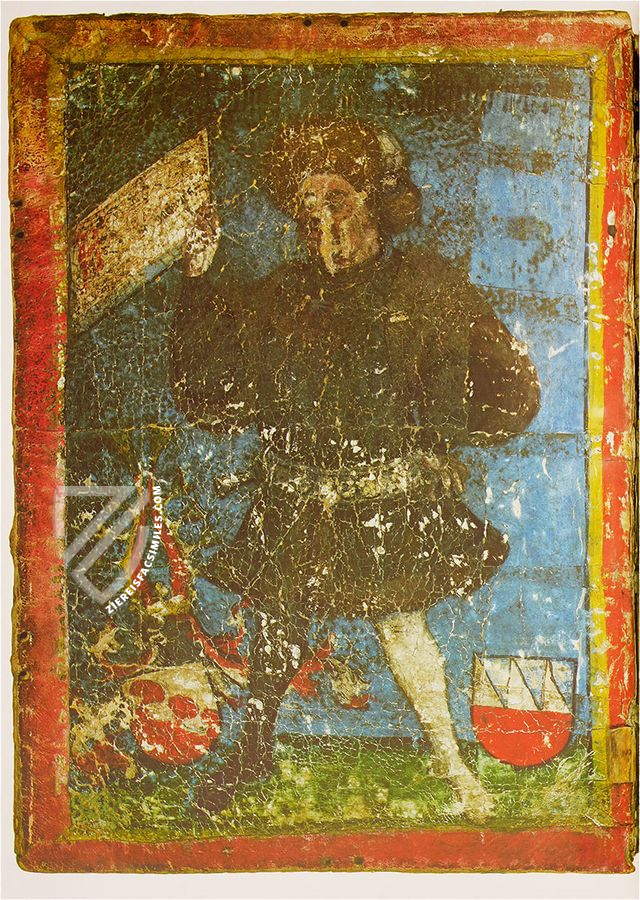 Facsimile Editions
#1

Oswald von Wolkenstein: Handschrift A

Commentary:

1 volume by Francesco Delbono
Language: German

1 volume: Exact reproduction of the original document (extent, color and size)

Reproduction of the entire original document as detailed as possible (scope, format, colors). The binding may not correspond to the original or current document binding.
You might also be interested in:

Dancing Book of Margaret of Austria
Flanders – Ca. 1470
Musical notations and calligraphy in gold and silver for the wife of Emperor Maximilian: one of only seven surviving manuscripts from the Middle Ages executed entirely on black parchment
Experience More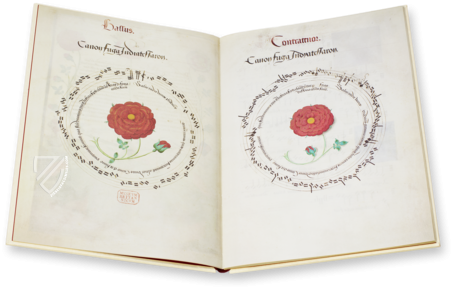 Blog articles worth reading