Weingarten Manuscript
Description
This fine specimen of Minnesang, the German version of the medieval troubadour tradition, is believed to have originated from the region of Konstanz in the early–14th century. It is one of the most important artifacts of this tradition and has the works of 31 poets working in Middle High German. Mostly from an aristocratic background, these poets even include Holy Roman Emperor Henry IV, whose compositions are found in the beginning of the codex.
Weingarten Manuscript
Here we have one of the most important sources of Minnesang, the Middle High German tradition of lyric- and songwriting originating from the 12th to the 14th centuries. The primary subject of these songs was Minne, a Middle High German word for love. Individual songs were called a Minnelied and were performed by a Minnesänger, the German equivalent of a troubadour. Known as the Weingarten Manuscript, it is one of this tradition's three major manuscripts along with the Codex Manesse and Kleine Heidelberger Liederhandschrift. It contains texts from the golden age of Minnesang and is stored under the shelf mark XB XIII 1 in the Württembergische Landesbibliothek, Stuttgart.
Medieval German Love Songs
The manuscript is relatively small, measuring 15 x 11.5 cm, suggesting that it was for private use. It contains the work of 31 poets, 25 of whom are named and the other six are not, but can be identified in other texts. The 25 Minnesänger who are named are portrayed in 23 full-page and 2 half-page miniatures. Although most of the compositions are concerned with romantic love, one is a Marienlob or poem in praise of the Virgin Mary, and another is the Minnelehre or "Art of Love" by Johann von Konstanz (active 1281–1312). Rather than being ordered chronologically or alphabetically, the authors are arranged hierarchically, beginning with the Emperor Henry IV (1165–97) and then progressing down the social ladder to various counts and knights. The manuscript is believed to have originated from Konstanz in the early–14th century at the behest of Heinrich von Klingenberg (ca. 1240–1306), Prince Bishop of Konstanz.
Codicology
Alternative Titles

Weingartner Liederhandschrift

Size / Format

316 pages / 15.0 × 11.5 cm

Origin

Date

Early 14th century

Epochs

Style

Genre

Language

Illustrations

23 full-page and 2 half-page miniatures

Content

Minnesang poems

Previous Owners

Marx Schulthais
Weingarten monastery library
---
Available facsimile editions:
Detail Picture
Weingarten Manuscript
Otto von Botenlauben
Spelled here as "Botenlouben", Otto von Botenlauben (1177–1245) was Count of Henneburg, a Crusader knight, and a minnesinger. In 1231, he and his wife Beatrix de Courtenay founded the Cistercian cloister of Frauenroth, where they are buried. He was an adherent of Emperor Henry VI, a fellow minnesinger, and participated in the Emperor's Italian campaign in 1197. Otto is depicted sitting across from his coat of arms and gesturing with long fingers as though reciting one of his compositions.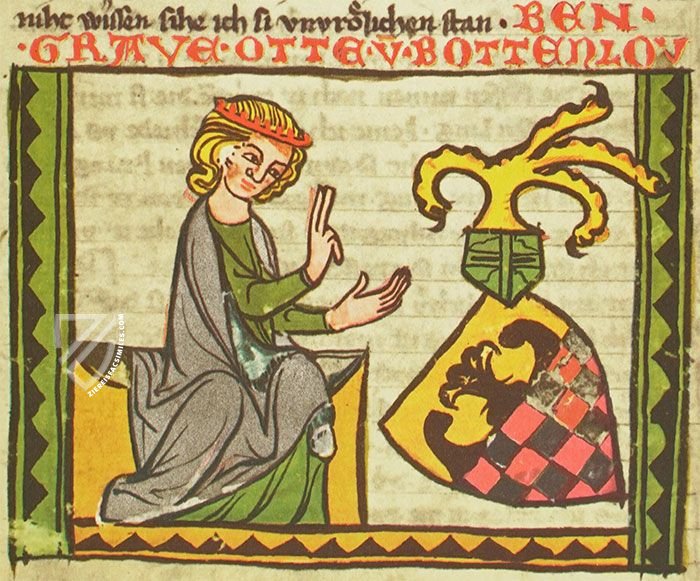 Single Page
Weingarten Manuscript
Emperor Henry VI
Henry VI (1165–1197) was Holy Roman Emperor, King of Sicily, and the first minnesinger presented in this manuscript, which like similar works arranges its composers according to their noble rank. The great patron of poets and poetry is shown here seated on a throne, adorned with imperial regalia, dressed in fur-lined robes, and holding an unfurled scroll.
In addition to the song Kaiser Heinrich presented in this manuscript, at least three poems have been attributed to Henry VI, which were written when he was a young man in love. As such he is presented here as a fresh-faced youth. One of his poems describes a lady who means more to him than all the power, wealth, and dignity of his crown, which he would sooner give up than her.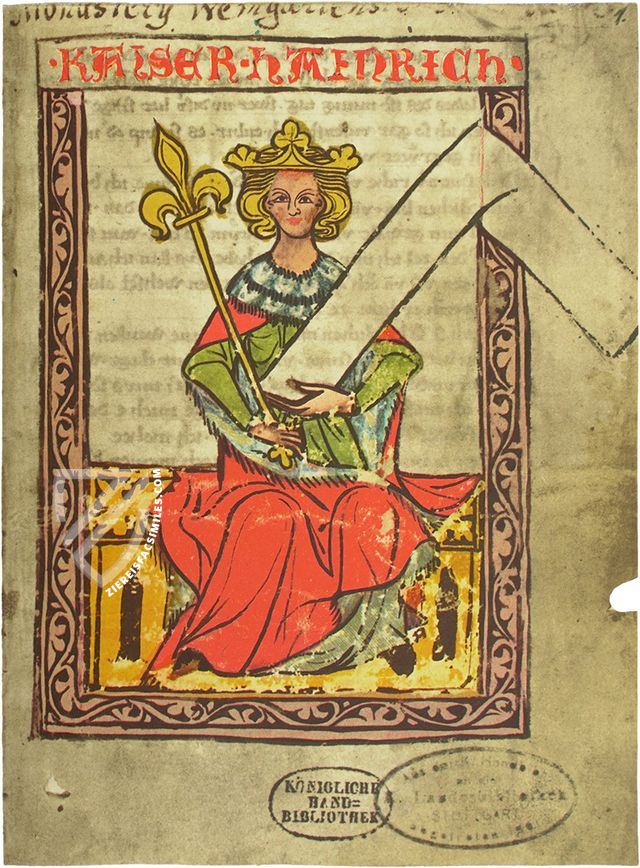 Facsimile Editions
#1

The Weingarten Manuscript

Limited Edition:

850 copies

Commentary:

1 volume
Language: German

1 volume: Exact reproduction of the original document (extent, color and size)

Reproduction of the entire original document as detailed as possible (scope, format, colors). The binding may not correspond to the original or current document binding.
You might also be interested in: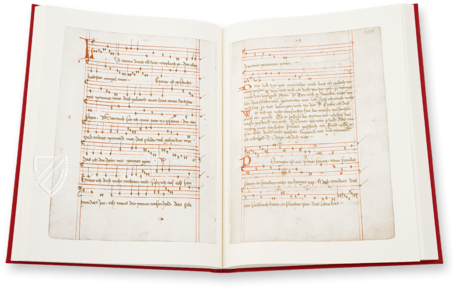 Mondsee-Vienna Music Manuscript
First half of the 15th century
One of the most important sources of the German-language music history of the 15th century: 100 polyphonic songs of famous composers like Hermann von Salzburg or Heinrich von Mügeln
Experience More

Blog articles worth reading