Weingarten Manuscript
Konstanz (Germany) — Early 14th century
A small songbook for private use containing the love songs of 31 medieval German poets who are arranged hierarchically

Beginning with Emperor Henry IV (1165–97), it then progresses down the social ladder to various counts and knights

It is believed to have originated at the behest of Heinrich von Klingenberg (ca. 1240–1306), Prince Bishop of Konstanz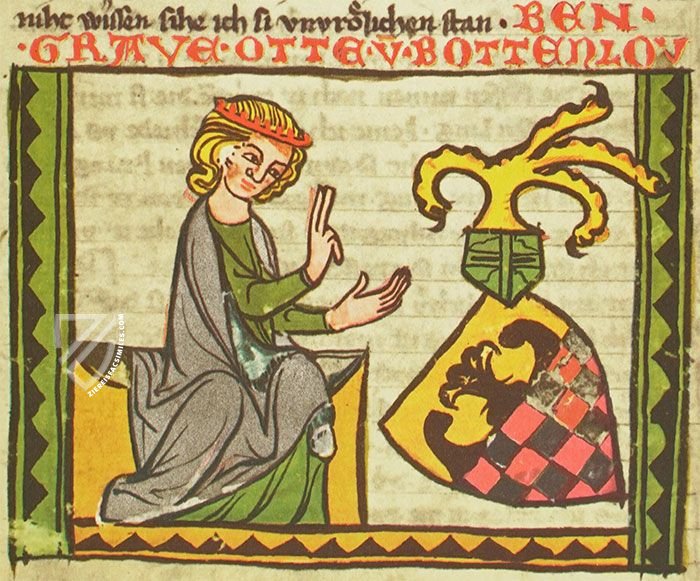 Weingarten Manuscript
Alternative Titles:
Weingartner Liederhandschrift
Short Description
This fine specimen of Minnesang, the German version of the medieval troubadour tradition, is believed to have originated from the region of Konstanz in the early–14th century. It is one of the most important artifacts of this tradition and has the works of 31 poets working in Middle High German. Mostly from an aristocratic background, these poets even include Holy Roman Emperor Henry IV, whose compositions are found in the beginning of the codex.
Weingarten Manuscript
Here we have one of the most important sources of Minnesang, the Middle High German tradition of lyric- and songwriting originating from the 12th to the 14th centuries. The primary subject of these songs was Minne, a Middle High German word for love. Individual songs were called a Minnelied and were performed by a Minnesänger, the German equivalent of a troubadour. Known as the Weingarten Manuscript, it is one of this tradition's three major manuscripts along with the Codex Manesse and Kleine Heidelberger Liederhandschrift. It contains texts from the golden age of Minnesang and is stored under the shelf mark XB XIII 1 in the Württembergische Landesbibliothek, Stuttgart.
Medieval German Love Songs
The manuscript is relatively small, measuring 15 x 11.5 cm, suggesting that it was for private use. It contains the work of 31 poets, 25 of whom are named and the other six are not, but can be identified in other texts. The 25 Minnesänger who are named are portrayed in 23 full-page and 2 half-page miniatures. Although most of the compositions are concerned with romantic love, one is a Marienlob or poem in praise of the Virgin Mary, and another is the Minnelehre or "Art of Love" by Johann von Konstanz (active 1281–1312). Rather than being ordered chronologically or alphabetically, the authors are arranged hierarchically, beginning with the Emperor Henry IV (1165–97) and then progressing down the social ladder to various counts and knights. The manuscript is believed to have originated from Konstanz in the early–14th century at the behest of Heinrich von Klingenberg (ca. 1240–1306), Prince Bishop of Konstanz.
Codicology
Alternative Titles

Weingartner Liederhandschrift

Size / Format

158 folios / 15.0 × 11.5 cm

Origin

Date

Early 14th century

Epochs

Style

Genre

Language

Illustrations

23 full-page and 2 half-page miniatures

Content

Minnesang poems

Previous Owners

Marx Schulthais
Weingarten monastery library
1 available facsimile edition(s) of "Weingarten Manuscript"
The Weingarten Manuscript
The Weingarten Manuscript
1 volume: Exact reproduction of the original document (extent, color and size)
Limited Edition

850 copies

Commentary

Language: German

More Information

Reproduction of the entire original document as detailed as possible (scope, format, colors). The binding may not correspond to the original or current document binding.
Matching Background Articles