Les Amours de Réné d'Anjou
Fr.Q.XIV.1
National Library of Russia (St. Petersburg, Russia)
Description
Les Amours de Réné d'Anjou
In every respect, the work Les amours de René d´Anjou represents an important milestone for European literature of the Middle Ages. The manuscript, which originated from sometime in the middle of the 15th century, attained its great significance to art history not just because of its artistically-talented and politically-significant author René of Anjou. The virtuoso miniatures are particularly charming, and were very likely painted by King René himself.
Les Amours de Réné d'Anjou
René I of Anjou's extremely eventful destiny brought him to the pinnacle of the Kingdom of France from ca. 1431 to 1453. It is not just his political career, but also his significance for art and science, that makes him one of the most iridescent monarchs of the Late Middle Ages. He particularly distinguished himself in the field of literature and poetry. The ruler composed numerous books of poetry and poetic texts, which clearly influenced the literary history of Europe. One of his most exciting works is the text Les Amour, which is furnished with 74 enchantingly-designed color miniatures, which were most-likely made by the gifted prince himself.
René's Path to the Crown
Born the second son of the Duke of Anjou on January 16th, 1409, René initially had few prospects for a high position of power in France. His ambitious mother Yolanda of Aragon nevertheless shrewdly wrangled the claim to the Duchies of Bar and Lorraine for him. His Uncle Ludwig, the Cardinal-Bishop of Chalon and Duke of Bar, adopted him as his heir in 1419, while in the same year, he was additionally engaged René to marry Isabella, the heiress of Charles II, Duke of Lorraine. It was obviously his good dynastic connections that allowed René to become the King of France. His political activities were principally characterized by military defeats and humiliations. The historian Desmond Stewart described him as one of the most spectacular royal losers of the 15th century outside of England. Notwithstanding, because of his mild manner and his benevolence for his people, he was a beloved ruler and gained the epithet "le bon roi", the good king.
The Love of Art
In the realm of art and literature, René of Anjou was by far the most gifted French ruler of the Middle Ages. His paintings and above all his precious manuscripts are an essential part of the history of European art and culture. He was personally active in all the arts of his time as well as in handicraft, above all as a painter following the Flemish school of Barthélemy van Eyck, and collected and encouraged creative types around him. In the field of poetry, above all in allegories, he made many successful efforts. He maintained a literary and intellectual circle in Aix-en-Provence and Angers, respectively. He devoted himself to the revival of old-Provençal poetry, while collecting the works of the troubadours and writing himself. René was the patron of some of the most famous and talented masters of his time and he himself produced breathtaking paintings, the most famous of which is the work with the title "The Burning Bush" from the year 1476.
A Milestone of Literary History
Les amours de René d´Anjou represents one of the most famous and most significant literary works of the multi-talented ruler. The allegorical story is written partially in prose and partially in rhyming verse, which present the text about love, brave knights and squires, and their victory over all adversities in splendid pictures. The depiction of lighting conditions in the illustrations is breathtakingly masterful. This is particularly clear during night scenes, as well as depictions of the sunrise and dusk. The high quality of the miniatures often leads to speculation about their designer. To this day, it cannot be determined with certainty whether René himself is truly responsible for the unbelievably beautiful image composition. Uncertainties aside, the astounding images have lost none of their charm.
Codicology
Alternative Titles

Rene d'Anjou: Un Poema como Regalo de Bodas




Les Amours De Rene d'Anjou Roy De Naples et De Sicile Compose Ecrit Par Lui Meme




Regnaul et Janneton

Size / Format

74 pages / 27.0 × 21.0 cm

Origin

Date

Mid 15th century

Epochs

Style

Genre

Language

Script

Bastard Secretary

Illustrations

74 miniatures

Artist / School

René d'Anjou (1409–1480), Duke of Anjou and King of Naples (author)
---
Available facsimile editions: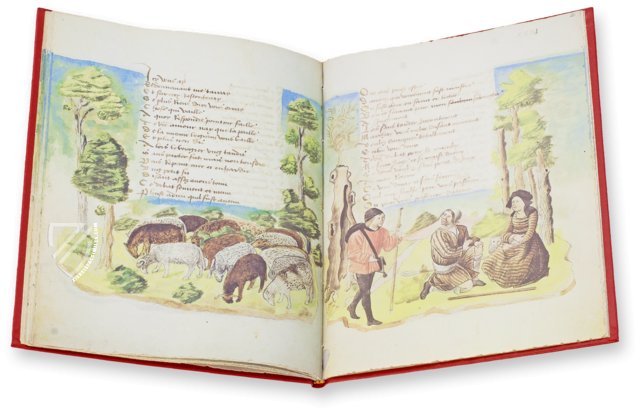 AyN Ediciones
– Madrid, 2002
Limited Edition:
920 copies
---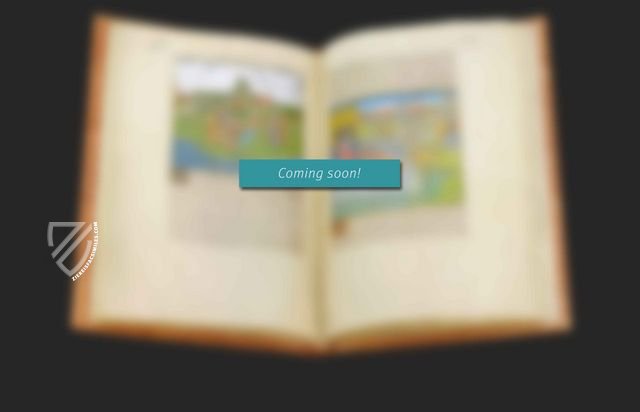 AyN Ediciones
– Madrid, 2002
Limited Edition:
75 copies
Detail Picture
Les Amours de Réné d'Anjou
Harvesting Hay
In a society dependent upon the labor of oxen, horses, donkeys, and mules, hay was an important and valuable commodity. Coincidentally, it is typically shown in labors of the month being harvested in the month of June, named after Juno, the Roman goddess of marriage. This month in spring has been thus associated with romance since antiquity. Here we see a man cutting hay as his wife, who is heavy with child, looks on and holds her stomach, picking her teeth with a piece of straw.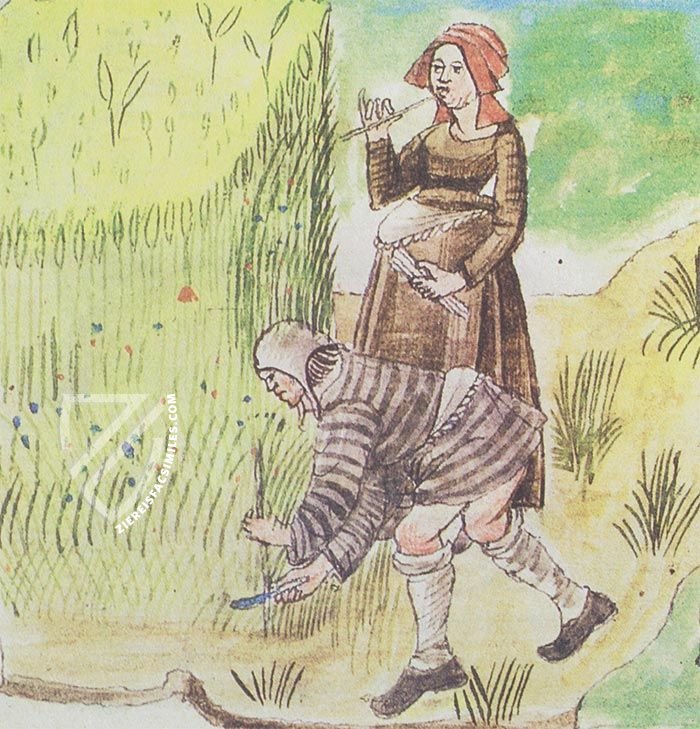 Single Page
Les Amours de Réné d'Anjou
A Romantic Picnic
A young couple are preparing a romantic meal on a beautiful day, pictured here cooking over an open fire on a riverbank as a shepherd watches jealously from behind a tree. Their dog is showing great restraint by not stealing any food while their backs are turned and looks off into the distance instead. The picnic blanket has meat, bread, and greens on it in addition to a knife, cup, and bowl.
This watercolor has been lovingly created with a natural color palette consisting mainly of greens and browns, including the cooking couple's striped brown clothing. The figures' body posturing in the scene is incredibly realistic from the way the peeping shepherd grasps the tree to the manner in which the couple kneels around the fire.
Facsimile Editions
#1

Les Amours de Réné d'Anjou (Normal Edition)

Limited Edition:

920 copies

Commentary:

1 volume (285 pages) by Jordi Cerdà Subirachs and Ann Orriols Alsina
Language: Spanish

1 volume: Exact reproduction of the original document (extent, color and size)

Reproduction of the entire original document as detailed as possible (scope, format, colors). The binding may not correspond to the original or current document binding.

Facsimile Copy Available!

Price Category: €
(under 1,000€)
---
#2

Les Amours de Réné d'Anjou (Luxery Edition)

Limited Edition:

75 copies

Commentary:

1 volume (285 pages)
Language: Spanish

1 volume: Exact reproduction of the original document (extent, color and size)

Reproduction of the entire original document as detailed as possible (scope, format, colors). The binding may not correspond to the original or current document binding.

Facsimile Copy Available!

Price Category: €€
(1,000€ - 3,000€)
You might also be interested in: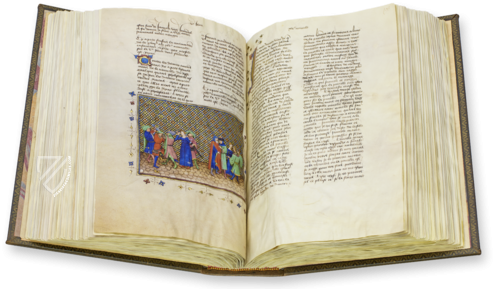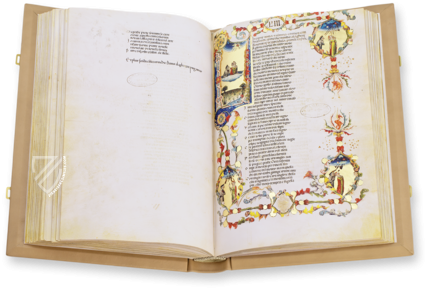 Divine Comedy - Padua 9 Manuscript
Possibly Umbria (Italy) – Second half of the 14th century
Over 100 drolleries in human and animal form and with texts by Bosone da Gubbio: a spectacular and mysterious Dante manuscript from 14th century Umbria
Experience More
Blog articles worth reading