Liber viventium Fabariensis
Description
Liber viventium Fabariensis
The Liber viventium Fabariensis is probably the most important surviving work of Raetian book art. This manuscript was originally designed as a Book of Gospels and is richly adorned with initials, frames for canonical tables, and full-page miniatures of the symbols the Four Evangelists. Beginning ca. 830, the names of monks who joined the monastic community along with the names of Pfäfers Abbey's living and deceased benefactors were listed in the empty frames of the canon tables. In addition to its function as evangeliary, commemorative book, and register of the monastic brotherhood, the Liber viventium also served as a cartulary and treasure catalog of Pfäfers Abbey. Due to the legal significance that the Liber viventium retained until modern times, the volume is housed in the archival holdings of Pfäfers Abbey.
Liber viventium Fabariensis
This commemorative book records the names of 4,615 people associated with Pfäffer's Abbey, most of whom lived between the 9th and 11th century. It is arguably the most valuable book from the library of Pfäffer's Abbey, which was an episcopal see as well as an important religious and cultural center. The codex, created ca. 820–830 is thus considered to be a wealth of material concerning the Romance-Germanic cultural exchange in Raetia Curiensis, an early medieval province in the Alps that maintained its Romansh culture after the fall of the Roman Empire. The 231-page-work is illustrated by 154 illustrations of 48 figures including full-page miniatures of the symbols the Four Evangelists and five brightly colored canon tables.
Codicology
Size / Format

178 pages / 31.0 × 20.5 cm

Origin

Date

830-1350

Epochs

Style

Genre

Language

Script

Rhaetian minuscule

Illustrations

Red or black initial majuscules, partly decorated with heads of humans, dogs and birds. Column shafts and arches with wickerwork or palmette leaves.
---
Available facsimile editions:
Facsimile Editions
#1

Liber viventium Fabariensis

Facsimile Copy Available!

Price Category: €€
(1,000€ - 3,000€)
You might also be interested in: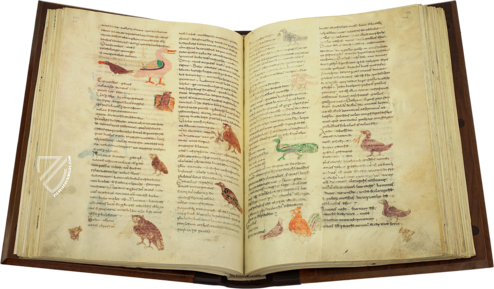 Hrabanus Maurus: De Universo - De Rerum Naturis
Montecassino Abbey (Italy) – 1022–1035
The first encyclopedia of the Middle Ages in a comprehensively illuminated manuscript from the famous monastery of Montecassino: Hrabanus Maurus' work on almost all aspects of early medieval life in 335 miniatures
Experience More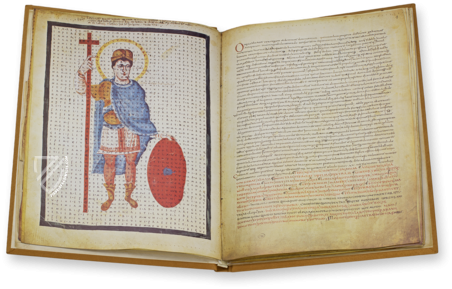 Blog articles worth reading