Los Quatro Libros… de los Enxemplos, Consejos y Avisos de la Guerra
Description
Los Quatro Libros… de los Enxemplos, Consejos y Avisos de la Guerra
Uncovering and translating works from antiquity was one of the most important labors of the Renaissance. While the great works of ancient poets and philosophers were highly prized, there were other, far more practical texts that were of interest. The Romans has been great craftsmen, engineers, and soldiers, creating the world's first professional army with standardized training, tactics, units, and equipment. The 1st century Roman military manual by Sextus Julius Frontinus was translated into Spanish in the 15th century and printed in the early 16th century – a work that spans history.
Los Quatro Libros… de los Enxemplos, Consejos y Avisos de la Guerra
Rediscovered works from antiquity were popular during the Renaissance and were being translated into vernacular languages at a tremendous rate. Roman military manuals were particularly popular as authors sought to discover the secret to the legions' reputation for near invincibility. One such work was the Strategemata or Stratagems by the 1st century Roman general, civil engineer, author, and politician Sextus Julius Frontinus (ca. 40–103). In the text, presumably written as a handbook for generals, Frontinus provides examples of various stratagems from Greek and Roman history. Although best known for his treatise on water engineering, aqueducts specifically, he was an experienced military leader, having served as a general in Germania during the reign of Emperor Domitian (51–96). Nonetheless, like most classical works, his treatise appears to be based mostly on literary sources, building on respected traditions rather than his personal experience. Diego Guillén de Ávila, who translated the text into Spanish in the 15th century, wrote that Frontinus "puts many remedies and tricks into action for all the events of war", indicating that the author had ample and well-chosen anecdotes for his text. This Spanish edition was printed on February 1st, 1515 by Lorenzo di Liondedei in Salamanca and its instructive text was adorned with engraved initials and preceded by a full-page woodcut of the royal crest.
Codicology
Alternative Titles

Stratagemata

Size / Format

124 pages / 21.5 × 14.5 cm

Origin

Date

February 1st, 1515

Epochs

Style

Language

Content

Translation of the Roman military manual of Sextus Iulius Frontinus

Artist / School

Sextus Julius Frontinus (author)
Diego Guillén de Ávila (translator)
Lorenzo de Liondedei (printer)
---
Available facsimile editions: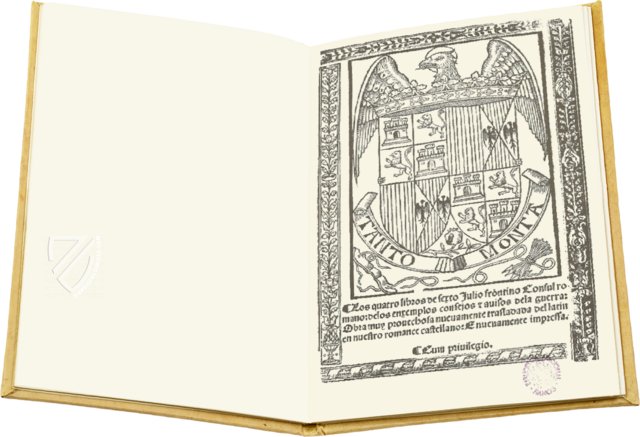 Vicent Garcia Editores
– Valencia, 2002
Limited Edition:
3160 copies
Facsimile Editions
#1

Los Quatro Libros… de los Enxemplos, Consejos y Avisos de la Guerra

Limited Edition:

3160 copies

Binding:

Binding of parchment on wooden cover Cloth-lined presentation case with gold engraved leather spine

1 volume: Exact reproduction of the original document (extent, color and size)

Reproduction of the entire original document as detailed as possible (scope, format, colors). The binding may not correspond to the original or current document binding.

Facsimile Copy Available!

Price Category: €€
(1,000€ - 3,000€)
You might also be interested in: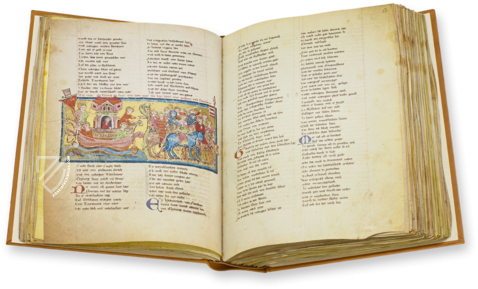 The Willehalm - Wolfram Von Eschenbach
Western Germany – Around 1320
A fascinating and magnificently illuminated insight into courtly life during the Middle Ages: Wolfram von Eschenbach's great Middle High German epic poem depicting the knight Willehalm in battle against the Saracens
Experience More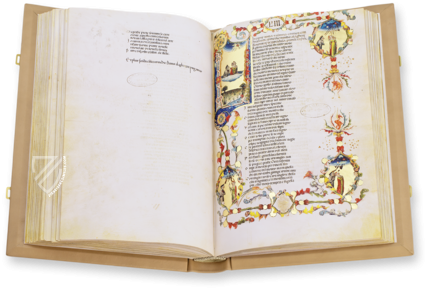 Divine Comedy - Padua 9 Manuscript
Possibly Umbria (Italy) – Second half of the 14th century
Over 100 drolleries in human and animal form and with texts by Bosone da Gubbio: a spectacular and mysterious Dante manuscript from 14th century Umbria
Experience More
Blog articles worth reading