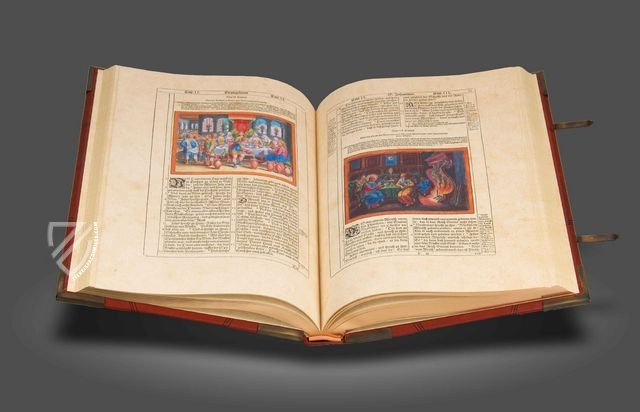 Matthew Merian's Bible of 1630 - New Testament
Strasbourg (France) — 1630
Matthäus Merian the Elder (1593–1650) was a Swiss engraver and printer who was active in Frankfurt

He apprenticed in Zürich, studied throughout France, and founded a dynasty of publishers and engravers in Frankfurt

The New Testament, printed in an elegant *Fraktur* script, is adorned with 77 colored copperplates
Matthew Merian's Bible of 1630 - New Testament
Alternative Titles:
Matthäus Merian: Kupferbibel Biblia 1630 - Neues Testament
Short Description
Arguably the finest copperplates ever created adorn the text of this 17th century codex of the New Testament, printed in German with an elegant Fraktur script. It is the work of the famous Matthäus Merian the Elder, who arguably even surpassed the great Renaissance master Albrecht Dürer in the art of engraving. These colored engravings are remarkable for their artistry, creativity, and precision, making this "copper Bible" a particularly coveted specimen of Early Modern printing.
Matthew Merian's Bible of 1630 - New Testament
Mathew or Matthäus Merian the Elder (1593–1650) was a Swiss engraver, the most famous in history, and printer from a patrician background who was active in Frankfurt. He apprenticed in Zürich where he learned the art of copperplate engraving, and studied thereafter in Strasbourg, Nancy, and Paris. He came to Frankfurt in 1616 and married Maria Magdalena de Bry, the daughter of a publisher, a year later. Their seven children included Matthäus Merian the Younger (1621–87), who also became an engraver like his father, as well as a portrait painter. After the death of Maria, he was remarried to Johanna Catharina Hein in 1646, having two children including Anna Maria Sibylla Merian (1647–1717), who was a pioneer of naturalism and the creation of scientifically accurate illustrations. Merian's Bible was published in 1630 by the heirs of Lazarus Zetzner (1551–1616), who established a prominent printing house in Strasbourg.
Colored Copperplates of the New Testament
The text of the New Testament, printed in an elegant Fraktur script, is adorned with 77 colored copperplates, considered by art historians to be some of the finest ever created. The gilt-edged pages of the codex are contained in a hard leather binding with gold embossing, metal clasps, and corner fittings. Merian stands out as one of the greatest representatives of the new graphic arts made possible by the printing press. His engravings stand out for their combination of detail, subtlety, and liveliness, making this one of the most fascinating specimens of a printed Bible from the 17th century.
Codicology
Alternative Titles

Matthäus Merian: Kupferbibel Biblia 1630 - Neues Testament

Size / Format

336 pages / 43.0 × 30.0 cm

Origin

Date

1630

Epochs

Style

Genre

Language

Illustrations

77 coloured copper engravings, title page with gold

Content

New Testament with copperplates by Matthew Merian

Artist / School

Matthew Merian (1593–1650)
4 available facsimile edition(s) of "Matthew Merian's Bible of 1630 - New Testament"
Matching Works
Hitda Codex
Made in Cologne, commissioned by Abbess Hidta: 58 large-format scenes of Biblical history in the Ottonian style
Experience More
Matching Background Articles
Bibles

You would assume that Bibles were the most commonly produced medieval manuscript, right? Wrong. The sheer size of the...

Experience more

Gospel Books

Who were the original Fab Four? Matthew, Mark, Luke, and John. Luxury Gospel books are among the most precious...

Experience more