Model Book of Calligraphy
Description
Model Book of Calligraphy
The splendid Mira calligraphiae monumenta is simultaneously a magnificent work concerning calligraphy as well as one of the last great masterpieces of illumination from a time when manuscripts were being rapidly replaced by printed books. The imperial court calligrapher Georg Bocksay (d. 1575) began the work in the year 1561 at the behest of Holy Roman Emperor Ferdinand I (1503-64), whose grandson Rudolf II (1552-1612) would commission the Flemish illuminator Joris Hoefnagel (1542-1601), one of the last of his kind, to artfully adorn it in 1590. Two masterful hands are evident in this work, and they seem to vie with one another for who practices the higher art.
Model Book of Calligraphy
This fine work originated over the course of thirty years, resulting from generations of patrons and artisans alike, it was commissioned by Holy Roman Emperor Ferdinand I (1503-64) and completed under his grandson Rudolf II (1552-1612). The Mira calligraphiae monumenta is a splendidly adorned calligraphic model book originally written by Georg Bocksay (d. 1575), the imperial court calligrapher, and which was masterfully decorated after his death by Joris Hoefnagel (1542-1601). Hoefnagel's illuminations are rooted in the Ghent-Bruges school of the 15th and 16th centuries, but also show signs of the emerging style of Netherlandish still life painting.
30 Years of Artistic Labor
After the project was originally conceived of by Ferdinand I, work began on the Model Book in Vienna between 1561 and 1562, when Bocksay laid down his masterful calligraphy on parchment, but it was not until 1590 that Rudolf II commissioned Hoefnagel with artfully filling out the pages. Soon the manuscript was filled with plants, fruits, flowers, animals, insects, and cityscapes. Large letters were constructed with hybrid creatures and fanciful masks. Hoefnagel was arguably attempting to assert the superiority of imagery over the written word at a time when the illuminated manuscript was a fast-dying book form. His artwork is a mixture of naturalism and illusionism: highly detailed, three dimensional depictions of apples cut in two and reptiles with iridescent skin. The imperial Kunstkammer or Cabinet of Curiosities provided models of various bones, shells, fossils, and other natural specimens for the artist to study up close. Finally, Hoefnagel employed a brilliant color palette as well as gold and silver to illustrate virtually every page of the manuscript, making him one of the last of the great illuminators.
A Highly Coveted Work
After its second imperial patron and owner died in 1612, the manuscript passed through various private hands before coming into the possession of the Austrian engineer and metalsmith Albert Milde in 1887. After passing through another set of hands, it was acquired by the German art collector Friedrich Ludwig von Gans in 1916. Two more private owners had this magnificent piece of Renaissance illumination all to themselves before it was sold in 1986 to the J. Paul Getty Museum, which had been aggressively collecting illuminated manuscripts since inheriting $1.2 billion dollars in 1982. It remains an important part of the fabulous collection in Los Angeles to this day.
Codicology
Alternative Titles

Mira Calligraphiae Monumenta




Kalligraphiebuch




Georg Bocskay's Model Book of Calligraphy




Sketchbook by Joris Hoefnagel

Size / Format

254 pages / 16.6 × 12.4 cm

Origin

Date

1561–1562 and 1591–1596

Epochs

Style

Language

Content

Model book with a section on the construction of letters

Artist / School

Georg Bocskay
Joris Hoefnagel

Previous Owners

Ferdinand I
Rudolph II
Albert Milde
Friedrich Ludwig von Gans
Louis Koch
---
Available facsimile editions:
Detail Picture
Model Book of Calligraphy
Idealized Nature
Here we see that this gorgeously executed manuscript is so much more than a calligraphic model book – it is also a fantastic specimen of the Northern Renaissance that blends naturalism and idealism with shadows suggesting a light source from the background. The frog's green and black camouflage is depicted with a sheen indicating that it is wet while it sits alongside a blue lily. Meanwhile, a dragonfly with hairy legs lands upon the long stem of a freshly sliced pear.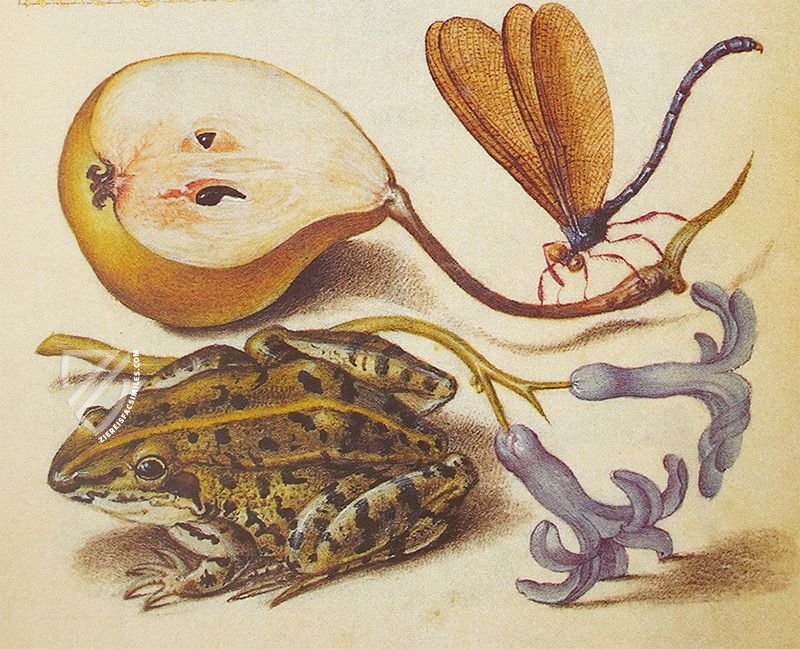 Single Page
Model Book of Calligraphy
Ten Commandments and Maypole Dance
This black dyed page presents the calligrapher with a lavish opportunity to show off his great skill. Only a true master would be entrusted with gold ink, which stands out wonderfully against the black parchment. The iron-copper solution used to dye the pages was itself expensive and difficult to create, and as such is extremely rare.
Above the text, a cloud appears to explode with a cacophony of light and thundering trumpets as Moses receives the Ten Commandments on two stone tablets. This scene from the Old Testament is contrasted by the pagan bas-de-page miniature, which shows an expansive landscape in which people dance around a maypole before a field of colorful tents and is presented as though painted on the side of a Roman sofa.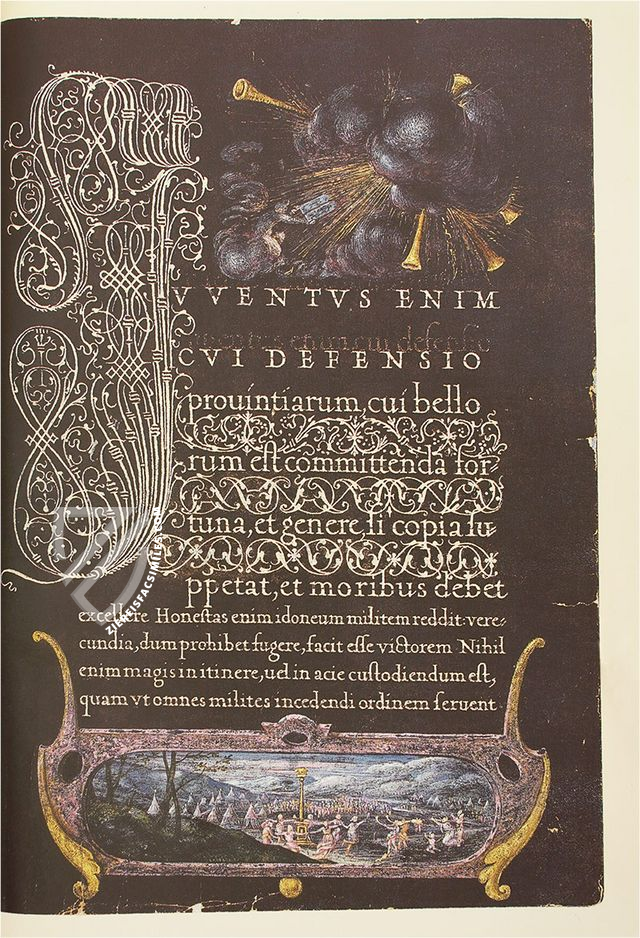 Facsimile Editions
#1

Mira Calligraphiae Monumenta

Limited Edition:

290 copies

Commentary:

1 volume by Lee Hendrix, Thea Vignau-Wilberg, and Regula Krahenbuhl
Language: German

1 volume: This facsimile is not complete.

Reproduction of the entire original document as detailed as possible (scope, format, colors). The pages are presented on a larger white background. The binding may not correspond to the original or current document binding.
You might also be interested in: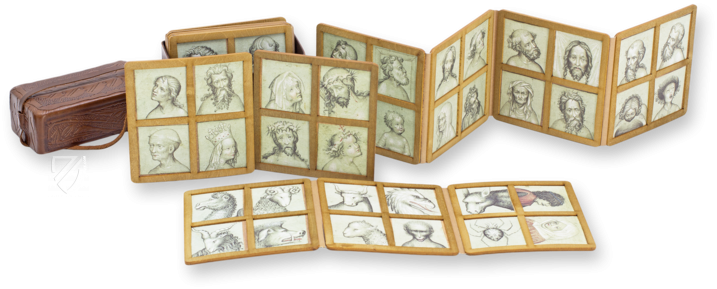 Vienna Model Book
Czech Republic; Austria – 1410–1420
A unicum of art history: 56 silverpoint drawings in the International Gothic style on small, hinged wooden panels
Experience More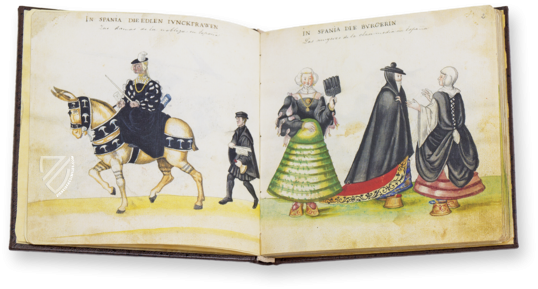 Blog articles worth reading