Codex of Costumes
Description
The Biblioteca Nacional de España has a significant German manuscript from the 16th century in its collection: the Códice de Trajes or "Codex of Costumes". It was acquired by the Ministry of Culture from a private collection in December of 2010, and contains a repertoire of 125 illustrations of clothing using gouache watercolors. It depicts the manner of dress in Spain, some neighboring countries around the empire of Holy Roman Emperor Charles V (1500–58), and more faraway places such America and Africa. It has epigraphs in German and was made in an unknown artist's workshop. Its great rarity and importance as a source of knowledge regarding the costumes and fashion at the time, as well as the charming beauty of its illustrations, make it an exceptional work.
Codex of Costumes
In 2010, the Spanish Ministry of Culture made an exciting and important acquisition: the Códice de Trajes or "Codex of Costumes". It is a wonderfully illuminated witness to the reign of Holy Roman Emperor Charles V (1500–58), who ruled over the first empire over which the "sun never set". It consists of 125 watercolors showing the style of dress in various regions around the world both in and near the massive Hapsburg Empire in Europe or the Spanish Empire in Africa and the New World, which were united under Charles V, who came closer than anyone since the Emperor Charlemagne to achieve the medieval concept of a universal monarchy uniting all of Christendom, the so-called res publica Christiana. Furnished with captions in German, the splendid manuscript from ca. 1546–7 is of inestimable value as a reference work concerning the customs and fashions of the period. Instead of parchment, the manuscript was creating using paper which, according to the watermark, was created in Augsburg in 1546.
An Irreplaceable Source of 16th Century Fashions
The 125 miniatures of this manuscript are a parade of Portuguese, Berbers, Indians, French, English, Turks, Tatars, Irish , Croats, and Hungarians, and also feature more detailed depictions of the peoples of Germany, Spain, and the Netherlands. Although it is not known who created the manuscript, the influence of various Northern Renaissance masters can be seen in this work such as Albrecht Dürer (1471–1528), especially with regard the dress of Nuremburg, Livonia, or among the Turks, as well as Albrecht Altdorfer (ca. 1480–1538) and Hans Burgkmair the Elder (1473–1531). Furthermore, there is evidence of the influence of the anonymous workshop on contemporary masters like Lucas Cranach the Elder (1472–1553), particularly in the miniature showing the emperor and seven prince-electors, or Lucas de Heere (1534–1584), whose image of a lancer on horseback from ca. 1570 is faithfully recreated from the opening page of the Codex of Costumes. Then again, both could be copies based on the same model. Georg Hoefnagel (1542–1601) also produced horse riders very similar to those in this manuscript for his famous Civitates Orbis Terrarum. Numerous other artists were influenced by the work including Jost Amman (1539–91) and Cesare Vecellio (ca. 1521 – ca. 1601).
An Artist's Travelogue?
The manuscript at hand was created during the second half of Emperor Charles V's reign during a time when fashion as we know it developed. Previously, clothing had simply been an expression of one's station, but the increasing money supply of late medieval Europe resulted in a dramatic revolution in fashion that was so unsettling to the social order that it resulted in sumptuary laws. First appearing in the 13th century, sumptuary laws were meant to act as a moralizing influence intended to restrict people to their social class while also limiting public displays and the ruinous expenses that were being incurred by members of the wealthy classes madly pursuing the newest fashions. Practically speaking, they limited luxurious fabrics to the noble classes, but were ultimately ineffective. Although likely created in the imperial cities of Augsburg and Nuremberg, the miniatures may very well be based on sketches accumulated while accompanying the Emperor on his travels throughout Spain, Flanders, and Germany. The miniatures apparently originate from between 1513 and 1515 and were later transformed into widely-disseminated woodcuts in 1526.
Codicology
Alternative Titles

Buch der Kostüme




Códice de Trajes




Codex der Trachten und Kostüme

Type

Size / Format

128 pages / 20.0 × 20.0 cm

Origin

Date

Ca. 1546–47

Epochs

Style

Language

Illustrations

125 gouache watercolors

Content

Contains a repertoire of clothing illustrations in gouache, from Spain, some neighbouring countries around Charles V Empire (Flanders, Germany…), and more faraway places such America and Africa.
Detail Picture
Codex of Costumes
Harvesting Wheat
This wonderfully colored and naturalistic depiction of Spanish farmers shows them harvesting wheat that is almost as tall as they are. The man on the left is kneeling and using a sickle to harvest the grain, which he is piling on the ground. He is wearing blue tights and a grey coat with puffy sleeves, his head wrapped in a white cloth. A man wearing knee-high leather boots and wearing a large dagger with a gilded hilt in his belt looks on, perhaps the landowner or a foreman.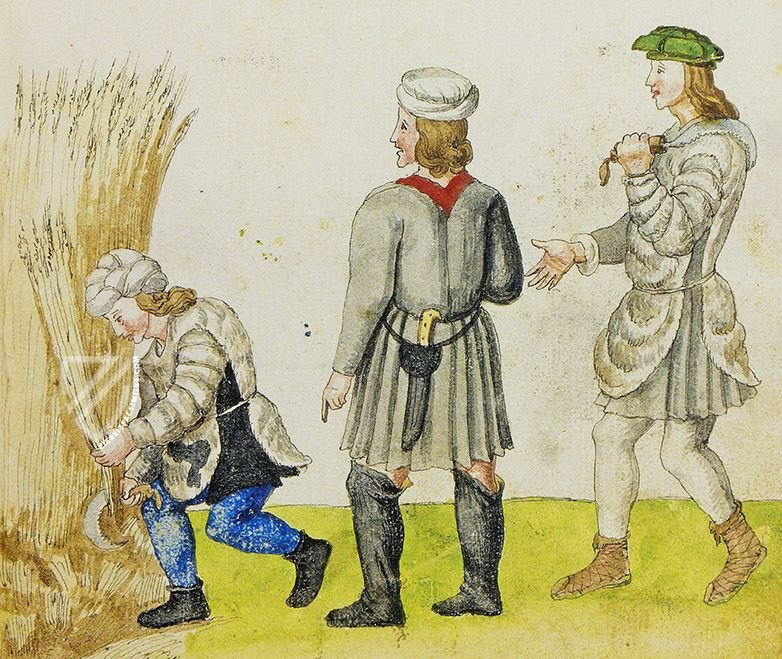 Single Page
Codex of Costumes
Middle Class Spanish Women
The increasing size and importance of the urban middle class was one of the most important developments of late medieval Europe. Although lacking the power and position of the landed nobility, their great wealth allowed them to dress in the most expensive fashions. This depiction of three Spanish women gives a taste of how the wives of successful merchants or guildsmen might dress.
The two women on the right are dressed more conservatively with long black cloaks covering their elegant dresses, one with gold brocade and a long train. Holding a fan of black feathers, the woman on the left wears a green bell-shaped skirt and a black blouse with slits in the oversized sleeves that expose a layer of pink silk. All three figures wear platform shoes.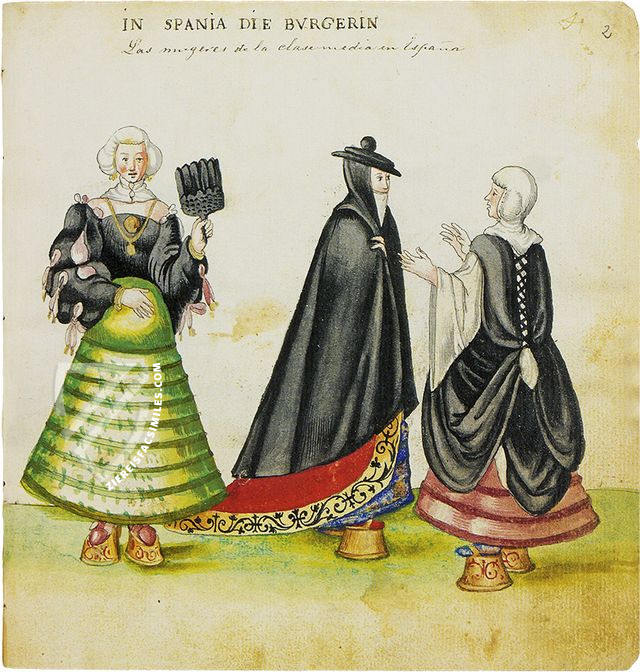 Facsimile Editions
#1

Códice de Trajes

Publisher:

PIAF

– Madrid, 2018

Limited Edition:

595 copies

Binding:

Brown leather with golden applications Red leather box with golden applications

Commentary:

1 volume by Teresa Mezquita Mesa
Language: Spanish

1 volume: Exact reproduction of the original document (extent, color and size)

Reproduction of the entire original document as detailed as possible (scope, format, colors). The binding may not correspond to the original or current document binding.
You might also be interested in: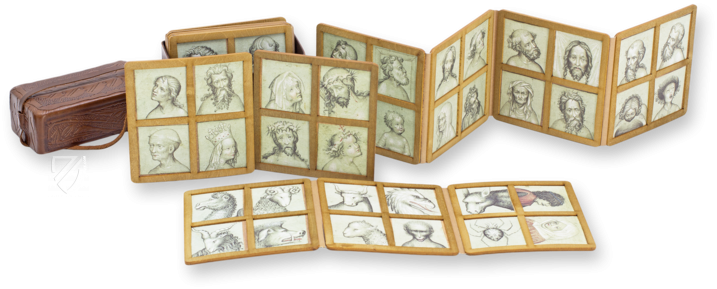 Vienna Model Book
Czech Republic; Austria – 1410–1420
A unicum of art history: 56 silverpoint drawings in the International Gothic style on small, hinged wooden panels
Experience More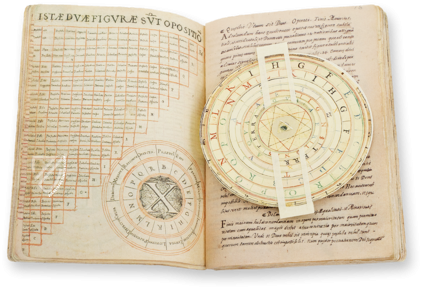 Ars Magna
Spain – 16th century
Two centuries on the index of banned books: a scientific treatise with a machine that can distinguish truth from lies
Experience More
Blog articles worth reading